Watch Anywhere. Anytime. Instantly.
*based on MCMC QoS Network Performance Report 2020
Unlimited TV shows, movies, and more.
The best entertainment from around the world. Plus, countless hours of complete series to enjoy.
Choose a bundle that's right for you
The revolutionary way to stream your favourite shows — No commitments, flexible bundles, FREE data and open to non-Maxis users.
*FREE data applies to Maxis and Hotlink users only.
Make your binge-watching dreams come true with Maxis TV
Enjoying all your favourite shows in one place is now a reality. Check out first hand info on the all-new Maxis TV with our biggest fans
Sarah Suhairi, Iman Troye, Stella and more. They'll give you a crash course what the new Maxis TV is all about, right here.

Watch FREE for 30 days now.
Maxis TV. 30 Days FREE ACCESS to everything on Viu, iQiyi, WeTV iflix and MORE
Whether you're a Maxis, Celcom, Digi, or U Mobile customer, 30 days of free access to Viu, iQiyi, WeTV iflix, and more are all yours. Stream unlimited TV shows and movies in one place, only with Maxis TV.
Welcome to the all-new Maxis TV
Discover, choose, and watch unlimited TV shows, movies and more from Viu, iQiyi, iflix and Mubi all in one place, anytime, anywhere, instantly.
All-new Maxis TV with Iman
Shoutout to all binge-watchers! Iman Troye wants to tell you all about the new Maxis TV and why it should be on the top of your list of streaming services.
Get all the drama on Maxis TV with Sarah Suhairi
Want more non-stop drama? Sarah Suhairi does too. Let her take you through the new Maxis TV experience and how you can enjoy K-Dramas and more, like she does, all in one place.
Smooth sailing on Maxis TV with Harry Pang
It's no surprise that Harry looks so surprised. He can now stream all his favourite dramas with the all-new Maxis TV. Enjoy Viu, iFlix, MUBI, iQiyi all in one place! Also available for non-Maxis users.
Watch it all in one place with Ariff Bahran
With all his favourites TV shows and movies all in one place, Ariff's entertainment experience is now better than ever. Let Ariff show you how to customise your entertainment to suit your binge-watching needs.
Discover a world of shows on Maxis TV with JingEn
JingEn's raving about all the shows she can stream from Viu, iFlix, MUBI, iQiyi all in one place on Maxis TV. Not a Maxis user? No problem. Maxis TV is open to everyone to watch!
Azzam Sham's smooth date night with Maxis TV
A rom-com date night, is a recipe for perfection. Watch Azzam impress his other half with a wide selection of TV shows and movies, from our 5 streaming partners, exclusively on the all-new Maxis TV.
Satisfy your Asian TV Cravings on Maxis TV with Floor 88
Sharing is definitely caring —Floor 88's treating you to their favourite Asian show buffet happening on the new Maxis TV, where you can binge on your favourite content from 5 different platforms all in one place!
Stella's break time just got better with Maxis TV
The best part about the all-new Maxis TV? You can watch it anytime and anywhere. While Stella takes her water break, she spills all the awesome ins and outs of the new Maxis TV and what you can expect from it.
Sarah Suhairi's POV on Maxis TV
Get Sarah's first take on the all-new Maxis TV right here. Enjoy access to endless entertainment, all in one place. And don't forget, Maxis TV is open to all network users. Sign up now, and watch FREE for 30 days!
Maxis TV first impressions with Ariff Bahran
Great minds binge alike! Ariff Bahran and his twin are really enjoying their time on Maxis TV! Who knew one platform could satisfy all their entertainment needs. Stay tuned for the full review coming up real soon with Ariff.
Floor 88's all-day, all-night binge with Maxis TV
Check out Floor 88's deep dive into all the binge-worthy shows Maxis TV has to offer. From K-Dramas, to international icons, the entertainment never ends. Experience it free for 30 days now.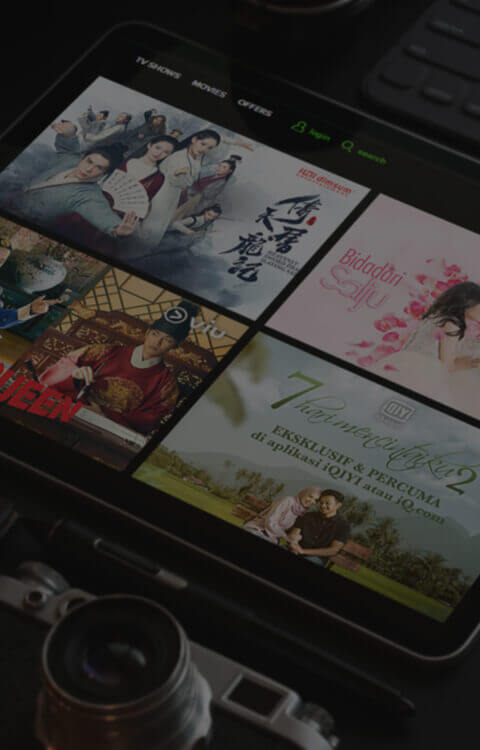 Watch it all in one place
Mr. Bibik
Aulia Izatunnisa is set to marry her father's friend's son due to financial problems. However, she isn't too fond of Mukhriz and tries to break off their engagement. One day, she was caught for close proximity with Firas, a cleaner who came to tidy up her house. They then had to marry. But just as love starts to bloom, Firas found out something about Aulia that ruins everything for the both of them.
---
Watch this on

Takt op. Destiny
When a black meteorite fell onto Earth, it produced grotesque monsters called the D2 who forbade music, the only weapon that can defeat them. Only the Musicart, young women who hold the power of music, and the conductors that lead them can defeat the D2. The anime takes place in America in 2047, which has fallen to ruin. Takt, a Conductor is partnered with a Musicart named Fate/Destiny and together they aim to destroy the monsters and return music to the world.
---
Watch this on