About Corporate Responsibility in Maxis
As a digital enabler, our goal is to help communities leverage technology so we can bring a positive, lifelong impact into their lives. Our
primary focuses include championing Education & Community Empowerment, Festive Charity and Humanitarian Relief.
About Corporate Responsibility in Maxis
Let's keep the efforts going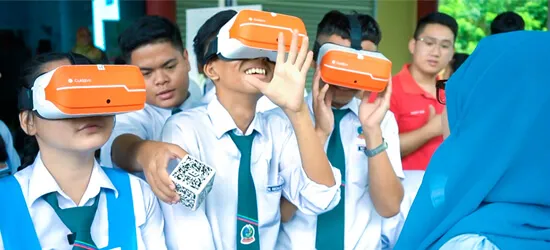 Education & Community Empowerment
Our community initiatives are underlined by our passion for education and our purpose to bring together the best of technologies to enable the nation to Always Be Ahead in a changing world. Leveraging technology, we continue to support the community during these trying times by bringing digital learning closer to them and helping to drive digital adoption. Beyond this, we undertake humanitarian relief efforts and support vulnerable communities during major festive seasons.
Your Digital Parenting Journey with Maxis
We live in the Digital Age. Our children are digital natives, consuming entertainment differently from previous generations. Naturally, these present some challenges for you as a parent.
Because Maxis Cares, here are some of our tips on how you can guide your children and their digital entertainment choices.
BE AWARE.
Our children's entertainment is at their fingertips, with the majority of it coming from online streaming services, gaming app downloads and Internet browsing, all of which are available on mobile devices, computers or TV apps. Be aware of just how your child is accessing all these. Is it on their mobile phone? On the family Smart TV? On their personal computer in their room?


SET PARENTAL CONTROLS
A huge challenge for parents is ensuring their child is watching age appropriate content, playing age appropriate games and surfing the Internet safely. Most TV programmes, movies and gaming apps have age appropriate ratings which provide guidance on the suitability of content for young children's minds. Scroll down to find out what the experts have to say on age appropriate ratings and online screen time for children. You should also be aware of how the guidelines work and you will find more on that below. Make sure you set parental controls on online streaming services, app downloads and Internet browsing services you have available for your family.


GET INVOLVED.
You need to be aware that your children can also access these services through their friends' accounts. To keep up with what is happening with them, talk to your children on the kind of TV programmes and movies they are watching, the online or app-based games they are playing, or websites they are surfing with their friends. This way you will be informed on their current preferences and if they are accessing something inappropriate you can advise them about it or even highlight it to their friends' parents.


ENCOURAGE & INFLUENCE.
Encourage your children to stay away from harmful and violent content. Talk to them about the dangers. Instead, influence them to tune in to wholesome entertainment and gaming choices which are suitable for their young minds, will educate them and broaden their horizon of knowledge.


KNOW HOW TO DO IT.
To help you along on your digital parenting journey, we have also put together a quick list of the online streaming services we offer and links to these services which explains how you can set controls on what your child watches.
Tips on Online Streaming Services Maxis and Hotlink Offer
Google Play content with Maxis Direct Billing or Hotlink Credit
You can set up parental controls directly on Google Play which will restrict the type of content which can be downloaded or purchased based on your child's maturity level. Parental control settings vary across the different apps and games, music, movies, tv and books available on Google Play. To familiarise yourself with this, the following pages will offer you more information:


Apple App Store content with Maxis Direct Billing
You can set parental controls directly on you iPhone, iPad and iPod touch to limit the kind of app content and device features your child accesses. For more information on how to do this, go to the following pages:


MMOG Games with Hotlink Credit
MMOG Games are available through a variety of MMOG online stores. The most popular of these is Steam. For information on how you can use Family View on Steam to limit your child's access to media, entertainment and games, go to here.


Music Streaming with Maxis Direct Billing and Hotlink Credit
We have a number of music streaming services available namely Spotify, KKBOX and Joox music streaming through our Maxis Music Unlimited and Hotlink Music Unlimited Passes.
Online Streaming Services Parental Controls
A Quick Guide to Age Appropriate Ratings
Malaysia
In Malaysia, age appropriate ratings are commonly referred to as censorship ratings. These are vetted by the National Censorship Board under the purview of the Ministry of Home Affairs.
Generally, ratings in Malaysia are broken down as follows:
Non-restricted Ratings

'U' rating – suitable for all ages

P13 (Malay) / PG-13 (English) – suitable for teenagers above the age of 13



Restricted Ratings


'18' – Not suitable for children or teenagers, and only suitable for adults above 18

Online Streaming Services
Online streaming services are generally self-regulated by the service providers itself. Each service provider will have their own guidelines and ratings on programmes available through their service.
As an example, Netflix has what it terms as "Maturity Ratings" to indicate suitability of content according to age groups. In Netflix, the ratings are broken down as follows
ALL – suitable for little kids
7+ - suitable for older kids above 7
13+ - suitable for teenagers
16+ - suitable for older teenagers above 16
18+ - unsuitable for children or teenagers, and only suitable for adults above 18.
Source: https://help.netflix.com/en/node/2064?ui_action=kb-article-popular-categories - click on "All other countries"
Quick Tips : How do you decide what your child watches?
Most content on TV programmes and movies available through online streaming services, terrestrial TV stations and cinemas come with age appropriate ratings / censorship ratings / maturity ratings. Here are some quick tips to help you decide on what content your child should have access to:
As a parent, you may wonder whether to follow these strictly or whether to allow some leeway for your child. As a general rule, child psychology experts caution parents to follow the guidelines set by age appropriate ratings as the content has been filtered to ensure your child does not come into contact with inappropriate content such as violence, sex, nudity and strong language.


The ratings are meant as an indicator of content your child can process intellectually and emotionally based on their age. But if you feel that you do not want to allow your child to access certain content because it goes against your personal beliefs as a parent, then explain your reasons to your child so they understand why other children their age have access and they don't. By having an open conversation with them, you foster a trusting relationship, one where they do not resent you for the decisions you make to protect them.


There are a number of online websites for the parenting community which gives reviews of movies, TV programmes and games which are available for children these days. These include sites by non-profit organisations which provide reviews on whether the movie, TV programme, game, app, website, book or music you are considering allowing your child access to is appropriate for them. A simple Internet search will help you find these websites. Use them to find out more about the kind of content your child wants access to before you make your final decision.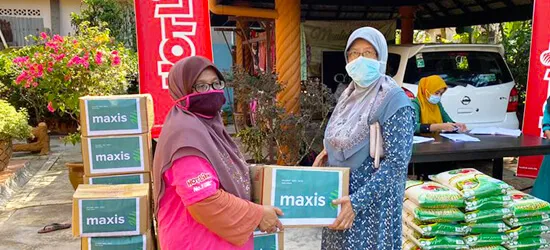 Community engagement through festive charity
While we had some travel and movement restrictions during the Covid 19 pandemic, it did not stop us from engaging and bringing joy to the communities in need.
For the major festive celebrations, we undertook the following initiatives:
Read more about Our Charity Effort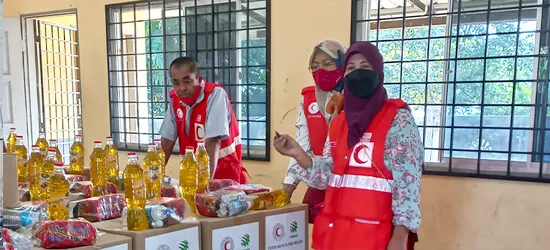 Humanitarian relief efforts
During natural disasters, we know how important connectivity is for impacted communities to stay connected with their loved ones. We continue to work extensively
to prepare for severe weather conditions with a priority to ensure the safety of our people, to protect and maintain our network infrastructure, and to keep our
customers including emergency services connected. Where necessary, we provide temporary mobile base stations to boost
coverage for emergency services and relief centres.
COVID-19 humanitarian aid to support the community In support of Malaysians impacted by the COVID-19 pandemic and responding to the call by the Government,
Maxis focused its efforts towards helping the B40 group across the nation, frontliners and health care providers.
We create sustainable long-term value by delivering a seamless internet experience.