Offering you valuable opportunities through our Employer Value Proposition
Explore what we do at Maxis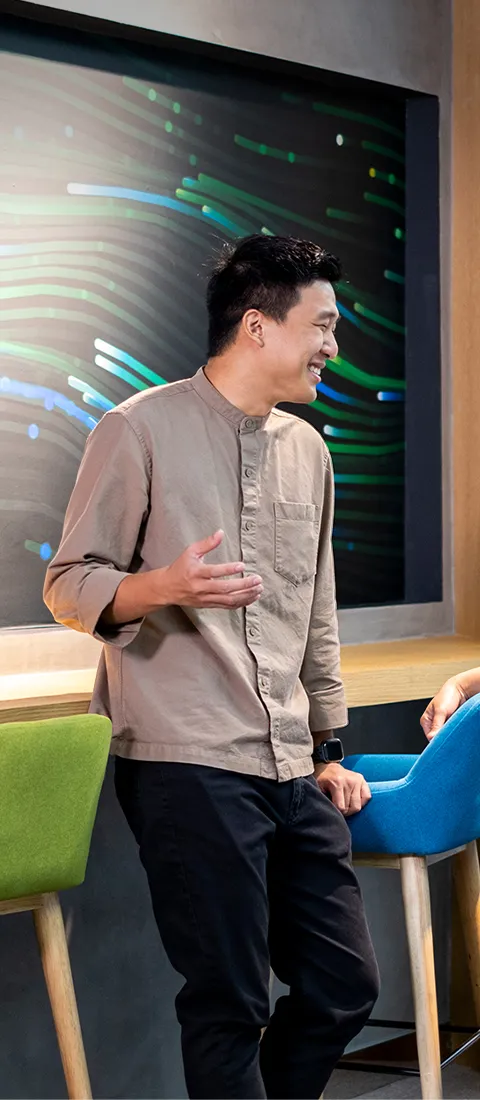 Create impact for yourself and others
Bring your expertise and make a difference in an inclusive and diverse community.
My most rewarding experience at Maxis has been building our e-commerce channel from scratch. Growing the Maxis Online Store from its infancy stages to where it is now has taught me a lot about the intricacies of e-commerce, as well as the nuances that come with running it in the telco industry. Being part of the foundation of the channel is exciting, as the possibilities of the store's future in the e-commerce world are endless. I'm grateful to be able to get my hands dirty and drive the strategies and visions of our Maxis Online Store into reality.
---
Faye Lee
E-Commerce Partnership Associate
The working culture in Maxis is great. The people here are diverse, and you can meet people who come from other states in Malaysia, with different backgrounds, and even different nationalities and learn about their culture! What I like about Maxis is the support you receive here, whether it's technical or non-technical, all you have to do is reach out. It's a never-ending learning journey in Maxis as there is a lot to learn and experience. I believe in challenges in the workplace and Maxis is no exception. I learnt to deal with issues internally and externally in a fast-paced working environment. The challenges I've faced are part of my career growth, and I believe it will shape me into a better person. What's life without challenges, right? We just have to learn how to manage them. 😊
---
Jonathan Ding Sagan
Corporate Sales
Transitioning from a medical doctor to the corporate sector, Maxis offers a remarkable opportunity to work, learn, and explore endless possibilities. I am grateful to continue my purpose of helping people beyond the hospital walls, especially as part of the sustainability team. I have had the opportunity to contribute to meaningful projects that positively impact both society and the environment. One aspect that makes Maxis stand out is the brilliance of its people. Collaborating with such talented individuals allows me to exchange ideas and innovate solutions, which adds to the overall excitement and fulfilment of my work.
---
Sharifah Sarah Binti Syed Abdul Rahman
Sustainability Specialist
In my 2 years at Maxis, I've experienced unwavering support for my growth and development. It fills me with pride to witness how seriously the Maxis management team values capability building and personal advancement. A major contributing factor to my professional progress has been the Individual Development Plan, which empowers employees to chart a path for upskilling and reskilling. With comprehensive checkpoints, I've actively pursued various learning opportunities and am thrilled to have attained 4 certifications—Scrum Master, Product Owner, Agile Team Facilitator, and Agile Coach. Now, I'm embarking on an 8-month journey towards becoming an ICF Certified Professional Coach.Maxis' commitment to nurturing employees' growth has played a pivotal role in shaping my successful professional journey thus far.
---
Viknesh Rajandran
Technology Learning Partner
Preserving a strong ethical culture at Maxis
We appreciate that adhering to high standards of ethical conduct is fundamental to maintaining the trust and confidence of our customers and partners. We firmly believe in the culture of transparency, honesty and fairness. Watch how we stay committed to conducting our business professionally and ethically with the highest standard of integrity.
Get ahead in your tech career with Maxis
As Malaysia's leading converged solutions provider, we constantly harness the best of innovation, human ingenuity, as well as technology to always be ahead. Hear from our talented experts - Bee Hong, Ivan, Ahmemah, and Prasad, about how learning, career mobility, and strong leadership at Maxis have enabled them to thrive in their tech careers and make a meaningful impact. Ready to be at the forefront of technology while turning your ambitions into achievements? Learn more here: https://www.maxis.com.my/techcareer/
Get ready to turn your ambitions into achievements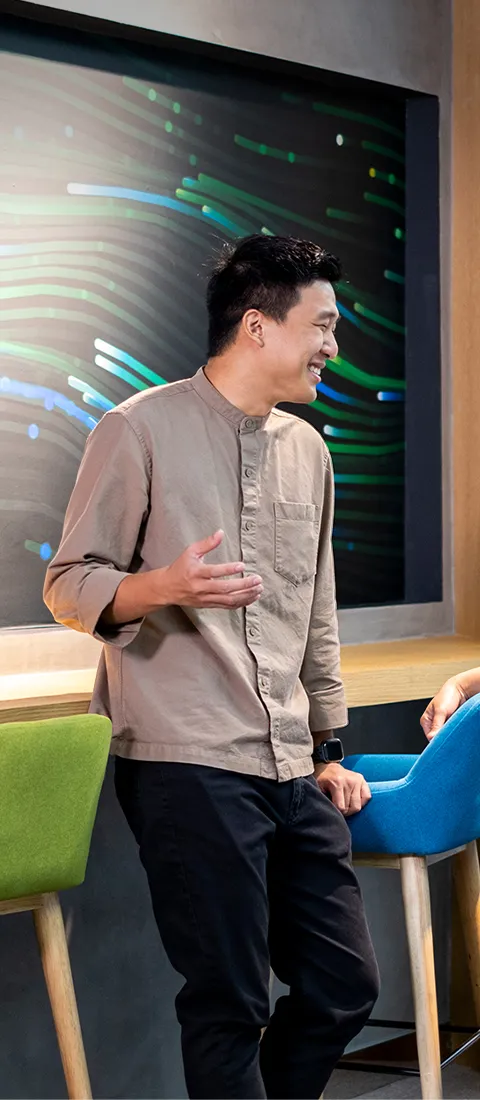 Step into your future
Turn your ambitions into achievements in an environment that supports your growth through learning and strong leadership.
"The culture at Maxis is one that constantly strives to push boundaries and explore what's possible, empowering us to succeed and investing in our growth. This culture of challenging limitations and perpetual growth has allowed me to surpass my perceived limits, granting me invaluable experiences that have elevated my professional trajectory and pushed my understanding of the industry to the next level."
---
John Hee
2022 Graduate Associate (Enterprise)
"A memorable project that I worked on was a vehicle tracking app. My team, mentor, and manager were the dream team that helped me conquer every coding challenge that came my way while developing the app. Together, we navigated the roadblocks and dodged the bugs. I am grateful for the irreplaceable journey that taught me the importance of working together and never giving up, even in the face of a tricky code."
---
Diviya
Protégé Trainee (IT)
"From the beginning, I have been entrusted with different projects and given the opportunity to experiment with new technologies, while being guided by my experienced seniors and supportive teammates. Through these projects and collaborations, I have enhanced my technical skills in software development. Overall, being a IT Graduate Associate at Maxis has provided me with a strong career foundation in the tech industry."
---
Muhamad Iman
2022 Graduate Associate (IT)
"An exciting part of my internship has been the opportunity to engage with various people from different departments. My team collaborates closely with others, which has opened my eyes to the working world and provided me with added knowledge along the way. So far, I have gotten a free manicure, attended a talk show, and even joined an exciting race around KL, where we won first place. My internship experience has been very rewarding as I am able to explore beyond my areas of interests and develop my skillset."
---
Siti Sarah
Intern (Sales & Service)