Visionary tech-enabled ideas win second round of Maxis Awards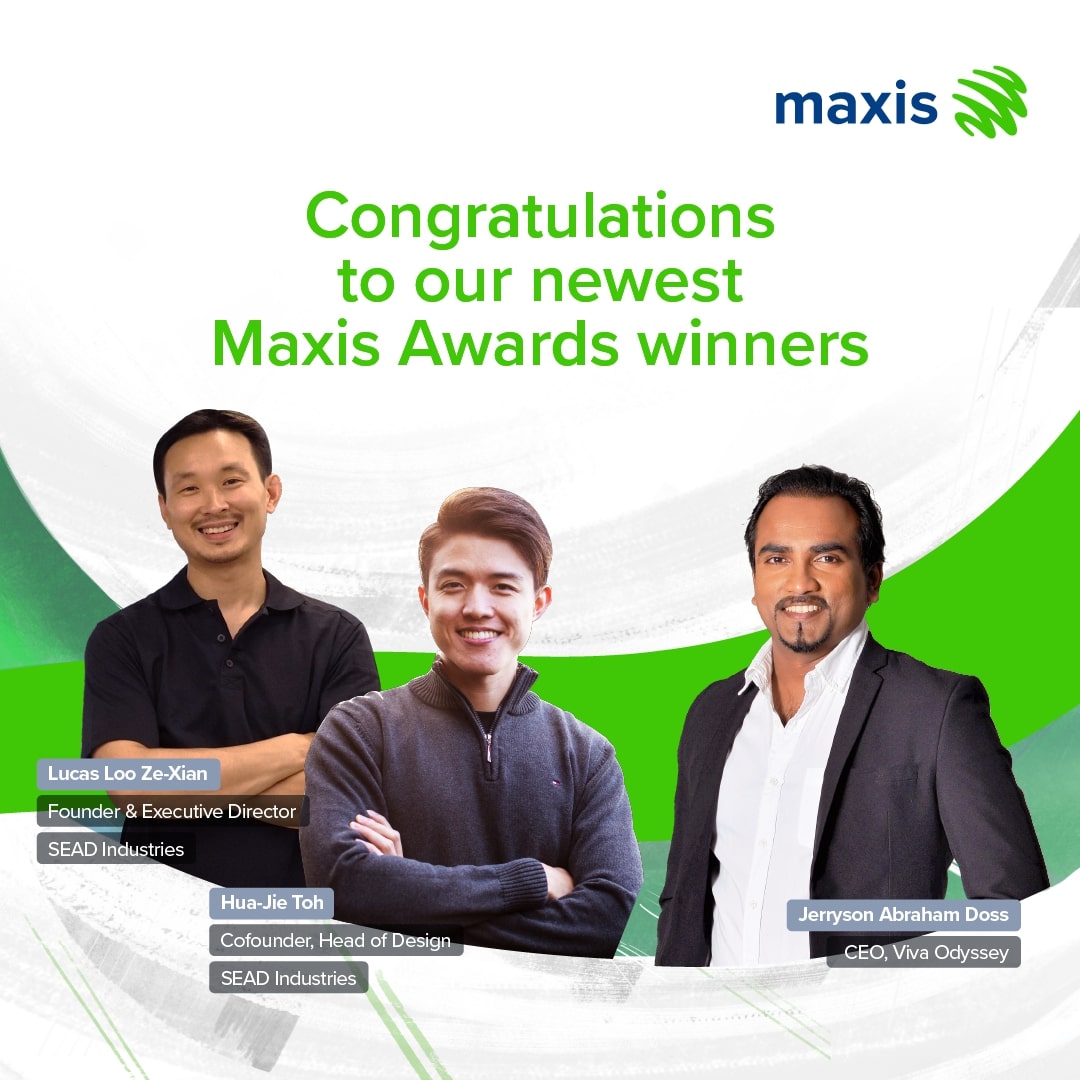 Strong environmental and social impact ideas from SEAD Industries and Viva Odyssey emerge winners in second edition of the awards
Both winners to receive Maxis Business solutions, expert support and financial grants to push visionary ideas into making real-life impact
Maxis continues to seek local entrepreneurial heroes and bring to life innovative projects that can help nation and our communities to Always Be Ahead
Maxis is pleased to announce the second round of winners of its Maxis Awards, following the usual rigorous review and selection process.
SEAD industries (SEAD) and Viva Odyssey, whose inspiring sustainable environment programme and innovative safety tech solution respectively emerged the latest winners of the coveted awards. They will each receive up to RM150,000 worth of Maxis Business solutions, expert support and financial grants to help push their visionary ideas into reality.
SEAD is an impact enterprise that specialises in building design and environmental consultancy services. Maxis will be helping the company bring to life their sustainable bamboo harvesting programme which will ultimately rehabilitate over 20 hectares of former mining lands in Perak's Batu Gajah, using digitally enabled bamboo agroforestry methods. Meanwhile, Viva Odyssey is a provider of safety technology and integration systems for drilling rigs and oil and gas operations. With support from Maxis, it will be able to build an automated live-reporting and danger alert system to help prevent construction and reduce offshore accidents.
"We continue to be inspired by the submissions for our Maxis Awards, and are really pleased to see the innovation in this round's winners especially with their demonstrative impact to society. At the core of our brand purpose to enable people, businesses and the nation to Always Be Ahead in a changing world, is our desire to help connect and empower more Malaysians on our Rangkaian Maxis. We look forward to collaborating with both SEAD and Viva Odyssey to realise their visions to bring positive impact to targeted communities," said Loh Keh Jiat, Chief Marketing Officer, Maxis.
"As the trend toward alternative, renewable materials ramps up, bamboo, which is found abundantly in Malaysia can be a key agent to help combat climate change. Our rehabilitation programme involves planting bamboo to capture carbon and restore degraded lands in Malaysia and IoT-enabled agro-technology will be a key part of that solution. Together with Maxis, we will also be putting technology into the hands of bamboo farmers and harvesters, making their jobs easier, increasing their productivity and improving their livelihoods," said SEAD founders Lucas Loo and Toh Hua-Jie.
"Winning this award is very encouraging to us as it affirms that there is no idea too small or not worthy of an opportunity to grow and blossom. We are grateful to Maxis for believing in our vision to raise the bar in workplace personnel safety systems, and cannot wait to accelerate the building of our live-reporting and danger alert system to bring this important technology to the oil and gas industry," said Jerryson Abraham Doss, Founder and Chief Executive Officer, Viva Odyssey.
To stand a chance to win the Maxis Awards, participating enterprises have to submit their business idea, detailing its goals, mechanics and feasibility, along with the impact that it hopes to bring to the community. They are also required to provide a three-minute introductory video about the team spearheading the project as well as background information on the community whose issue they targeted to solve. Winners are selected based on three key criteria –value to community, freshness of the idea in reflecting a 'new and better' theme, as well as how it can be tech enabled. The third criteria required finalists to demonstrate how the business idea presents a purposeful, future-forward use of Maxis' network connectivity and digital solutions.
Launched last year the Maxis Awards aims to empower, recognise and support outstanding Malaysian social enterprises whose initiatives and contributions drive positive impact for fellow citizens. Maxis will be supporting 12 outstanding, entrepreneurial concepts that will bring social impact to local communities, from ideation until execution, with enterprise guidance and support from Maxis' technical experts as well as solutions such as eCommerce, IoT, cloud, voice and network connectivity. Additionally, Maxis will assist in marketing and publicity efforts to help maximise the visibility of these exemplary projects.
To read about our first round Maxis Awards winners announcement, check it out here. For more information on Maxis Awards, please visit https://www.maxis.my/maxisawards