Maxis Awards announces first batch of winners with green-themed projects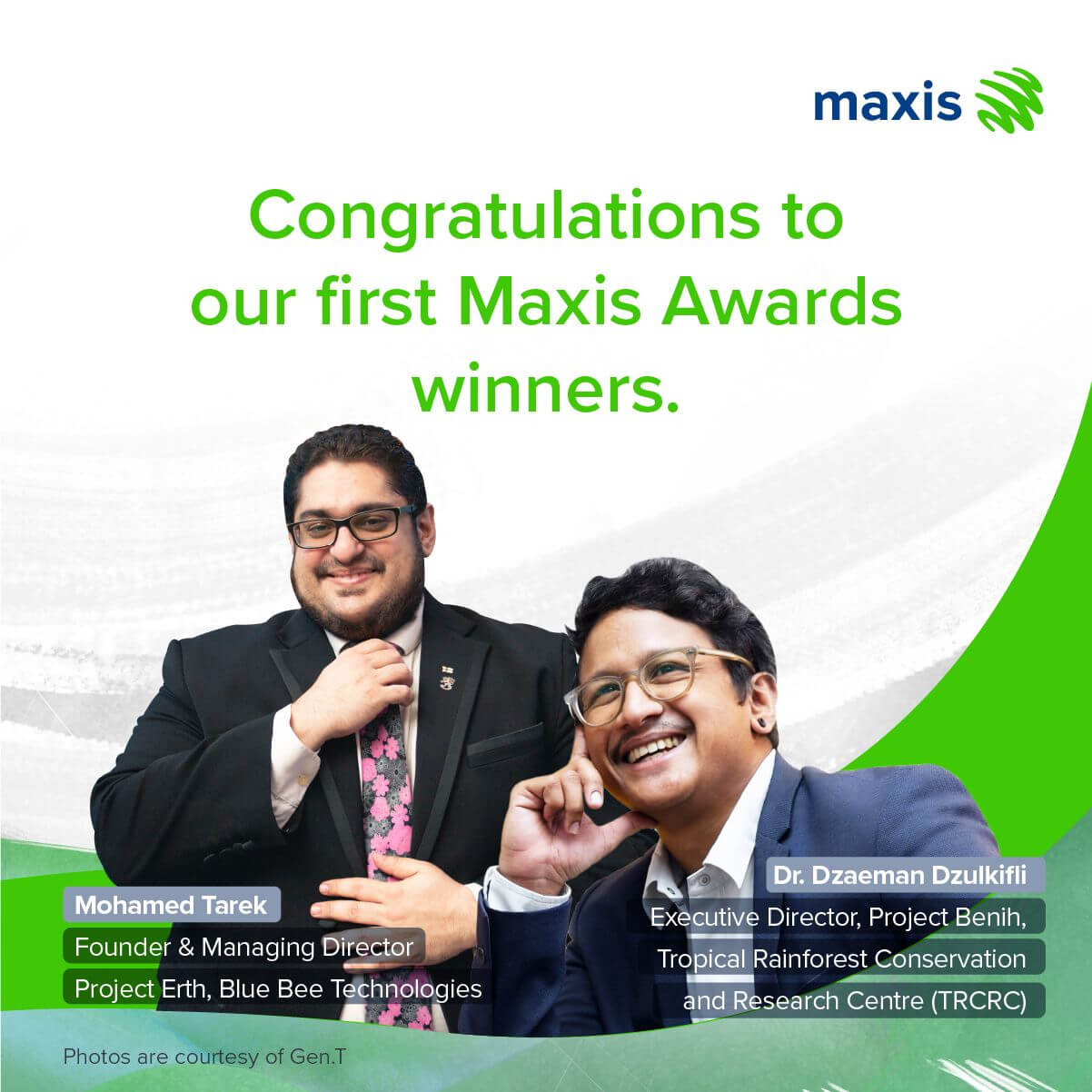 TRCRC's and Blue Bee Technologies' projects have been recognised for their forward-thinking, sustainable solutions
Maxis committed to supporting the development and promotion of projects that drive positive change in the nation, in line with its Always Be Ahead promise
Second round of applications now open to identify three more innovative Malaysian enterprises before year end
The passion of Malaysians in bringing a positive change to the community clearly showed as Maxis announced the first two winners of the inaugural Maxis Awards. Following over three months of review of many inspiring ideas and a rigorous selection process, Project Benih by Tropical Rainforest Conservation and Research Centre (TRCRC) and Project ERTH by Blue Bee Technologies topped the list with forward-thinking solutions towards nature conservation and environmental sustainability.
Launched last month, the Maxis Awards is designed to empower, recognise and support outstanding Malaysian social enterprises whose initiatives and contributions drive positive impact for fellow citizens. Award winners will benefit from digital solutions, consultations and promotions funded by Maxis to bring winning ideas to life.
"The Maxis Awards stay true to our brand purpose of bringing together the best of technologies to enable people, businesses and the nation to Always Be Ahead in a changing world. We have been inspired by the passion and innovation demonstrated by all candidates, which made the selection process even more challenging but also exciting. That said, we are thrilled to welcome our first two winners and look forward to supporting them to see-through their projects to impact Malaysian society and beyond. We also hope to see more local enterprises participating in the next round," said Tai Kam Leong, Head of Brand and Marketing, Maxis.
Project Benih is an initiative to mitigate the biodiversity collapse caused by forest loss witnessed across the world. With digital solutions from Maxis, Project Benih will support its network of germination nurseries in bringing these trees from the rainforest to retail markets, supporting community-led restoration projects. Meanwhile, Blue Bee Technologies' Project ERTH is the first on-demand electronic recycling solution in ASEAN. With Maxis' technological and marketing capabilities, they aim to promote proper electronic recycling practices, utilise a network of gig-economy freelancers to collect old, used or unwanted electronics directly from Malaysian households and businesses. ERTH will pay cash rewards or vouchers as a reward upon collection, and then reuse, repair or recycle the electronics to maximise their value.
"As habitat restoration gains traction and becomes more mainstream, we hope to create a platform for communities and organisations who are leading such projects to connect with the world. A major barrier conservationists face is access to funding, and this is an even higher hurdle for the remote communities we work with on the ground. We are proud to be supported by Maxis and envision that this platform will facilitate greater transparency and provide companies that are seeking to fulfil their ESG goals with a marketplace of projects to meet their sustainability needs," said Dr. Dzaeman Dzulkifli, Executive Director of TRCRC.
"Getting support from Maxis is a huge leap for us. Together with their technological capabilities, marketing reach and visionary leadership we can promote proper electronic recycling practices to millions of businesses and consumers of digital devices. Our goal is to double Malaysia's recycling rate from 25% to 50% within 5 years to become the #1 e-waste recycling nation in ASEAN," said Mohamed Tarek, Founder & Managing Director of Blue Bee Technologies.
Maxis Awards Open for Entries for next round
The Maxis Awards is seeking up to three winning projects in its next round submissions, to be announced in February 2022. Each winner will receive up to RM150,000 in Maxis Business solutions such as Cloud, e-commerce and IoT; technical expertise, and a financial grant to help cover operational needs of the initiative.
Interested Malaysian enterprises can submit proposals from now until 28 November on projects that could have a significant impact on the community and drive positive change. The proposals will be evaluated by a panel of Maxis judges based on a stringent evaluation process. Shortlisted enterprises will then present their projects to the judges, and winners must fulfil criteria based on innovation, role of technology, and clearly demonstrating added value to the community either economically, socially, and/or environmentally.
In total, Maxis is committing RM5 million worth of support to help develop and promote the winning projects over the course of the next year – from the ideation stage up until the execution and marketing of their projects.
For more information on Maxis Awards and how to enter a submission, please visit https://www.maxis.my/maxisawards