Maxis solidifies its converged solutions leadership position and delivers strong earnings growth in Q1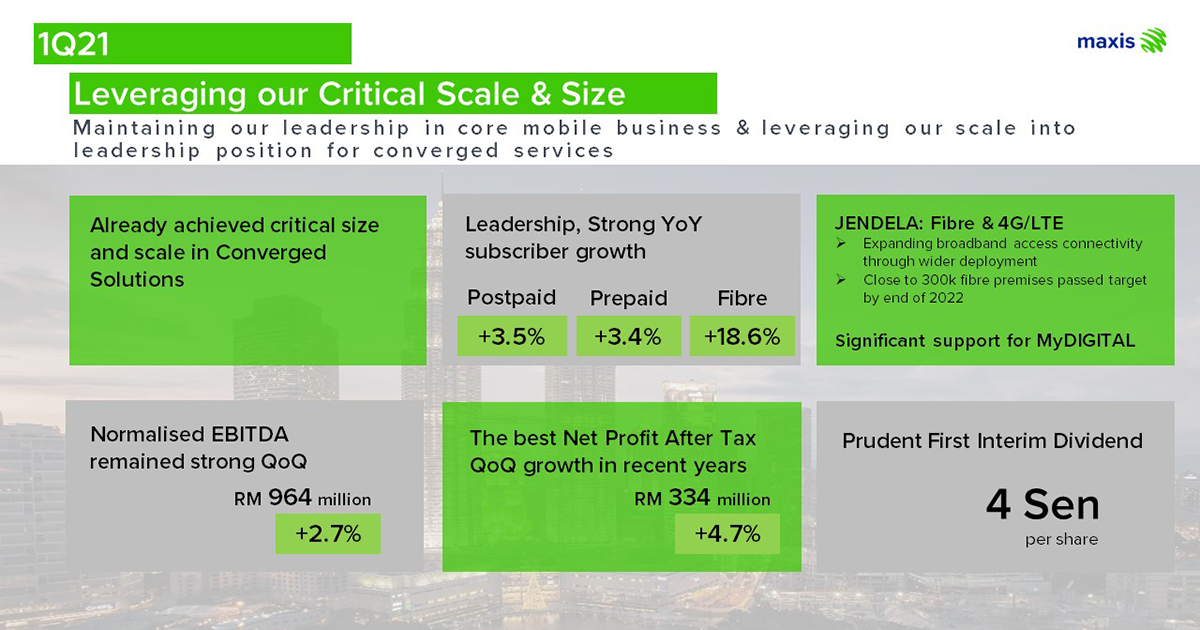 Stable service revenue of RM1,959 million

Profit after tax (PAT) up strongly by 4.7% to RM334 million from Q4 2020

Normalised EBITDA up 0.5% yoy to RM964 million

Registers customer growth across all segments – mobile, fibre, Enterprise solutions and wireless broadband

Declares a prudent first interim dividend of 4 sen net per share
Maxis Berhad's (Maxis) agility and unrelenting focus on its capabilities has seen the company solidifying its position as Malaysia's leading converged solutions provider. Leveraging strength and scale in its core mobile business, Maxis continued to build momentum towards growth, delivering a resilient performance in Q1 2021 with Profit After Tax (PAT) up strongly by 4.7% despite the challenging environment.
Maxis' convergence strategy has proven to be effective as it has led to another quarter of stable service revenue and EBITDA, while continuing to maintain a high EBITDA margin.
For the quarter, Maxis saw subscriber growth across all segments – Postpaid, Prepaid, Fibre and Fixed Wireless Broadband and Enterprise solutions – as the Company responds to market needs with value-attractive plans such as Maxis Postpaid, Hotlink Postpaid and Hotlink Prepaid Unlimited. Notably, there has been significant growth in revenue for fixed broadband services, both fibre and wireless broadband on the back of strong adoption of Maxis Postpaid Prime converged packages and Maxis' leading 4G network. Building upon this momentum and achieving critical scale in converged solutions with fibre access agreements, Maxis is now ready to serve and connect 4.2 million homes.
Providing the best network experience, Maxis has kept customers, businesses and the community connected and ahead in this fast-changing landscape. As the pandemic forced businesses across the nation to adapt to new ways of working, Maxis has been empowering businesses to meet the accelerated need for digitalisation. As one of the Technology Solutions Providers identified by Malaysia Digital Economy Corporation (MDEC) for the Government's digitalisation grant, Maxis continues to support SMEs with a complete digital onboarding experience across one of the widest retail networks nationwide.
As Malaysians increasingly adapt to remote working and digital lifestyles, data usage continues to see an upward trend. On a blended basis, Maxis' customers used an average of 21.58 GB a month, an increase of 28.4% year-on-year. Capex investments for the quarter went towards network capacity as well as mobilisation of Enterprise business growth and opportunities. Maxis has further expanded its broadband access connectivity through wider deployment to underserved areas and is on track to meet its JENDELA targets. Combined with its earlier build, Maxis will have its own total premises passed of close to 300k by end of 2022. Its solid progress on JENDELA and support for the country's MyDIGITAL blueprint is underlined by its key role that it plays as a catalyst for digitalisation in the country.
For Q1, Maxis recorded high customer satisfaction scores once again, a testament to its strong focus on providing unmatched personalised experiences. Maxis remains committed to bringing together the best of technologies to help people, businesses and the nation to Always Be Ahead in a changing world.
Comment by Gökhan Ogut, CEO, Maxis:
"We are pleased to have delivered a good set of quarter one results in a continuously challenging environment. This has been achieved through our sharp focus on our customers and long-term growth strategy. For businesses, our journey into converged services and Enterprise solutions in the last two years has given us a strong first-mover advantage in the industry. Together with our differentiated network, product innovation and committed people, we will continue to serve individuals, home and businesses and help them thrive in this new norm of accelerated digitalisation."
Q1 financial highlights year-on-year – Q1 2021 vs Q1 2020
Stable service revenue at RM1.96 billion, though registered a slight dip of 0.5% from Q1 2020, continued to be resilient due to growth in subscribers across Postpaid, Prepaid and Fibre segments.
Normalised EBITDA was up by 0.5% to RM964 million. Meanwhile, Normalised EBITDA margin on service revenue grew to 49.2%.
Profit after tax (PAT) up strongly by 4.7% to RM334 million from Q4 2020, but eased by 6.4% from Q1 2020 due to higher depreciation in IT investments.
Resilient Postpaid revenue at RM974 million, a marginal dip of 1.4% from Q1 2020, while monthly ARPU is healthy at RM82 although lower from RM86 in Q1 2020 due to the temporary lack of international roaming revenue and dilution from the uptake of Hotlink Postpaid entry level plans.
Competitive Prepaid subscription with growth of 3.4% to 6.08 million customers and stable ARPU at RM38. This is due to strong adoption of Hotlink Prepaid Unlimited as well as successful new Hotlink branding and omnichannel marketing that targets underserved markets. Revenue eased 3.4% to RM690 million.
Continued growth momentum in home connectivity, with 24.1% increase in fibre and wireless subscribers, totalling 603k. Fibre connections continues to deliver healthy customer growth and revenue. Maxis Postpaid Prime remains attractive to customers who are also adopting higher end plans contributing to 18.6% increase in fibre subscribers to 465k subscribers and a 17.6% increase in revenue to RM154 million. The ARPU remained stable at RM108. Additionally, Fixed Wireless Broadband subscriber based expanded by 46.8% to 138k while revenue grew by 55.6% to RM42 million, and ARPU grew to RM111.
Operating free cash flow (OFCF) at RM667 million for the quarter due to reduced income that offset the benefits from working capital initiatives. The strong focus on cash flow management is nonetheless delivering and improving capital efficiencies.
Increased adoption of digital services. Maxis and Hotlink app continues to see growing adoption. 60% of postpaid primary account holders are on the MyMaxis App, while 73% of prepaid mobile customers are using the Hotlink Red App.
A 4 sen interim dividend was declared for the quarter as Maxis continued with prudent distribution during this challenging time to allow the Company to protect its core business in preparation for the opportunities arising from economic recovery.
Key Highlights for Q1 2021
Championing digitalisation of Malaysian SMEs and Enterprises for future-readiness
Launched Maxis Programmable Network to offer enterprise-grade connectivity.
Introduced Maxis Digital Workspace, the first, all-inclusive managed laptop solution in Malaysia.
Over 1,300 participants took part in the third instalment of Maxis Business' Spark Engage where they heard from industry experts on the critical need to innovate.
Committed to bringing the best connectivity to Malaysia in line with JENDELA
JENDELA initiatives for 2021 well underway.
Ongoing industry collaboration to jointly develop and share fibre infrastructure.
Unmatched personalised experiences in line with customers' digital lifestyles
Launched next generation WiFi 6 router with built-in EasyMesh™ for faster speeds, wider WiFi coverage with increased signal range, and bigger capacity for more devices.
Unveiled first-in-market unique OTT bundles with free unlimited data for worry-free streaming with Maxis TV.
Continued focus on supporting communities
Launched eKelas Usahawan programme to empower women entrepreneurs and micro-SMEs in rural areas with greater digital adoption.
As part of its contribution to Yayasan Kebajikan Negara, distributed food aid worth RM330,000 todate to impacted communities and ensured connectivity through network mitigation efforts in the East Coast during the recent floods.
Launched Maxis' Graduate Programme, in line with commitment to building the next generation of forward-thinking leaders for Malaysia and enabling them to become subject matter experts or leaders in an area they are passionate about.