Maxis Programmable Network brings new era of enterprise-grade connectivity and performance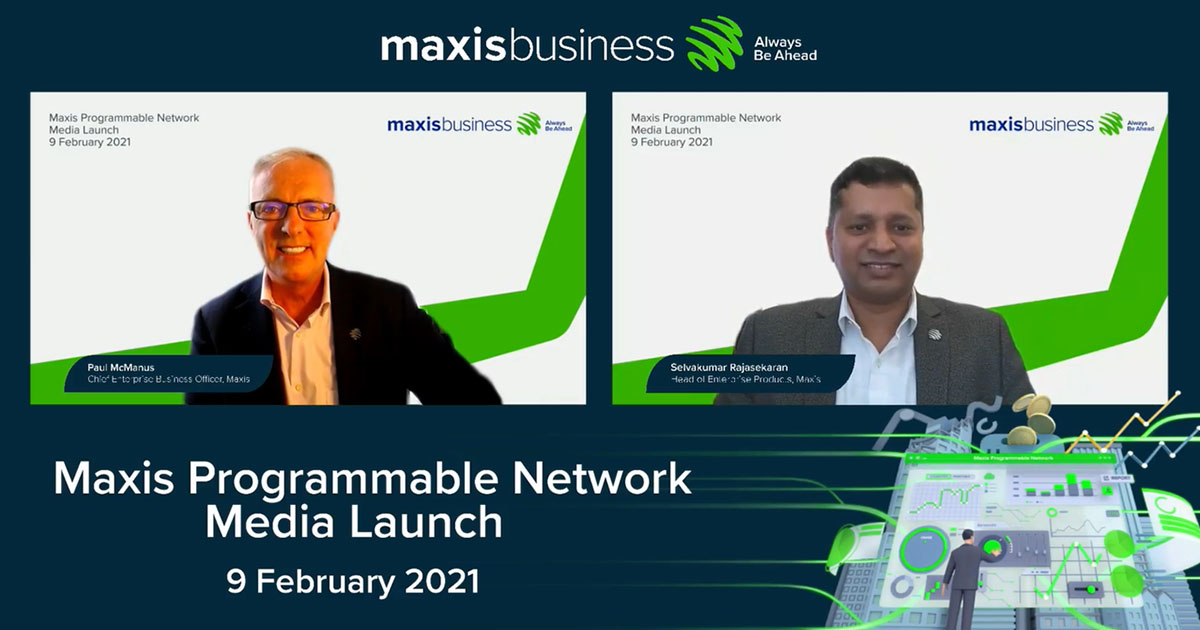 New Bandwidth on Demand feature enables businesses to get bandwidth they need instantly and pay only for what they need for greater agility and control

Flexible, secure, and reliable connectivity that scales with the business
MEF 3.0 CE certified to deliver enterprise-grade security and reliability for mission-critical applications
Maxis is continuing with its commitment to help accelerate digitalisation for businesses with the launch of its Maxis Programmable Network (MPN), Malaysia's first programmable software-defined network. It is a next generation enterprise grade network delivering to the needs of all enterprises for their fixed voice and data requirements. This converged 5G-ready core network infrastructure is designed to give enterprises greater agility, control, scalability and visibility in how they connect their organisations beyond just subscribing to a service.
To illustrate, the MPN allows enterprises to scale their bandwidth with flexible subscriptions as short as a day. MPN enables a key feature that is a game-changer for businesses – Bandwidth on Demand – which provides companies with the ability to upgrade bandwidth in real-time. To take full advantage of MPN, customers just need to log into or register with Maxis Business Hub to access a suite of on-demand services including Bandwidth on Demand.
"With the Maxis Programmable Network, we are essentially making it easier for businesses to balance their costs and performance by having the peace of mind of greater agility and control. Through our new Bandwidth on Demand feature, customers can get bandwidth they need instantly and pay only for what they need – it's as simple as that. The MPN is a timely launch as businesses have to respond and adapt quickly to a rapidly evolving digital landscape, while ensuring cost efficiency," said Paul McManus, Chief Enterprise Business Officer, Maxis.
Real-time Bandwidth on Demand is available with six fixed enterprise broadband services: Dedicated Internet Access, Managed SD-WAN, Cloud Connect, Multi-Protocol Label Switching VPN, Data Centre Connect, and Domestic Private Leased Circuit. Organisations can upgrade their bandwidth almost instantly when needed with the click of a button on the new self-serve portal on the Maxis Business Hub. Data-heavy backups, preventive maintenance, and disaster recovery activities can also now be undertaken more effectively, resulting in savings of as much as 30%.
The value of MPN for businesses
Here's why the MPN is the most advanced network for business:
It offers Enterprise-grade performance, thanks to its MEF 3.0 certified infrastructure, the international gold-standard for ethernet services.
It offers real-time bandwidth on demand, which enables businesses to get the bandwidth they need instantly and pay only for what they need.
It has deep integration with cloud providers to enable businesses to scale their infrastructure with ease throughout their cloud lifecycles.
To find out more about the Maxis Programmable Network, please visit https://business.maxis.com.my/en/maxis-programmable-network/