Maxis launches first shoppable Raya film in Malaysia, using technology to support SMEs this festive season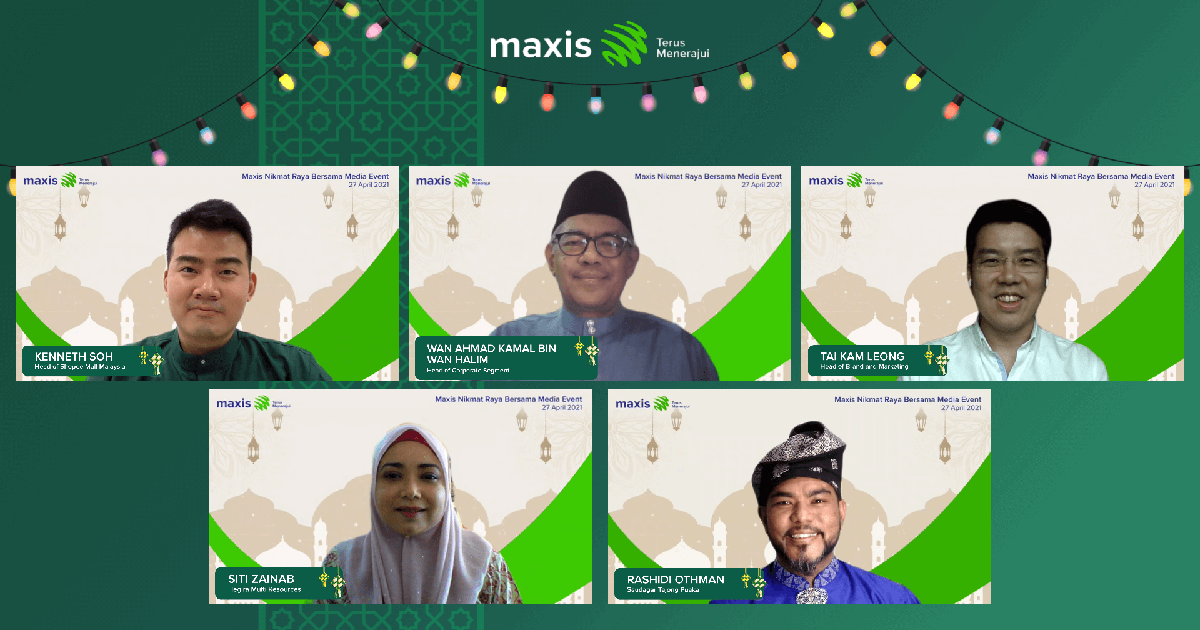 Collaborates with Shopee to launch Raya campaign which puts spotlight on local entrepreneurs to help them unlock their 'rezeki'
Launches Malaysia's first shoppable Raya film which combines storytelling with technology, turning video into a shopping catalogue for entrepreneurs to promote and sell their products
Committed to empowering micro-SME and SME community by bringing together the best of technologies to enable them to Always Be Ahead
Ramadan and Raya seasons have traditionally been opportunities for an income boost for traders and entrepreneurs. Unfortunately, the challenging pandemic situation has put a dent to the hopes of many.
For the upcoming festive season, Maxis has launched its Raya campaign in collaboration with Shopee, that puts the spotlight on local micro-entrepreneurs to help them unlock their 'rezeki' potential through the power of eCommerce. Driving the campaign is Maxis' festive film, Raya Si Sakan, which combines storytelling with technology through shoppable ad features, turning a typical video into a shopping catalogue for entrepreneurs to promote and sell their products.
Through Malaysia's first shoppable Raya web and TV film, Maxis is inviting Malaysians to shop for a noble cause, and at the same time enjoy selecting from over 3,000 products – from fashion, food, Islamic wares, décor and home items, as well as arts and crafts.
"The Raya season has always been personified by acts of generosity and shopping. Together with Shopee, we were inspired to blend the best of both traditions, using our shoppable Raya film to turn shopping into acts of giving! Bringing sellers and shoppers together in this digital space, we are encouraging people to support local businesses, while giving the latter the exposure they would not ordinarily get otherwise. And as a tribute to their entrepreneurial spirit and contribution to our economy, we want to put the best of technology in their hands to enable them to Always Be Ahead," said Tai Kam Leong, Head of Brand and Marketing, Maxis.
"We see this partnership with Maxis as yet another exciting initiative to make e-commerce accessible, inclusive and beneficial for all Malaysians. As we further our goal of using technology to empower the communities that we serve in, this joint effort will help local entrepreneurs, particularly B40 entrepreneurs by giving them the opportunity to gain exposure and sales. Beyond sales, the initiative strives to provide livelihoods for the entrepreneurs and help them survive during these trying times. We are humbled to be part of this collaboration and we look forward to greater things that will benefit the country together with Maxis," said Kenneth Soh, Head of Shopee Mall Malaysia.
Empowering SMEs digitally
Maxis has been supporting the SME and micro-SME community for several years now. Recently, it launched its eKelas Usahawan, a structured digital marketing programme to empower women entrepreneurs in rural communities to develop a stronger digital presence. The programme comprises a series of digital marketing workshops at no cost, with a practical and hands-on approach to equipping them with digital tools and skills to help them grow their respective business and expand their income opportunities.
Meanwhile, as a Technology Solutions Provider (TSP) by the Malaysia Digital Economy Corporation (MDEC) under the SME Digitalisation Grant, Maxis is enabling SMEs who apply for the grant through Maxis to choose from the widest range of connectivity and digital solutions to accelerate their digital aspirations. SMEs will benefit from a single Maxis touchpoint for a complete digital onboarding experience available across one of the widest retail networks nationwide. SMEs will also have access to a dedicated Help Squad to assist them to find the right solutions for their business. More activities to guide SMEs on how to take advantage of the Grant will be rolled out over the next few months.
To learn more about the campaign and watch the shoppable Raya film, please visit https://www.maxis.com.my/en/campaigns/nikmatrayabersama/