Maxis collaborates with local Sarawakian artiste for Gawai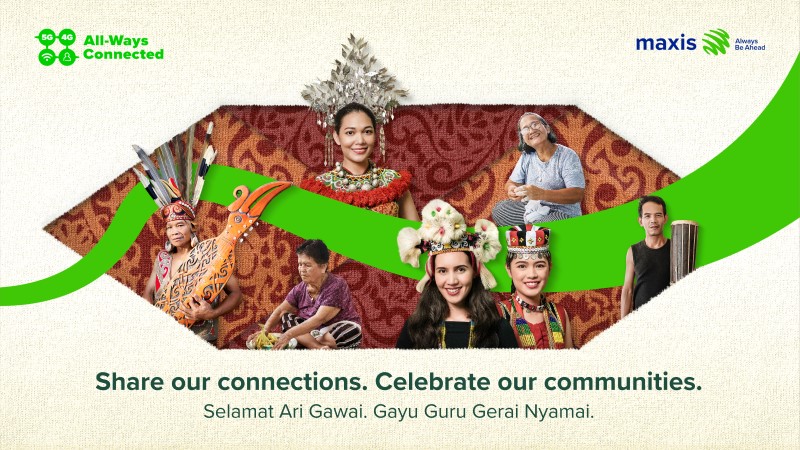 Supporting and collaborating with local Sarawakian artiste Alena Murang to release "Sun Hat Song"
Spirit of togetherness reflective of Maxis' promise to bring together communities on the Rangkaian Malaysia to Always Be Ahead in a changing world
There is certainly much to celebrate especially during the harvest festival of Gawai in Sarawak which starts on 1 June. This year, in continuing to be a part of this rich tradition, Maxis is proud to collaborate with a local artiste to produce a festive music video which brings to life a unique interpretation of Gawai as well as the spirit of a vibrant community.
Sarawakian Alena Murang, who is of Dayak-Kelabit heritage, has released her Sun Hat Song, in which the acoustics reverbs with classic rock vibes, and is sung in the multiple languages of Sarawak: English, Iban, Bidayuh, Kelabit and Kenyah. Watch the Sun Hat Song music video here:
https://www.maxis.com.my/en/campaigns/gawai-celebration/
"We join the diverse communities of Rangkaian Malaysia, especially those in Sarawak, who will be celebrating Gawai together with their families and loved ones. In serving Rangkaian Sarawak, we are excited to partner with local artistes in this wonderful song about the Gawai spirit of togetherness. It reflects our own commitment to bringing together communities through collaboration, so that they can always be ahead," said Tai Kam Leong, Head of Brand & Marketing, Maxis.