Maxis Scholarship Programme 2022 returns with a continued focus on building critical tech capabilities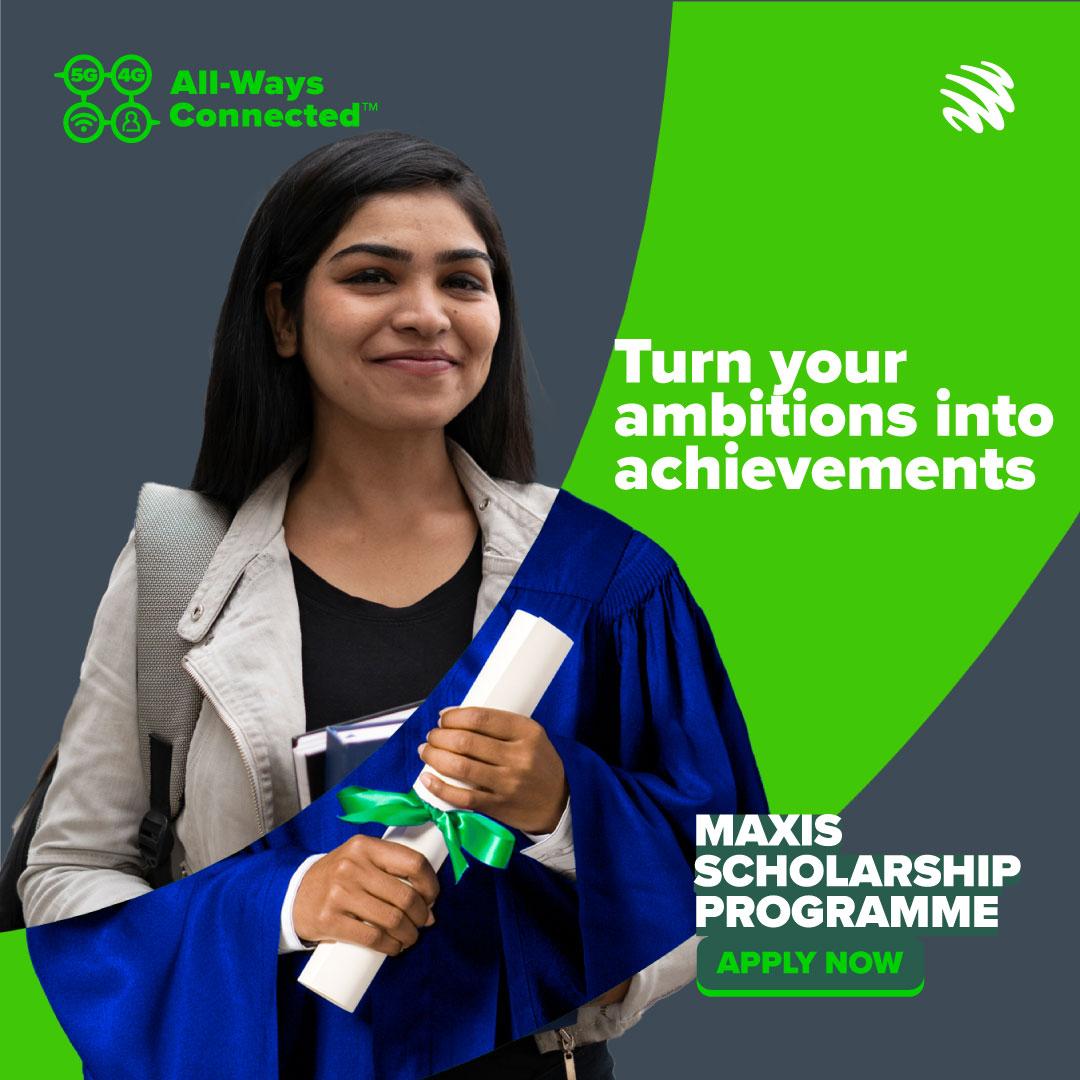 Maxis Scholarship Programme to enable young Malaysians to achieve their academic aspirations in STEM fields, leadership and innovation capabilities
With overwhelming response since its launch in 2020, young talent and women invited to submit their applications from now until 12 Sept
Programme underlines Maxis' commitment to investing in young Malaysian talent
A big part of Maxis' commitment to investing in the nation is supporting communities – from students, women, entrepreneurs and B40 communities – through its passion for education. Investing in the next generation of women, STEM, leadership and innovation talents, its popular Maxis Scholarship Programme has returned once again to help young Malaysians achieve their academic aspirations and the opportunity to contribute positively to the nation.
"We are really pleased to see such positive response to our Scholarship programme since we launched it back in 2020. Our goal is to continue supporting young Malaysian talent in building sustainable skillsets, so that they can stay ahead and relevant in this fast-changing tech-driven landscape. This is a fantastic and timely opportunity for students, so we encourage candidates to apply today!" said Natalia Navin, Chief Human Resources Officer, Maxis.
Submission of applications are currently open until 12 September 2022. Interested candidates can check the eligibility criteria and find out how to apply at https://www.maxis.com.my/en/about-maxis/career/maxis-scholarship-programme/
The three categories of the Maxis scholarships are as follows:
Maxis Women in Tech Scholarship: Enabling outstanding young women from all backgrounds to pursue their undergraduate studies in different tech fields.
Maxis Tech Scholarship: Shaping top talent who are passionate about technology and innovation to pursue their undergraduate studies in various fields of technologies.
Maxis Young Leaders Scholarship: Providing bright students a platform to propel them into a leadership trajectory, as well as champions of innovation and change.
Last year, 15 outstanding individuals were awarded the Maxis scholarships following a rigorous selection process involving assessment, group activities and interviews.
What current Maxis scholars say:
"Maxis Scholarship Programme had given me the opportunity to pursue my passion in Computer Science. Throughout the programme, I was also given an internship opportunity, where I was able to learn and understand how computing is applied to innovation and transformation. I would like to thank Maxis for giving me the opportunity to advance closer to my dream." - Choo Carmen, Maxis Women In Tech Scholar, studying Computer Science at Monash University Malaysia
"I was looking for a scholarship to alleviate the financial burden of my family, as pursuing a STEM degree is very costly, especially from a reputable university. I came across the Maxis Scholarship Programme and it was a golden opportunity. The experience has left an imprint as to how much Maxis values its talent due to their close collaboration with us." - Roy Ng Zhan Lok, Maxis Tech Scholar, studying Mechanical-Electronic (Mechatronic) & Robotics Engineering at Monash University Malaysia
"I was thrilled to be selected as a Maxis scholar last year and to have the opportunity to build my skills in the tech field. Apart from the financial aid, internships offer exposure to the latest technology, with support from supervisors, fellow scholars, and the Young Talent Team to become the best versions of themselves. They equip us with new knowledge that can help us unleash our potential." - Farah Dayana Durra Binti Jamil, Maxis Women In Tech scholar, studying Computer Science and Information Technology (Software Engineering), Universiti Malaya