Gaming fans can catch Hotlink's virtual eSports tournament live with Team Secret and win prizes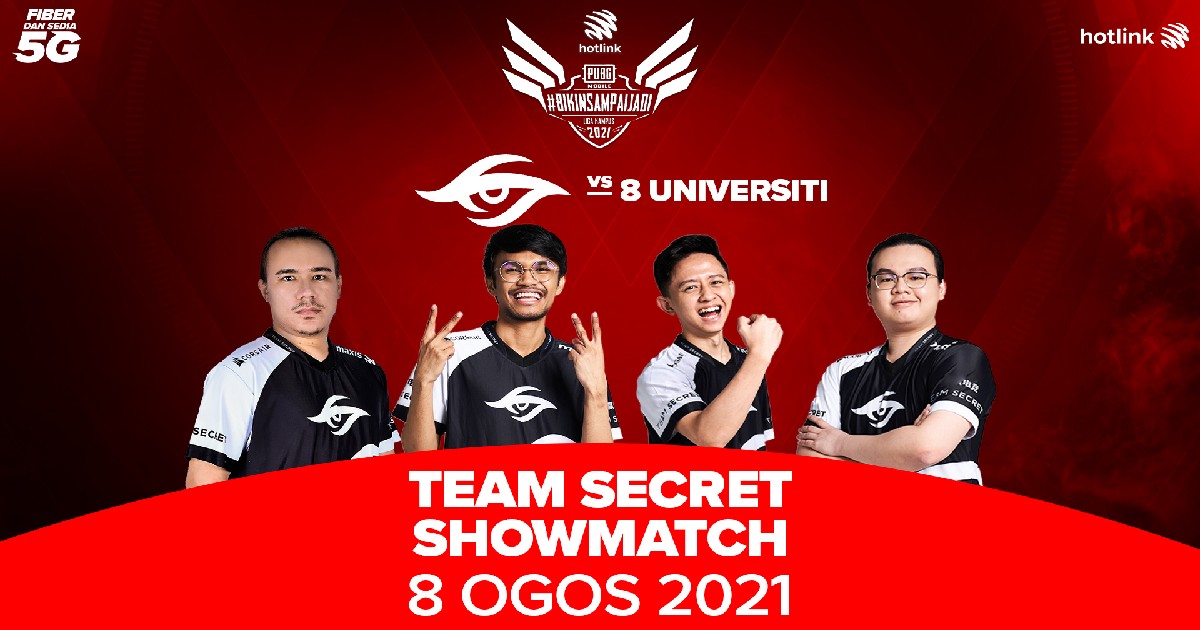 Maxis committed to support homegrown talent, as well as promote growth of the local eSports industry by empowering the next generation of gamers on Malaysia's No.1 Network
Hotlink virtual eSports tournament, PUBGM Liga Kampus #BikinSampaiJadi 2021, an initiative to connect youth from local universities through eSports from home, with the chance to win total prize pool of RM65,000 in cash and kind
Fans invited to watch livestream of Grand Finale and show match with Team Secret and stand a chance to win prizes
Home to one of the biggest eSports markets in Southeast Asia, Malaysia's gaming scene continues to grow, as more local gamers make the country proud on the international stage. Through Hotlink's virtual eSports tournament, PUBGM Liga Kampus #BikinSampaiJadi 2021, Maxis has continued its commitment to support homegrown gaming talent and promote the growth of the local eSports industry.
The virtual eSports tournament aims to connect Malaysian youth through the highly popular mobile e-sports game on Malaysia's No.1 Network. The Grand Finale will see the Top 16 teams from eight local universities battle it out, followed by a live match with Maxis-sponsored Team Secret. Fans will get to watch the live stream on 7-8 August, from 12pm-3pm on Hotlink's Facebook page.
"Maxis is proud to help youths achieve their dreams through eSports. The passion of both renowned and aspiring Malaysian gamers is incredibly inspiring, and they are truly the embodiment of #BikinSampaiJadi. So we want to help them do just that through initiatives like our virtual eSports tournament. With Hotlink, there are no limits to what you can do – and we are excited to be part of the journey of Malaysia's next generation of top gamers," said Navin Manian, Maxis' Head of Hotlink Consumer.
Since the launch of the virtual tournament on 12 June, participating teams have been competing for a total prize pool of RM65,000 in cash and kind. Meanwhile, prizes were given out on a weekly basis to viewers of the livestream sessions throughout the tournament. During the Grand Finale, they get to win exclusive Team Secret merchandise, along with other exciting prizes such as a gaming chair, wireless earphones and fitness trackers.
Maxis and Team Secret PUBG Mobile Malaysia continue their collaboration over the past two years. Both parties have developed exclusive gaming content together, to cultivate more Malaysian gamers to take on the world stage. At the same time, the partnership has enabled players and fans to enjoy awesome propositions for a superior gaming experience, including the latest gaming device bundles with Maxis Zerolution, plus in-game purchases via Operator Billing for Hotlink and Maxis customers.
Catch the Grand Finale of PUBGM Liga Kampus #BikinSampaiJadi 2021 at https://fb.me/e/11m4ZyTxY, or for more information, go to https://www.hotlink.com.my/en/lifestyle/web/games/