Maxis is supporting Malaysians to stay home and stay connected
Services available via multiple channels for convenient accessibility
Zero rated calls and data for important hotline numbers and selected websites
Free trials on collaboration and mobility solutions to help with business continuity
When movements are restricted and people are separated, Maxis is conscious of the importance of its connectivity network, and is ready to help its customers stay connected. Measures have been put in place to ensure that its fixed and mobile networks remain uninterrupted and life and business run as usual to meet the dramatically increasing needs.
"There is no doubt that we are living in unprecedented times. But we are also grateful to be in an era where technology is playing such a critical role in our lives, and we know that we can continue to leverage the power of technology and connectivity to help us overcome many challenges. We are therefore committed to do our part in helping our customers stay connected safely at home, so that they can continue life and business uninterrupted," said Gokhan Ogut, Maxis' Chief Executive Officer.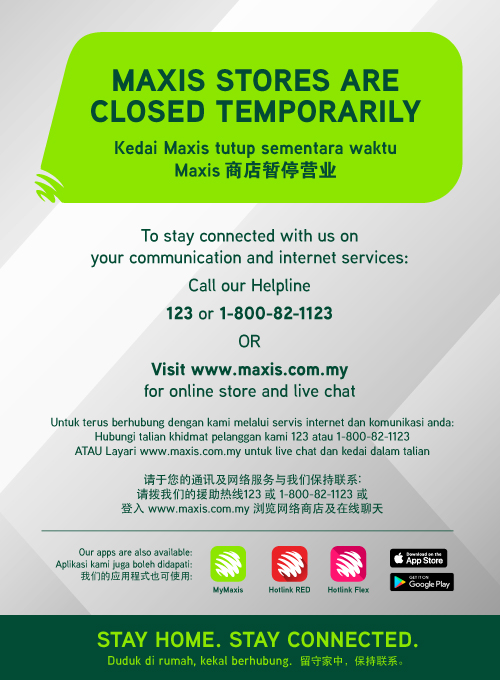 Effective 19 March until further notice by the authorities, Maxis has temporarily closed all its stores, including Maxis Centres and Maxis Exclusive Partner outlets. Maxis customers will still be able to reach out via 24-hour self-serve kiosks, call centres, website as well as via MyMaxis, Hotlink RED and Flex apps, which have been fully equipped to conduct reloads and purchases via online banking, e-wallets or credit cards.
Maxis continues to put the health, safety and wellbeing of its employees, customers and the general public as its highest priority. While trying to keep up with the increased surge in connections and the needs of critical premises around the country, Maxis also has a number of initiatives to help its customers access the latest information on the situation, limit their movement and continue life and work from home.

Free access to the latest information
From 21 – 31 March or until further notice from the authorities, Maxis will not be imposing any data charges for customers who visit selected websites for important information and updates. They include:
Crisis Preparedness and Response Centre (CPRC), which is under the Ministry of Health
All State Health Departments in the country
Prime Minister's Office
Ministry of Health
World Health Organization
Meanwhile, Maxis customers can also call the CRPC hotline number as well as telephone numbers of State Health Departments at no cost during this period. The zero call rates will come into effect from Tuesday, 24 March.

Continuing connectivity without leaving home
Maxis understands that its customers need to stay connected especially with friends and family via voice and video calls, messaging or social media. Staying home could be a barrier to activities like top-ups to continue to enjoy internet connectivity. This is why Maxis is encouraging its customers to use the MyMaxis and Hotlink RED apps for ease and convenience:
Free 3GB Mobile Internet pass for all Maxis, Maxis Business and Hotlink Postpaid plans (available from 27 March)
Easy digital top ups with up to 30% cash back
Hotlink Rewards points that can be redeemed for free internet
Free 20GB free with HotlinkMU purchases (available from 23 March)
SOS top ups for every customer in need

Helping businesses stay home and stay connected
There has never been a more critical time to leverage the power of technology for business, which can keep productivity levels up and ensure business continuity. To cater to the majority who are required to work from home or communicate across borders with business partners and colleagues remotely, Maxis is giving some test drives for important collaboration and mobility solutions:
Six-month free subscription on Managed UC: To help with business continuity while at home, a six-month free subscription is available for Maxis' Managed Unified Communications through Microsoft Teams for Teams Phone System and Teams Calling packages. Microsoft Teams, which leverages Maxis' recent strategic partnership with Microsoft, is an all-in-one collaboration tool that provides the convenience and processes to work from anywhere with a network connection, at a time that works for both the employee and the business, across multiple devices. This offer is on a first-come-first-serve basis, and for a limited number of users per business.
Two-month free trial for fixed mobile convergence via Voice Connect App: This free trial of Maxis' calling feature via fixed business line allows companies to huddle at ease via Voice Connect App, and to ease team leaders in engaging with employees remotely, assuring that collaboration is made easy.
To find out more about these initiatives and incentives, customers can visit www.maxis.com.my/stayhomestayconnected, www.hotlink.com.my or call 123 from their mobile or 1 800 82 1123 from their fixed line.
Maxis would like to encourage all members of the public to stay safe, healthy and connected.