Maxis' eKelas 5G virtual reality use case a potential catalyst to advance education in Malaysia
Maxis' VR learning experience is the only 5G use case in the education vertical being piloted under the 5G Demonstration Projects
Maxis keen to play a key role in connecting more students with eKelas digital learning content
Maxis has long started its 5G journey, and is committed to delivering the best 5G innovation for the benefit of the people and businesses in Malaysia
Showcasing the potential of 5G in education, Maxis demonstrated its 5G use case, the virtual reality (VR) experience for Science learning in its eKelas programme to Yang Amat Berhormat Tun Dr. Mahathir bin Mohamad, the Prime Minister of Malaysia at Pusat Internet IOCC today. The VR learning experience by Maxis is the only 5G use case in the education vertical being piloted under the 5G Demonstration Projects in Langkawi.
Powered by 5G, VR learning makes a compelling use case. The curriculum was brought to life by letting students to virtually explore the different parts of the human body or animal cells they are learning using their hands, all guided by a teacher remotely. Students were equipped with a VR headset complete with a unique student-friendly interface, gesture controls, embedded educational resources and simple-to-use teacher controls. The virtual reality experience gives students a close look at various elements in the topic, from big to small, simple to complex. Given its immersive properties, students learn in an experiential way that helps with their understanding and retention of the topic learnt.
"We believe that 5G has great potential to be a catalyst to advance education in Malaysia. We are thrilled at the prospect of exploring this opportunity for students in Malaysia through our eKelas programme. We want to play a key role in connecting more schools with our digital learning content though our well established Maxis eKelas portal. Digital inclusion is important and Maxis wants to do its part in ensuring that the benefits of technology are realized by all," said Gokhan Ogut, Maxis' Chief Executive Officer.
Apart from the eKelas VR use case., Maxis has two more 5G-enabled use cases in Langkawi – Fixed Wireless Access (FWA) stationed at Langkawi International Airport (LIA), showcasing 5G speeds and connectivity to areas with no fixed High Speed Broadband, and Smart Agriculture, in collaboration with Malaysian Agricultural Research and Development Institute (MARDI) to enable precision agriculture by Maxis NB-IoT for grape crops.
For more information on Maxis 5G Use Cases, please refer to the fact sheet.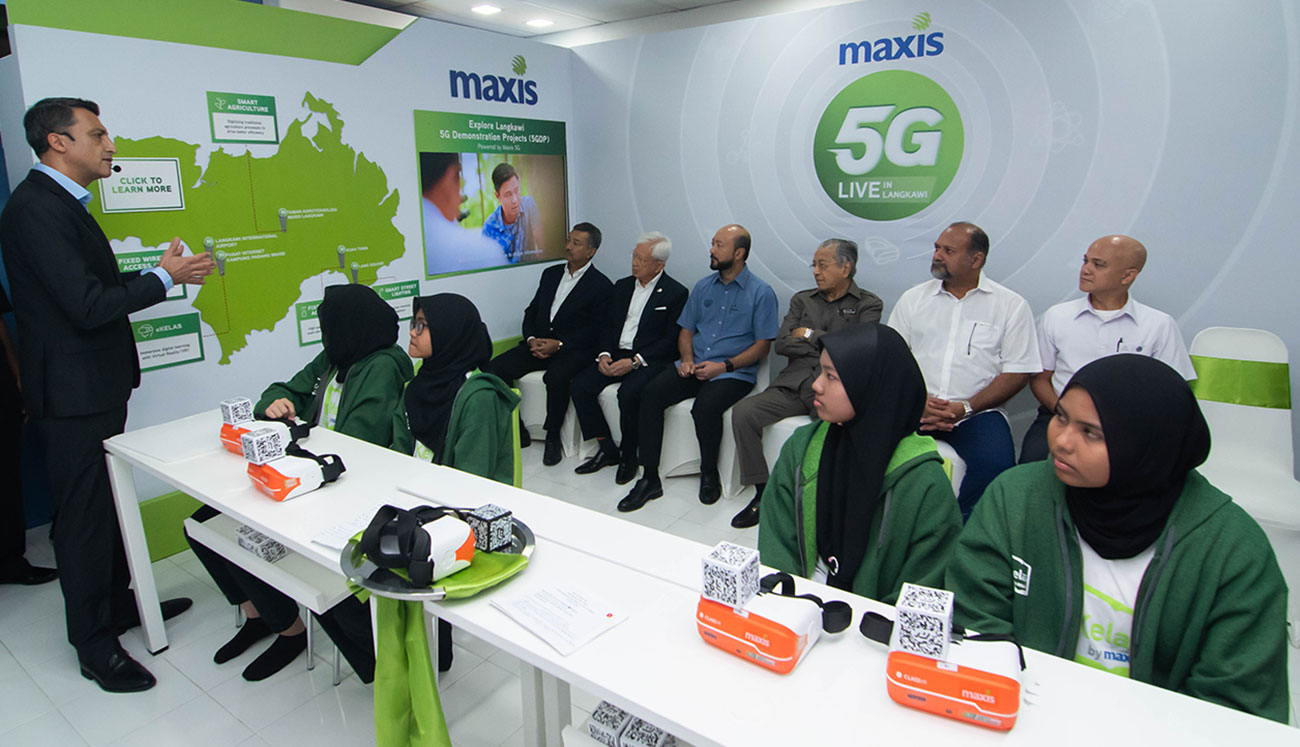 Maxis eKelas champions digital learning
eKelas is Maxis' flagship community programme that which champions digital learning for students in rural areas. It is an after-school digital learning initiative for students from Year 6 to Form 5, which brings learning enrichment in a fun and vibrant way and provides access to quality education content, in line with the Malaysian School Syllabus. Focusing on Science, Mathematics and English, students are exposed to experiential learning through a combination of live tutorials, group learning, competitions and digital content. Maxis eKelas is currently delivered at 72 Pusat Internet located across 10 states in Malaysia, with a target to reach more than 17,000 students in 2020. The programme is made possible by Maxis' partnership with MCMC, as it is run at their Pusat Internet which serve as digital hubs for communities in underserved areas. Maxis eKelas has been recognised by the Ministry of Education as an initiative under its Highly Immersive Programme, where students are eligible to collect co-curricular marks from their participation in eKelas.
Please watch eKelas' 5G VR experience video here https://www.youtube.com/watch?v=7t37hAU1H6E
For more information on Maxis eKelas, please refer to the fact sheet.

Maxis' 5G Journey
Maxis has long started its 5G journey. Over the last few years, it has been assessing the technology and conducting demo trials in its test lab. Maxis has been upgrading its transport network to support the gigabit speeds and at the same time virtualising its core network elements for flexibility and scalability for the capacity demands of this technology.
In February this year, Maxis and Huawei signed an MoU to cooperate on full-fledged 5G trials. Following this, Maxis commenced the first 5G live trials in the country, where it recorded close to 3Gbps download speeds. Maxis also participated in MCMC's #5GMalaysia showcase in Putrajaya, demonstrating how 5G can enable Government and corporations to make informed decisions using the technology. In October, Maxis and Huawei signed a landmark agreement for the provisioning of 5G network, an important milestone in Maxis' 5G journey as it commits to deliver the best 5G innovation to benefit the people and businesses in Malaysia as soon as the necessary spectrum is made available. In November 2019, Maxis unveiled its first use case demo at aquariaKLCC, showcasing Malaysia's first 5G Augmented Reality (AR) experience with marine life.