Maxis IoT Challenge 2020 continues to foster strong home-grown innovation in IoT and 5G for businesses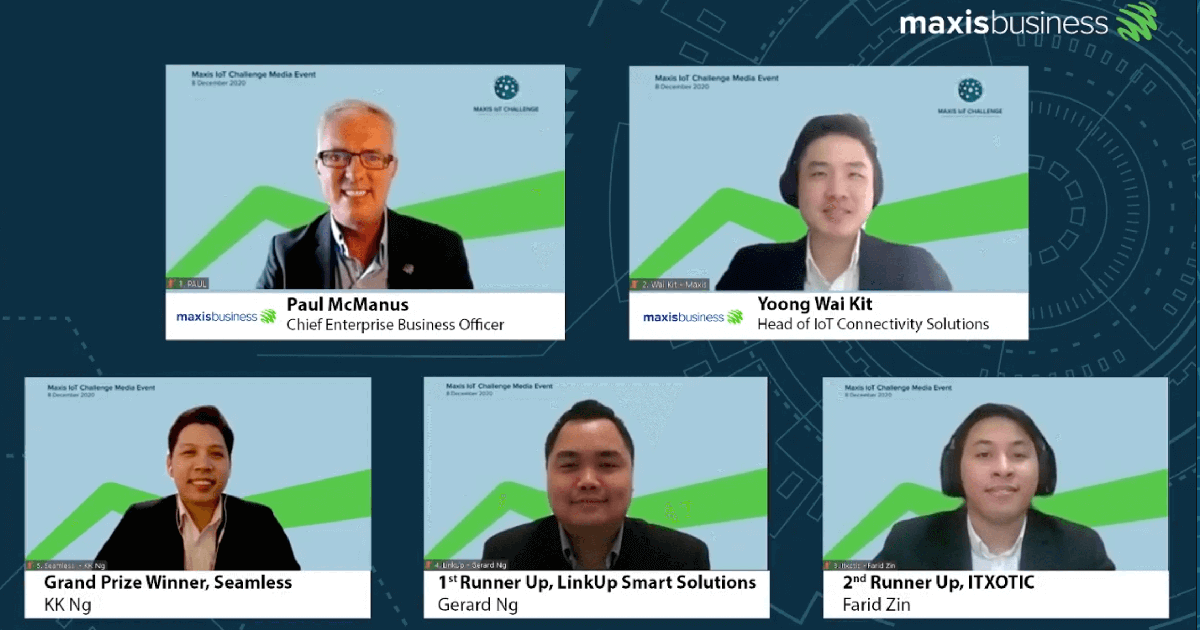 Maxis announces top three winners of Maxis IoT Challenge 2020 with a total cash prize of RM30,000, as well opportunity to be among first developers in the country to trial and commercialise their 5G-enabled solutions

IoT Challenge is a continuation of Maxis' partnership with MDEC, and commitment to fostering innovation and promoting the IoT ecosystem development in the country

IoT Challenge represents Maxis' broader purpose to bringing together the best of technologies to enable people, businesses and the nation to Always Be Ahead in a changing world
Following months of hard work from innovative talents across Malaysia and finalists pitching their solution prototypes to a panel of judges, the top three winning teams of the Maxis IoT Challenge 2020 have been revealed! In addition to cash prizes, the winners will have the opportunity to be among the first developers in the country to trial and commercialise their 5G-enabled solutions around immersive retail experiences and township security, and accelerate them to market.

Launched on 4 September, the second edition of the Challenge themed Transforming Industry Challenges Today into Business Opportunities Tomorrow, is part of a continuing partnership with Malaysian Digital Economy Corporation (MDEC) and industry collaborators to promote the IoT ecosystem development of 5G-enabled solutions and spur the digital economy. It is also one of the many joint initiatives that Maxis is undertaking with MDEC to foster innovation for all Malaysians and encourage the startup community in the country.

"I am pleased to see the Maxis' IoT Challenge creating a strong platform and opportunity for our local talent to shine through innovation in technology. Such initiatives are important drivers for our country's digital ambitions. We believe helping to foster the ecosystem of entrepreneurs and small businesses to accelerate their growth is a catalyst that will benefit the entire country and accelerate the digital and creative economy of Malaysia," said Yang Berhormat Dato' Saifuddin bin Abdullah, Minister of Communications and Multimedia.

"We are thrilled at the continued overwhelming response that we have received from our IoT Challenge campaign this year, demonstrating the evidently huge interest, investment and importantly, innovation capabilities of 5G-enabled IoT solutions. Congratulations to all the winners for their hard work which have paid off, and for being shining examples of home-grown innovation. The IoT Challenge represents our broader purpose to bringing the best of technologies to enable people, businesses and the nation to Always be Ahead in a changing world," said Gokhan Ogut, Maxis' Chief Executive Officer.

"There is immense power in IoT technology and Maxis is committed to shaping and accelerating the benefits of IoT adoption for all businesses in Malaysia. The IoT Challenge is a great way to incentivise industries and provide opportunities for enterprises to open up new business models and create even more value for their customers. We are really excited to see the innovation created by all participants in this campaign, and hope that it can spark waves of positive change for the nation," said Paul McManus, Chief Enterprise Business Officer, Maxis.

Details of the teams and their winning solutions are as follows:
|   | 1st Place | 2nd Place | 3rd Place |
| --- | --- | --- | --- |
| Team | Seamless | LinkUp Smart Solutions | ITXOTIC |
| Category | Immersive Retail Experiences | Enhancing Township Security | Enhancing Township Security |
| Description | An automated retail asset monitoring solution, powered by 5G, IoT and AI, that helps to predict future breakdown in equipment for proactive maintenance, and to prevent losses due to asset downtime in a fast and reliable manner. | A solution that brings together security and home control in a unified system, by integrating multi-branded security systems and smart home devices within a single platform. | An AI-powered security system that utilises existing CCTV cameras, and runs as a cloud service at the edge using 5G technology for a smart and safe community. |
| Prize | RM15,000 | RM10,000 | RM5,000 |
In addition, two finalist teams – Virtual X and KMSB – received the Best Developed Application Prizes of RM1,000 each, and one Microsoft Surface Pro 7 device each, sponsored by Microsoft. Meanwhile in appreciation of their participation, the 13 finalist teams received two Maxis Postpaid 98 plans each (which they can also opt for business plans) with 12-month free subscriptions for both.
Leading to Pitch Day in October, the finalists embarked on rigorous workshops to further enhance their business pitch and solution proposition with an architectural deployment concept using 5G. They then pitched their ideas and prototypes to a panel of industry judges from MDEC, Gamuda Land, Proton, PETRONAS TipTop and Maxis.
Leveraging Maxis' Unified Communications platform, the entire campaign – from workshops to Pitch Day - was conducted virtually, enabling participants, industry collaborators and judges to engage with one another remotely.
Maxis IoT Journey
Maxis has been reinforcing and accelerating its IoT agenda over the last few years. It launched the first commercial NB-IoT service in Malaysia in April 2019 within key IoT market centres, including Cyberjaya, Penang, Kuching, Putrajaya, Johor Bahru, and KLCC. The launch opened up the opportunity for businesses to deploy industrial IoT applications to form new data streams. As Vodafone's preferred IoT partner in Malaysia, Maxis is leveraging its existing collaboration with the company's platform and global experience to deliver market-proven technology for businesses that are looking to implement NB-IoT services in their operations.