Maxis continues to accelerate fiberisation in Malaysia with Allo partnership
Maxis signs access agreement with Allo for full access to HSBB Network Services
Partnership will enable Maxis to expand its affordable fibre broadband offerings to even more homes and businesses in Cyberjaya, Bangsar South and Jasin
Partnership aligns with Government's NFCP ambitions and a significant step towards Maxis ambition to be Malaysia's leading converged solutions company
Maxis and Allo Technology Sdn. Bhd. (Allo), a wholly-owned subsidiary of Tenaga Nasional Berhad (TNB), will collaborate to provide greater access to fibre connectivity to more people and businesses in Cyberjaya and Bangsar South in the Klang Valley and Jasin in Malacca. Maxis and Allo today signed and exchanged an Access Agreement for the provision of High Speed Broadband (HSBB) Network Services.
Signing on behalf of Maxis was its Chief Executive Officer, Gokhan Ogut, while Allo was represented by its Chief Executive Officer, En Rodzi Ahmad. Maxis' Chairman, YM Raja Tan Sri Dato' Seri Arshad Raja Tun Uda; TNB Chairman, Tan Sri Datuk Amar (Dr.) Leo Moggie; and TNB Chief Executive Officer, YBhg Datuk Seri Amir Hamzah Azizan, were present to witness the signing and exchange of the agreement.
The agreement with Allo is the fourth major HSBB Access Agreement that Maxis has signed after TM, SACOFA and CT Sabah.
What the partnership entails
Under the agreement, Maxis will be able to leverage on Allo's HSBB Network Services that will enable Maxis to further expand its fibre footprint in Peninsular Malaysia, and offer its differentiated converged proposition with fibre services to homes and businesses in these locations. Allo will provide the groundwork for all access infrastructure up to the customers' premises, while Maxis will manage the retail and services end. The agreement reinforces the Maxis' commitment towards the Government's National Fiberisation and Connectivity Plan (NFCP).
Gokhan Ogut, Chief Executive Officer, Maxis:
"We have been aggressively expanding our fixed services footprint, as the base platform upon which we will continue to launch our new offerings and solutions. With this partnership, we are taking another significant step forward in delivering our converged solutions with an unmatched personalised experience to more Malaysian homes and businesses. We have a clear ambition to be Malaysia's leading converged solutions company, and this partnership reinforces that ambition as we continue to play an important role in driving higher broadband adoption in Malaysia."
Datuk Seri Amir Hamzah Azizan, President/Chief Executive Officer, Tenaga Nasional Bhd:
"With the Access Agreement signed, Maxis is TNB's first Retail Service Provider (RSP) for High Speed Broadband throughout Peninsular Malaysia. I am excited to share that the partnership with Maxis is a win-win arrangement. Maxis has given its commitment to also sign a reciprocal agreement whereby ALLO, a wholly-owned subsidiary of TNB, can also leverage on Maxis's network infrastructure to deliver service to the customers.
"For the past 70 years of TNB's presence, we continued to make the life of the people Better and Brighter. As such, in our NFCP's initiative, through ALLO, we plan to grow throughout the peninsula together with our RSPs. In doing so, we are getting the support of the state governments, whereby we have started with Melaka."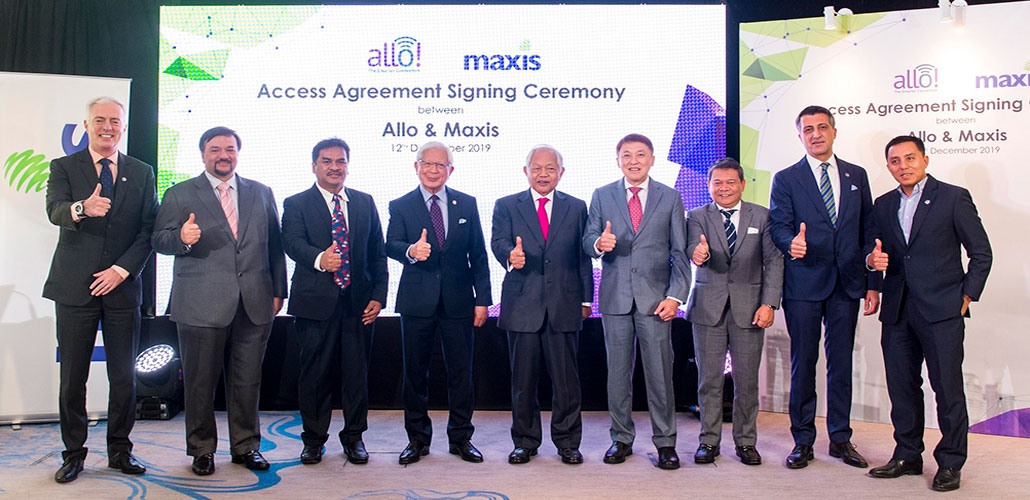 Maxis' fibre broadband story
August 2018 was a significant time for Maxis as the company had a head start in attaining first mover advantage through its Fibrenation campaign. Offering its most affordable and worry-free broadband plans up to 65% cheaper than what was previously offered, it essentially opened up a new era of accessible and affordable fibre broadband for even more Malaysian homes and businesses. The overwhelming response continues to see strong momentum in take up today. Following that, Maxis elevated this experience in April this year with three new superfast Internet speeds – 300Mbps, 500Mbps and 800Mbps – available for both consumer and businesses.
In December 2018, Maxis signed a Letter of Understanding with SACOFA for High Speed Broadband (HSBB) Network Services in Sarawak. Since then, Maxis and SACOFA have signed access agreements with Maxis having rolled out its already available fibre plans to more Sarawakians. Maxis' agreement with CT Sabah in October this year is the third major HSBB Access Agreement that it has signed after TM and SACOFA. With the fourth and latest agreement with Allo together with its own fibre, Maxis is the operator with the most access in the country with over 3.7 million premises.
For more info on Maxis' fibre broadband, visit www.maxis.com.my/fibrenation
Allo's story
ALLO, a wholly-owned subsidiary of TNB has successfully implemented a pilot project for NFCP in Jasin, Melaka connecting 1,100 homes with high-speed broadband internet. The pilot project has also showcased the open access concept, whereby customers will have more options on the broadband products from various RSPs, besides benefitting from more competitive prices. ALLO is in the process of expanding their highspeed broadband coverage with other planned rollout areas in Peninsular Malaysia which will cover more than 135,000 homepasses. This will potentially increase the number of connected customers, hence will accelerate the broadband penetration throughout the country.