For The First Time Ever, Families Can Roam Freely With Maxis FamilyRoam


Staying connected while overseas is now more important than ever, especially when you need to make your way around a foreign city. It's even more important when you're traveling as a family. Whether it's to get directions, hail a ride, or keep in touch on social media, having data access for all family members while abroad can make a world of difference.
Realising the need to make roaming easier for families, Maxis today introduced FamilyRoam, which enables all Share Lines on MaxisONE Plan and MaxisONE Prime to enjoy free unlimited roaming in any ASEAN country. Roaming in these countries will be similar to using their mobile plan in Malaysia, since each user, whether on principal or share line, will have access to unlimited international calls and SMS, as well as unlimited use of their DataPool.
"Maxis FamilyRoam is the perfect addition to our current suite of family-focused products. We know that mobile phones and the Internet are crucial to our daily lives, so we want entire families to have a seamless and worry-free Internet experience even while travelling. Our MaxisONE offerings are built to always offer families much more," said Arjun Varma, Maxis' Head of Postpaid.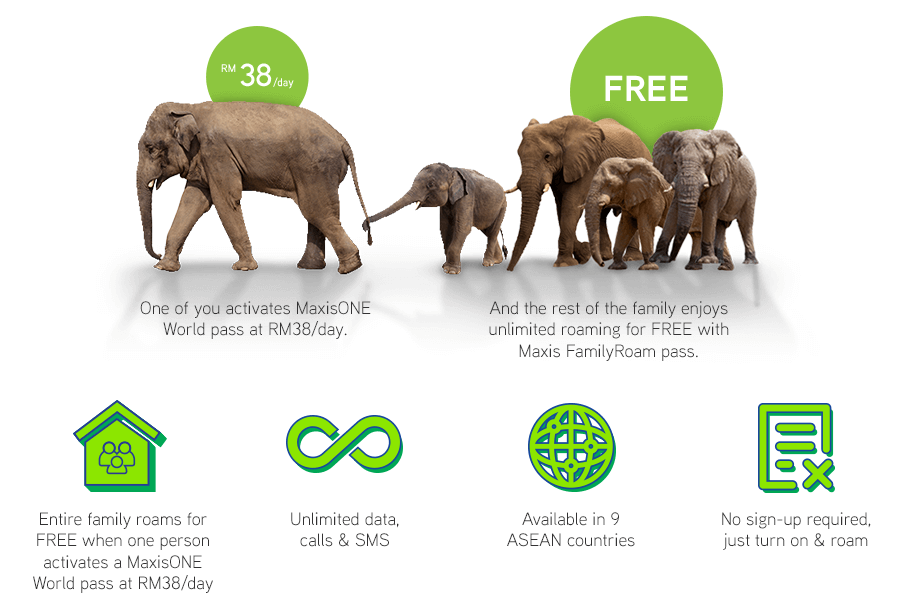 Here's what you can enjoy with Maxis FamilyRoam:

Unlimited international calls and SMS to anywhere in the world
Unlimited use of DataPool for roaming – Customers can continue to surf the Internet, just like when they're at home
Turn on and use anytime – Any member(s) of the family can travel and enjoy free roaming under the same account and just pay for one combined MaxisONE World pass at RM38 per day
Flexibility – Whether or not the principal line user is traveling with the family, any family member on a share line can still activate Maxis FamilyRoam while abroad
To find out more about Maxis FamilyRoam, visit us at www.maxis.com.my/familyroam