Maxis Launches An Unmatched 4G Smartphone Ownership Experience With NeXT X1, Scha Alyahya As Brand Ambassador
Following the launch of the NeXT M1 earlier this year, Maxis introduces a new addition to its NeXT line-up, the Next X1. This best in class 4G smartphone offers an unmatched, worry-free ownership experience consisting of 24 months warranty with instant one-to-one replacement as well as 12 months screen protection. The NeXT X1 also comes with a bundled mobile plan at an affordable price of just RM98 a month.
"Owning a smartphone is now a very important requirement for Malaysians. However, phones are becoming more expensive especially to own and maintain a high-end smartphone. There is constant worry of damaging the phone which may lead to costly repairs. With the NeXT X1, Maxis will eliminate all these concerns. We are going beyond just offering data and calls and giving customers complete peace of mind with a great smartphone ownership experience at a fantastic value. And to top it off, the smartphone is powered by Maxis' No. 1 4G network," said Arjun Varma, Maxis' Head of Postpaid.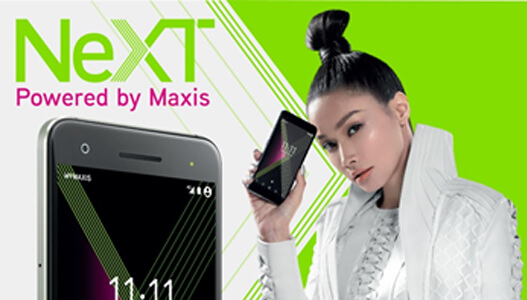 Aside from the unmatched ownership experience, the NeXT X1 also offers the following benefits:
Ready to use plan – 6GB of ultra-fast 4G data, 50 free call minutes and attractive Internet boosters at only RM4/GB
Powerful device features – a high-spec 4G smartphone with a vibrant 5.5" FHD display, 16MP AF camera, and fingerprint sensor
Easy and affordable – customers can get their NeXT X1 bundled with ready-to-use mobile plan with no upfront payment, at only RM98 a month.
The brand new NeXT X1 phone was officially launched today where local personality, Scha Alyahya, was introduced as NeXT's brand ambassador. Scha will be starring in all NeXT X1 print and TV ads, which includes a special 'movie trailer' for the phone.
NeXT X1 will be available via the Maxis Online Store (https://store.maxis.com.my), as well as all Maxis Centres and Maxis Exclusive Partners (MEP) beginning today.
For more info on the NeXT X1 all-in-one phone offer and to watch the movie trailer, please visit www.maxis.com.my/next-en