Have An Old Phone Lying Around? Trade It For A New iPhone 6s With Maxis' New Trade In, Trade Up Programme

Thinking of upgrading to the new iPhone 6s? Don't want to spend too much? Now, there's a smarter way to save up to 65% off a brand new iPhone 6s.

With Maxis' new Trade In, Trade Up programme, anyone can now own the iPhone 6s for as low as RM840 or just RM35 a month with Zero Cash Upfront on Maxis Zerolution.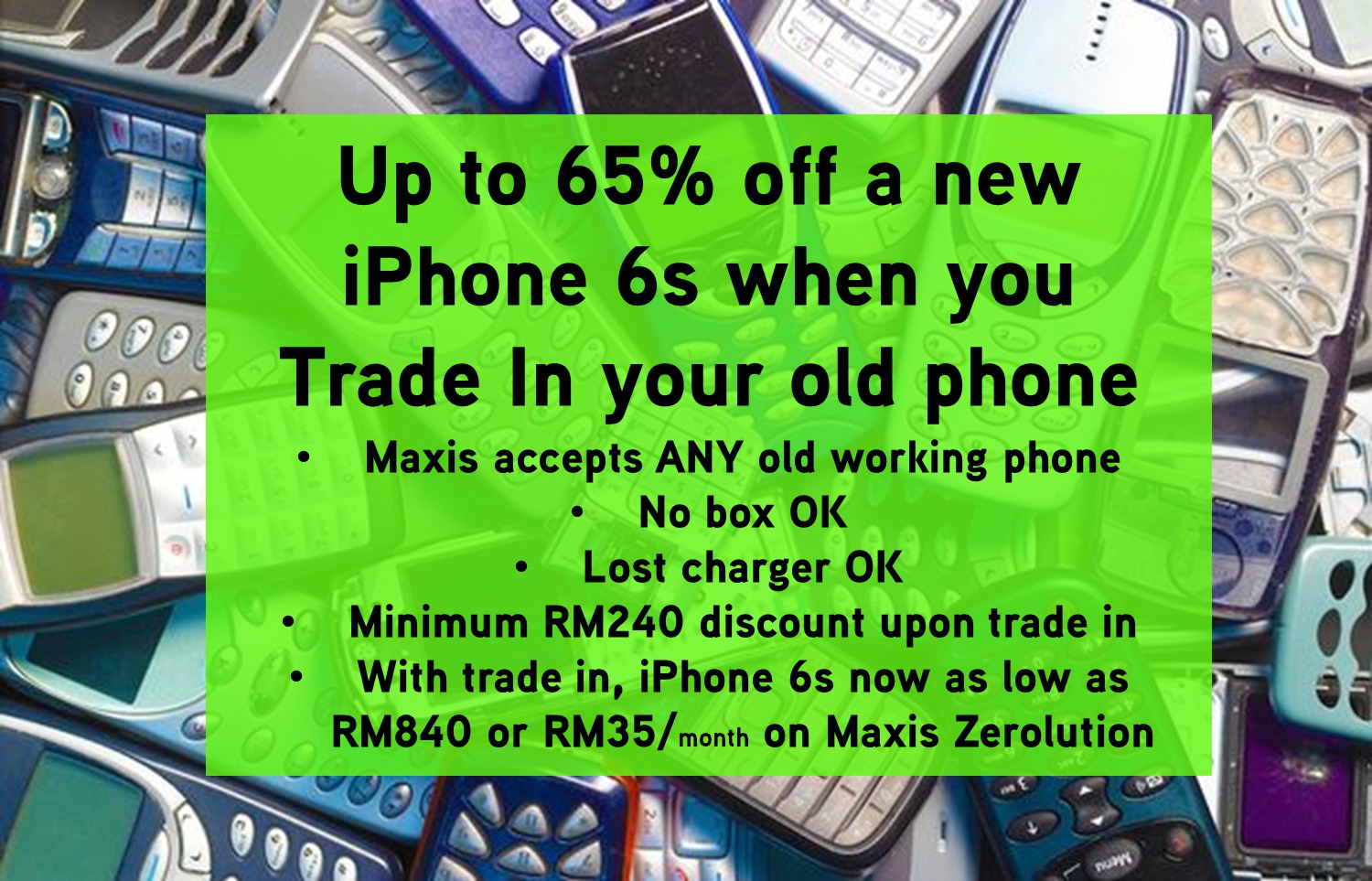 At just RM35 a month and absolutely zero cash upfront for a new iPhone 6s, Maxis Trade in, Trade up programme is by far the most affordable way to own an iPhone in Malaysia. To trade in their old devices, customers just need to visit any Maxis Centre or Maxis Exclusive Partner (MEP) nationwide. To check real-time stock availability of the iPhone 6S model and colour of your choice at a Maxis outlet nearest you.

"We're also making it easier than ever to trade in your phone. All you need to do is bring any of your old phones to any of the 268 Maxis Stores nationwide and turn it on – no boxes or chargers or accessories necessary," said Tan Cheong Tatt, Maxis' Head of Retail.

In addition to a simplified phone Trade In experience for customers, Maxis also promises higher trade in value of up to RM1,560. Maxis will also give a minimum of RM240 for the oldest phones - even models from the 1990s - as long as the phone meets "working phone" criteria.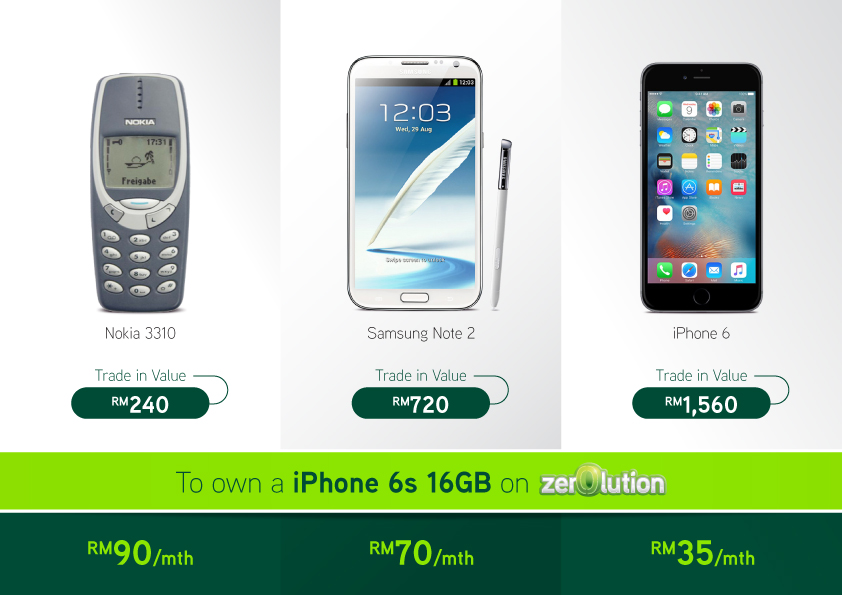 There's no need to bring the box, charger or other accessories; just the phone as long as it is in good working condition and meets the "working phone" criteria:
✓ Device is able to Power On and Power Off and access IMEI
✓ Display screen is functional and free of any cracks/damages
✓ No damaged/missing buttons or cracked casing
✓ Find my iPhone feature is unlocked (for iPhones only)
Basically, almost any phone you have lying in a drawer at home qualifies, as this humorous video dramatizes https://youtu.be/zuwVw12kSOQ.
To trade in your old devices, just follow these 3 easy steps:
1. Bring any phone that meets the "working phone" criteria to any Maxis Centre nationwide
2. There, Maxis' friendly staff will perform a quick validation check
3. Trade in your phone and enjoy up to 65% savings off your Zerolution monthly fee over 24 months.
For more details on Maxis' Trade In, Trade Up programme, please visit www.maxis.com.my/iphonetradeup