A Comprehensive Guide to the Maxis App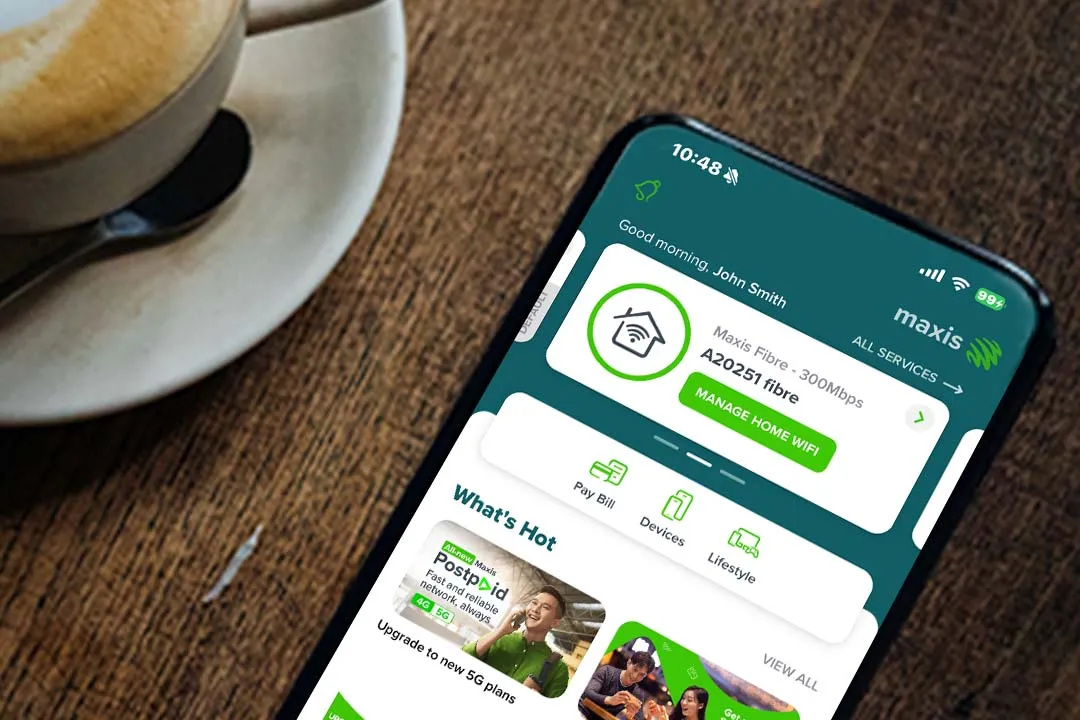 The Maxis app is an all-in-one app for Maxis and Maxis Business users. It allows you to manage your account and supplementary lines, pay postpaid bills, redeem deals and rewards, buy extra roaming data, and so much more at your fingertips. If you're curious about what you can do with the Maxis app as a telco customer, this comprehensive guide will provide you with all the information you'll need.
Logging In to the Maxis App
Accessing the Maxis app is fairly easy once you've installed the app on your device. The login process may vary depending on the type of user:
Maxis Postpaid and Maxis Home Fibre/4G WiFi Users: You can sign up for a new Maxis ID at "Personal", and then click on "Sign up now".
Maxis Postpaid Supplementary Line Users: For supplementary line users, the same process also applies.
Maxis Business Users: If your company covers the bill, simply tap on "Business" and enter your company-provided mobile number and the 6-digit TAC code sent to your number by SMS. There is no need to sign up separately.
What You Can Do with the Maxis App
The Maxis app is a versatile tool, offering various functions that can be categorised into four main functions: account, payment, rewards and offers, as well as connectivity and support.

1. Account Management
The Maxis app's primary feature is account management, allowing you to keep tabs on your telco account details, data usage, and billing history which you can access from the main menu. This includes managing supplementary lines and your DataPool, which is a feature that allows you to share data among family members and across devices, and it can even be used for overseas roaming.
For those seeking a convenient way to settle their postpaid and WiFi bill payments, the Maxis app is your go-to solution. You can download and pay your bills quickly and easily through the app. Better yet, set up direct debit payments for automatic monthly bill settlements, ensuring you never miss another payment.

Say you want to pay your bills, you can follow these steps to easily clear off your statements:
Select the "Bills" icon from the tab at the bottom.
Select "Pay Now" or "Direct Debit" for automatic monthly payments!
For Direct Debit, tap to enable and fill in your card details!
3. Rewards and Offers
The Maxis app is your gateway to exclusive deals and rewards from your favourite brands. Discover special offers for you in the main menu and our "Shop" tab. Or enjoy exclusive deals and rewards from Maxis and its partners.
Claiming a Maxis app deal is a simple process:
Select the "Deals" icon from the tab at the bottom.
Select "Recommended Deal" for exclusive offers.
Select a deal, and tap "Download Deal" to redeem and enjoy!
You can enjoy deals from Maxis's partners including TGV, San Francisco Coffee, Tealive, L'Occitane, Plaza Premium Lounge, Foodpanda, Zalora, Texas Chicken, and more! With the Maxis app, you're just a few taps away from fantastic value deals.
In addition to managing your account and enjoying exclusive deals, the Maxis app enables you to continue staying connected and supported. You can buy internet passes and add-ons, such as extra data, and even pre-schedule your roaming passes for hassle-free travel.
If you need to optimise your WiFi experience, the app even allows you to check your WiFi network health and fine-tune your WiFi speed, ensuring a smooth online experience for everyone. If you require any assistance (such as for WiFi bill payments), you can contact Maxis customer support or prebook an appointment for faster service if you wish to visit a Maxis Store today or later.

To check your WiFi information:
On the main menu, tap your Maxis Unlimited Postpaid or Maxis Fibre account.
Select "Manage Home WiFi".
Select "WiFi setting" to view service details and manage your WiFi settings.
To check your WiFi information:
On the "Me" tab, select "Meet Expert In-store".
Select "Book An Appointment" and choose your preferred time and date.
Visit your selected Maxis store on the day of your appointment.
---
Unlock the Power of Maxis With the All-In-One App
Now that you've learned all about what you can do with the Maxis app, why not download it and explore its functionalities for yourself? To discover more about this app and download it, visit our Maxis app page today. So, go ahead and unlock the full potential of your Maxis services with the Maxis app today.