8 Things a Foldable Phone Can Do That a Regular Phone Can't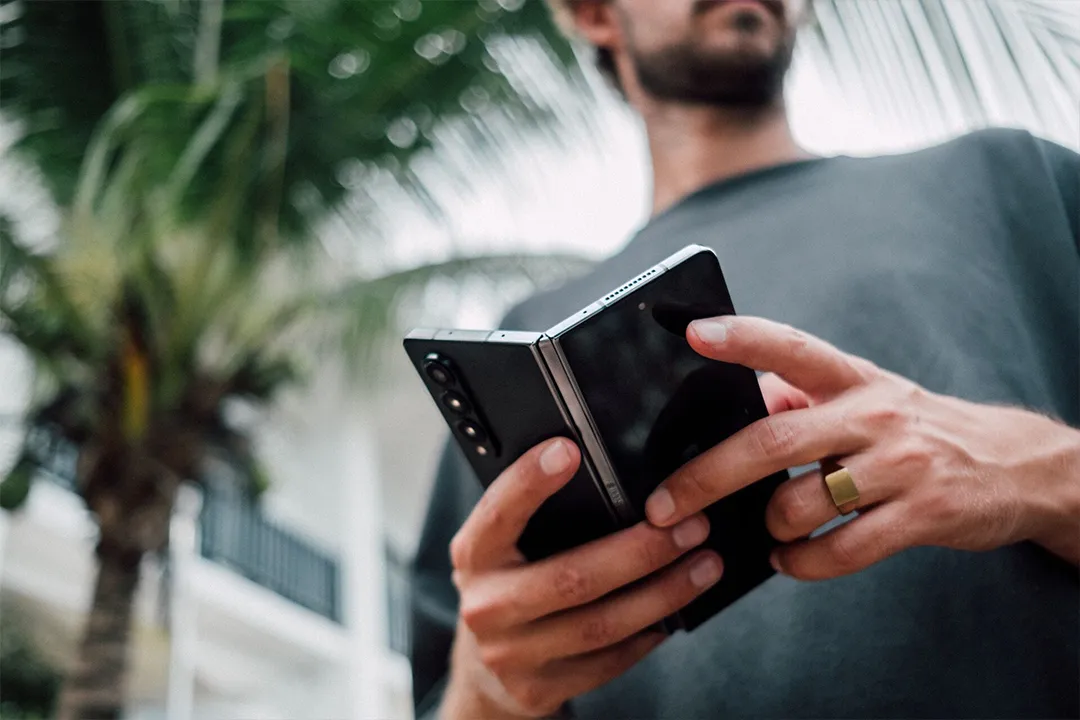 Photo by Jonas Leupe on Unsplash
Foldable smartphones are no longer mere futuristic concept phones from five years ago; they are maturing nicely as an alternative form factor and quickly gaining popularity amongst consumers. Why are foldable phones a thing? Well, they offer a number of unique features and benefits that a regular candybar phone just can't match.
Here are 8 features of foldable smartphones that standard smartphones simply don't have.
A foldable phone can bend and flex its screen, and in the case of one like the Samsung Galaxy Z Fold4 5G, allows it to transform from a smartphone-sized device to a tablet-sized device. This provides a much larger screen estate that's great for multimedia consumption, multitasking, and productivity. So, you choose how you want to use it: whether as a regular phone, a tablet, or a mini laptop. This is just one of many foldable phone benefits, we're just getting started!
Foldable phones have a split-screen mode that allows you to run not just one, two, but three apps side-by-side simultaneously. This pushes the boundaries of multitasking capabilities on a phone, making it easier to use up to three apps or perform various tasks at the same time. Now try that with a candybar phone!
In the case of a foldable form factor like the Samsung Galaxy Z Flip4 5G or OPPO Find N2 Flip, foldable smartphones are simply much more portable than regular phones. Since they can be folded in half, they take up much less space in your pocket or bag. When you need more screen real estate, simply flip them open!
Some foldable phones such as the Samsung Galaxy Z Flip4 5G and Galaxy Z Fold4 have a special "flex mode" that allow the device to be partially folded, propped up like a tent, or placed in a specific angle. This is great for hands-free video calls, self-timed photography or videography, or provides a convenient and optimum viewing angle for media consumption.
Foldable phones can display a split onscreen keyboard across the two halves of the unfolded screen, making it easier and more comfortable to type with both thumbs while holding the device. This nifty feature provides a more comfortable and efficient typing experience, not unlike a mini laptop, compared to a regular phone's on-screen keyboard.
Foldable phones offer seamless app continuity, allowing you to switch between the folded and unfolded states without interrupting the app's functionality. For instance, if you're playing a game on the smaller folded screen, you can unfold the device and the app will seamlessly adjust to the larger screen without restarting. Similarly, when you're working on a spreadsheet in a folded state, you can unfold the phone to take advantage of more screen real estate, without interruption.
If you love selfies, then a foldable phone might just be your #bff. With a phone like the Galaxy Z Fold4, you can preview and review selfies or photos instantly with Flex Mode. Just fold the device or turn on Capture View Mode in the camera to shift the layout. What's also great is that you can take photos and videos without the use of a tripod. Fold the device and place it to frame yourself, set a timer or use your hand gesture to snap the shot.
Instead of watching videos or gaming on a tiny smartphone screen, how about having more than 7 inches of high-res screen real estate? The viewing experience on a foldable smartphone screen simply cannot be matched. The larger screen size also offers a more comfortable and immersive reading experience for e-books, articles, and digital content. Size doesn't always matter, but in this case, it absolutely does!
---
Now that you've learned about the unique advantages foldable smartphones have over regular smartphones, are you ready to embrace the foldable future? Pick up the latest foldable smartphone from as low as RM45/month with Zerolution, from the Maxis Online Store, today! By the way, the new Samsung Galaxy Z Fold5 5G and Z Flip5 5G are coming soon. Preorder starts 26 July 2023.