Get wall-to-wall WiFi coverage
No dead spots with full support from Maxperts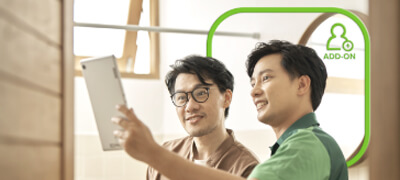 WiFi Strength Analysis in Every Room
Get a complete analysis of your home layout so you can get better WiFI coverage for your internet needs.
Add Max WiFi by Maxperts
for an upgraded home experience
Add Max WiFi by Maxperts for an upgraded home experience
Here's how Max WiFi by Maxperts can help you
 
Max WiFi by Maxperts
DIY (Do It Yourself)
WiFi coverage expertise
Maximum coverage
We can perform a personalised analysis on WiFi strength using a dedicated tool that can help us identify how many mesh WiFi your home needs to attain optimal WiFi coverage.
Weak coverage
Without the right tool to help you analyse your home's WiFi weak zones, it may be difficult for you to identify the best router placement as well as the number of mesh WiFi needed to get the best WiFi coverage.
Unlimited tech support
Dedicated tech support
Facing some WiFi-related issues on your smart devices? Let us help you—from device setup, to troubleshooting, and more.
Too much hassle
Troubleshooting network issues on your own can take up a lot of time. Many common WiFi-related problems are actually easy fixes—but it's counterproductive when you have to spend more time reading the manual.
Worry-free service and lifetime guarantee
Worry-free service
Our Maxperts will get back to you in 24 hours, either through home visits or consultation via phone call.
You will also enjoy a lifetime guarantee on all mesh WiFi devices throughout your subscription period, and get an easy replacement at no additional cost, if needed. 
Troublesome downtime
Without a dedicated tech support and lifetime guarantee on your mesh WiFi, you will have to manually configure things on your own with limited warranty periods on the mesh WiFi devices provided by external parties.
Here's how Max WiFi by Maxperts can help you
Sign up for Max WiFi by Maxperts now
Sign up for Max WiFi by Maxperts now