Maxis one of the first telcos to be awarded multiple Anti-Bribery Management System certifications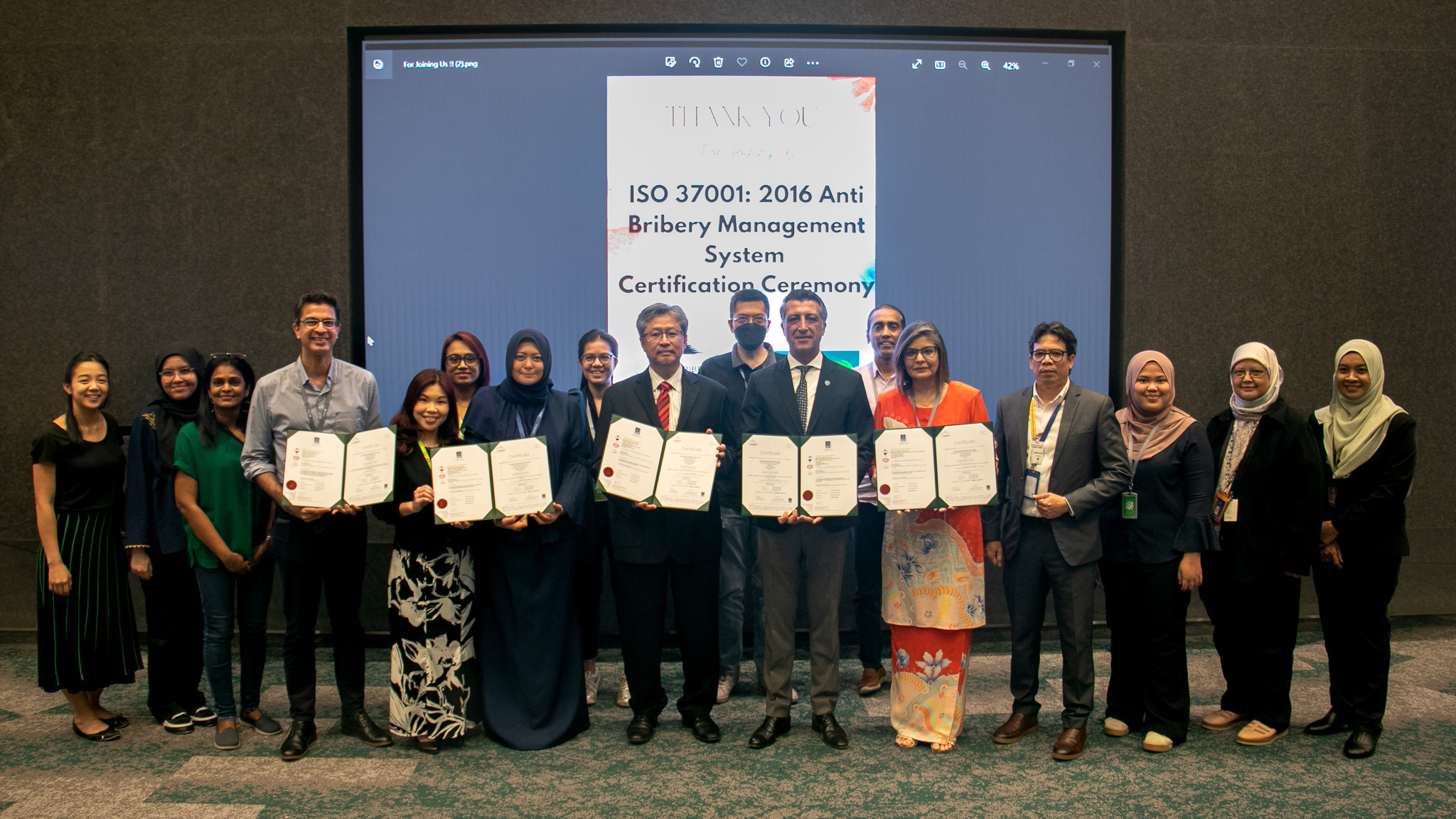 Receives ISO 37001:2016 Anti-Bribery Management Systems (ABMS) certification from SIRIM QAS International and International Certification Network (IQNET)
Recognition is a testament to telco's commitment to conducting business with the highest levels of integrity and governance, in line with its newly launched MAX+ sustainability strategy
MEDIA RELEASE
For immediate release
Kuala Lumpur, 25 November 2022
Maxis was among the first telcos to be awarded the ISO 37001:2016 Anti-Bribery Management Systems (ABMS) certification for multiple sites. A total of five certifications were awarded for its headquarters in Menara Maxis along with site offices in Sungai Besi, Sunway Pinnacle, Subang Hi-tech and Shah Alam Warehouse. Awarded by SIRIM QAS International and International Certification Network, IQNet, the certification is testament to the telco's robust standards of corporate governance.
At a ceremony held at Menara Maxis, Gokhan Ogut, Maxis' Chief Executive Officer received the certification from SIRIM Berhad President and Chief Executive Officer, YBhg Dato' Indera Dr. Hj Ahmad Sabirin bin Arshad.
"On behalf of SIRIM, we would like to congratulate Maxis for being among the few telecommunication service providers to be awarded with this important certification. We are pleased to see organisations such as Maxis demonstrating strong commitment to upholding best practices and strong governance so that they can continue to remain competitive. This is in line with our own ambitions at SIRIM to offer innovative solutions through our rigorous testing, inspection and certification services," said YBhg Dato' Indera Dr. Hj Ahmad Sabirin.
"We are extremely proud of this certification from SIRIM QAS, which clearly demonstrates our continued commitment to building a culture of transparency and integrity at Maxis and inspire trust and confidence from our customers. As the nation's leading converged solutions provider in the country, Maxis has a zero-tolerance approach to all forms of bribery and corruption, and this certification validates our leadership in this area in line with our newly launched MAX+ sustainability strategy," said Gokhan Ogut, Maxis' Chief Executive Officer.
ISO 37001:2016 ABMS is based on internationally recognized good practices, specifying requirements and guidance in implementing, designing, maintaining, and improving organisations' anti-bribery management systems. It helps prevent, detect, and respond to bribery while adhering to the Malaysian Anti-Corruption Commission (MACC) Act 2009 (Act 694) and other anti-corruption laws and regulations.
We Are Maxis
Maxis is Malaysia's leading converged solutions provider, providing high quality digital services and connectivity solutions. As a homegrown Malaysian brand, we have been serving Malaysians for over 25 years and are passionate about bringing together the best of technologies to enable people, businesses and the nation to Always Be Ahead in a changing world. With digitalisation changing the way we live, communicate and access services, we continue to be at the forefront of innovation through our products and services for consumers and enterprises, leveraging our No. 1 converged network that extends to over 94% of the country's population and one of the widest retail networks nationwide.
We take great pride in investing in the nation and creating a positive impact for all our stakeholders through our community outreach programmes. These are driven by digital learning for students, helping small businesses grow, digitally empowering women entrepreneurs as well as providing scholarships and capability building programmes for deserving young Malaysian talent. Maxis is a public listed company on Bursa Malaysia, with shares owned by over 4,800 institutional shareholders that include more than 23% Government Related Institutional Investors as of December 2021.
For our sustainability track record and other important information please visit www.maxis.com.my
For media enquiries, please contact: