Maxis' eKelas Usahawan continues to attract entrepreneurs in developing stronger digital skills and presence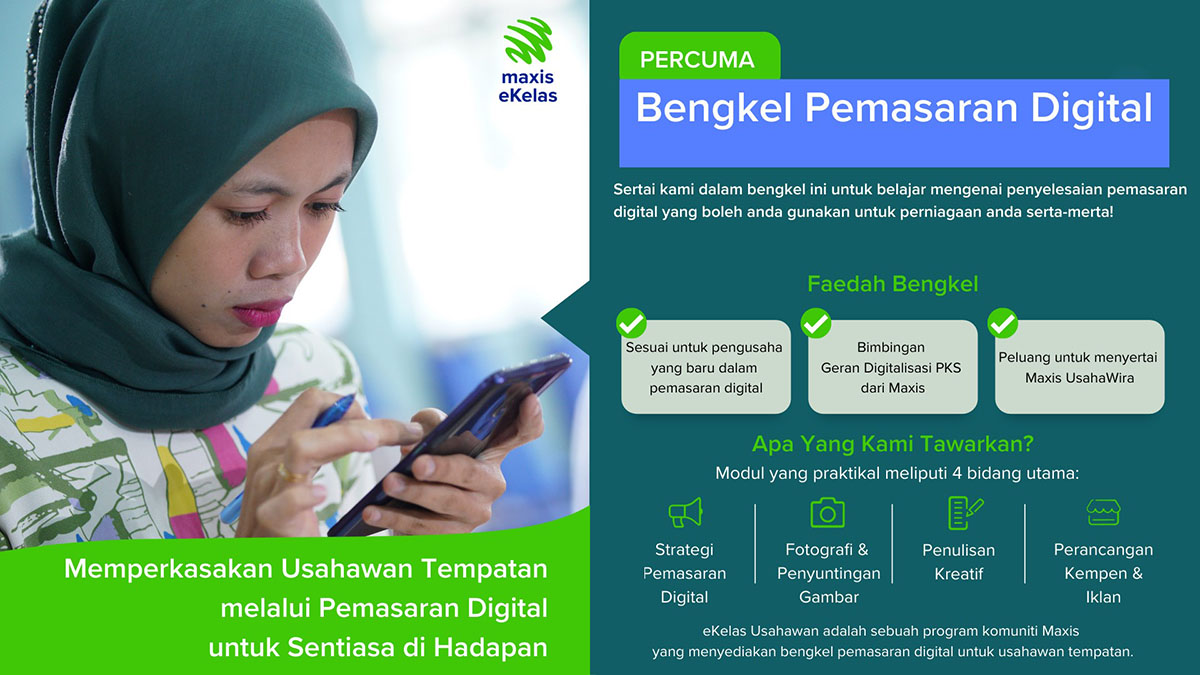 Over 1,000 women entrepreneurs already benefitted from Maxis' community outreach programme
eKelas Usahawan is a digital marketing programme specifically targeted to women entrepreneurs
Registration is open and interested participants can sign up through Maxis' website
Digital skills have become more important for all aspects of society, playing its role as a driver for social inclusion. eKelas Usahawan, Maxis' community outreach programme, is targeted for women entrepreneurs particularly from the B40 communities to equip them with digital tools and skills to help them in their respective businesses.
One year on since its launch, Maxis' eKelas Usahawan has successfully trained more than 1,000 entrepreneurs in 2021 to help them develop a stronger digital presence. The programme comprises a series of digital workshops with a practical and hands-on approach to equip entrepreneurs through modules including tips and basic skills on marketing, digital photography, copy writing and planning for marketing and advertising campaigns via online and social media platforms.
"We are really pleased to see this programme gaining traction since our launch last year, and importantly benefitting many women entrepreneurs. We have seen first-hand how they have taken advantage of basic digital marketing skills for their business. This is what eKelas Usahawan is all about, and we want to see more women across the country signing up for the programme this year," said Mariam Bevi Batcha, Maxis' Chief Corporate Affairs Officer.
Interested participants who are either existing or aspiring entrepreneurs are highly encouraged to register for free at https://www.maxis.com.my/en/about-maxis/corporate-responsibility/. Meanwhile, Maxis is also in discussions with potential partners to get more entrepreneurs especially women to benefit from the programme.
eKelas Usahawan workshops are held virtually via public webinars together with Maxis' training partner and support from Maxis' own volunteers, mSquad where needed. Maxis has also worked with various NGOs and State agencies including PACOS Trust Sabah, Yayasan Hijrah Selangor, Yayasan Kebajikan Negara, and Iskandar Regional Development Authority, who have supported the programme by identifying participants for dedicated sessions and assisting with on-ground logistics.
Participant Testimonials
"The workshops helped us to gain a better understanding of functions available on online platforms as well as tips on how to maintain high awareness. The goals set during the programme also taught and motivated us to monitor our performance effectively from time to time. I would strongly recommend small business owners nationwide to join eKelas Usahawan," – Rosila Mohd Rosidi, Founder of DokiDoki Okonomi.
"The teachings and learning through eKelas workshops are very easy to understand. It is also relevant to our current situation which encourages digitalisation," – Nur Azmaliza binti Abdul Rahmat, participant.
"I attended the webinars during the previous MCO. The programme taught me the basics of digital marketing which was crucial for businesses to operate during the pandemic. I gained a lot of new knowledge as well as built connections. Thank you, Maxis and everyone involved for helping entrepreneurs," – Fazila Binti Ismail, Director of Zahin Travel.