Maxis collaborates with local Sabahan artistes for Kaamatan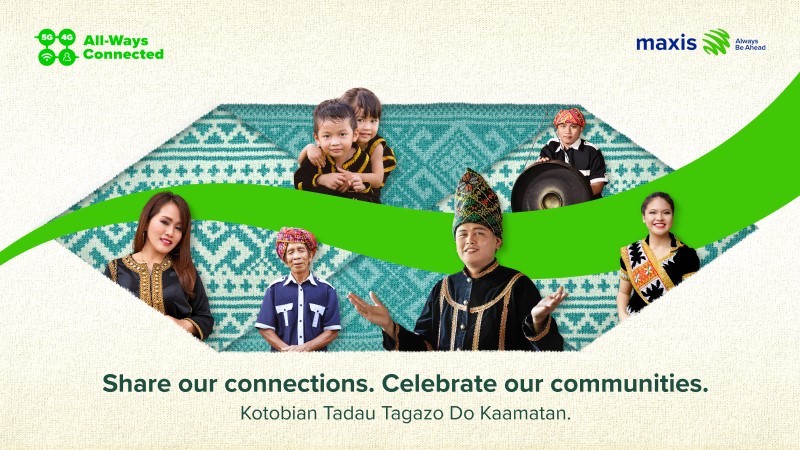 Supporting and collaborating with local Sabah artiste Atmosfera to release "Kaamatan" song
Spirit of togetherness reflective of Maxis' promise to bring together communities on Rangkaian Malaysia to Always Be Ahead in a changing world
There is certainly much to celebrate especially during the harvest festival of Kaamatan in Sabah, which starts on 30 May. This year, in continuing to be a part of this rich tradition, Maxis is proud to collaborate with local artistes to produce a festive music video which brings to life a unique interpretation of Kaamatan as well as the spirit of a vibrant community.
Popular Sabahan duo, Atmosfera, founded by brothers Hezron and Hazrenol Rayner, has released 'Kaamatan'. Sung in the local Dusun language with the support of fellow Sabahan Ayie from Floor 88, Kaamatan is both festive and catchy, with a hook that will invite repeated plays at many get togethers. Watch the Kaamatan music video here:
https://www.maxis.com.my/en/campaigns/kaamatan-celebration/
"We join the diverse communities of Rangkaian Malaysia, especially those in Sabah, who will be celebrating Kaamatan together with their families and loved ones. In serving Rangkaian Sabah, we are excited to partner with local artistes in this wonderful song about the Kaamatan spirit of togetherness. It reflects our own commitment to bring together communities through collaboration, so that they can always be ahead," said Tai Kam Leong, Head of Brand & Marketing, Maxis.
Maxis is also inviting all Sabahans to join their fellow Malaysians in co-creating the Rangkaian Batik Malaysia, at its ongoing roadshow and digital batik showcase at the Kadazandusun Cultural Association Sabah (KDCA), Kota Kinabalu until 31 May. Visitors to the showcase will be able to create their own personal batik designs, and see it be brought to life on a live digital tapestry, along with the creations of Malaysians. They will also be able to take advantage of Maxis' ongoing device deals in person. The amazing deals are ongoing until 29 June, allowing customers to shop for loved ones, or simply as a treat for themselves.