Maxis and TD1303 team up to accelerate digitalisation for entrepreneurs in Terengganu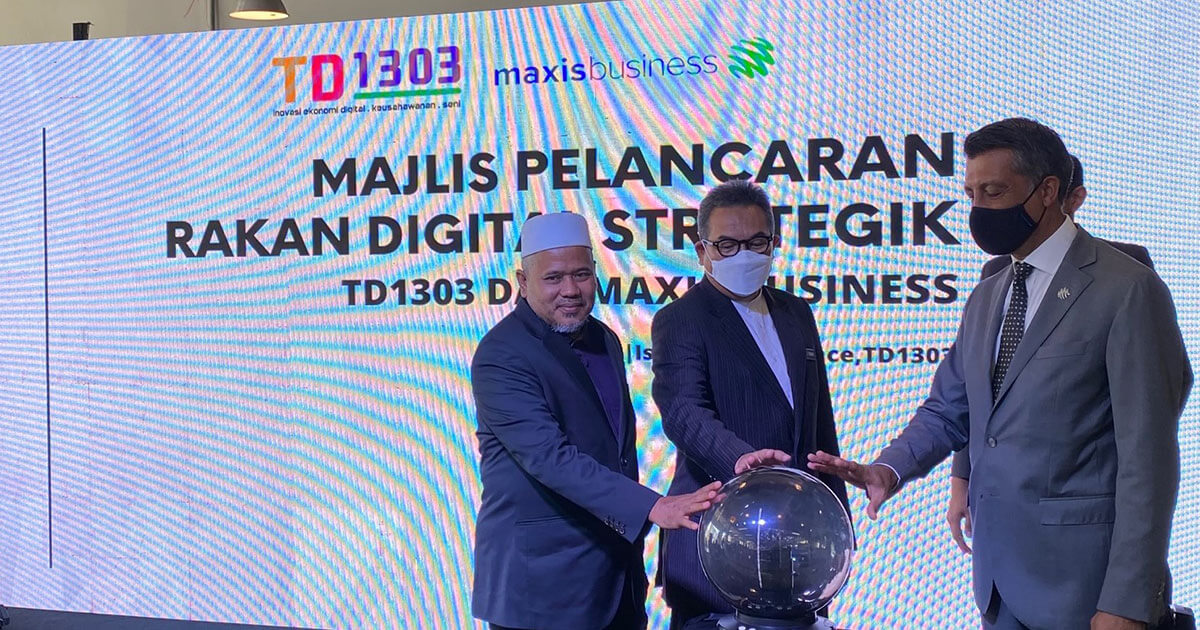 Partnership will leverage Maxis' digital solutions capabilities and TD1303's resources to build, set up and digitalise more entrepreneurs in Terengganu
Maxis' products and services will be available at TD1303's Tech Hub, with the incorporation of Maxis Solutions Products in trainings, workshops and events.
Maxis committed to supporting SME and micro-SME community with its widest range of connectivity and digital solutions to accelerate their digital aspirations
Today, Maxis has partnered with TD1303, an agency under the Terengganu State Government, to help build, set-up and digitalise more entrepreneurs in the State. Entrepreneurs and tech startups are increasingly playing an important role as drivers for economic transformation, innovation and growth.
Present at the ceremony to officiate the partnership was Yang Berhormat Mulia Tengku Seri Bijaya Raja Dato' Tengku Farok Hussin bin Tengku Abdul Jalil, Terengganu State Secretary. Accompanying him were Gokhan Ogut, Maxis' Chief Executive Officer and Yang Berhormat Ariffin bin Deraman, Chairman for both TD1303 and State Tourism, Culture and Digital Technology Committee.
As part of the partnership, Maxis will be offering its products and services, including comprehensive business solutions at TD1303's Tech Hub, a one-stop coworking space for start-ups, young entrepreneurs, freelancers, e-commerce and Industry 4.0 related companies in the State. TD1303 will also be incorporating Maxis' solutions into its entrepreneurial training, workshops and events at the hub.
"TD1303 aims to be the leading one stop centre for entrepreneurs in Terengganu by offering not just a co-working space, but viable IT solutions, hardware, and software for their businesses. We are proud to partner with Maxis and look forward to using their products and solutions to drive more technology entrepreneurs in Terengganu," said Yang Berhormat Ariffin bin Deraman.
"We applaud the Terengganu State Government for their efforts in promoting Industry 4.0 initiatives for businesses. We appreciate this great opportunity to partner with TD1303 and support them with our capabilities and digital solutions to help entrepreneurs to expand their business so that they can Always Be Ahead in a changing world. We believe there is immense entrepreneurial talent and potential in Terengganu and we look forward to being part of their digital journey," said Gokhan Ogut.
Maxis has long been supporting the SME and micro-SME community. As a Technology Solutions Provider for MDEC's SME Digitalisation Grant, Maxis is enabling SMEs who apply for the Grant through them to choose from the widest range of connectivity and digital solutions, including digital marketing, Cloud Point-of-Sales, remote working, and eCommerce. SMEs will benefit from a single touchpoint, with a complete digital onboarding experience. To-date, Maxis has helped more than 24,000 SMEs to digitalise through the Grant.
In conjunction with the official partnership, Maxis also held its first digital workshop under its eKelas Usahawan for over 100 local entrepreneurs in Terengganu. eKelas Usahawan is Maxis' community outreach programme comprising digital marketing webinars and workshops to empower entrepreneurs to develop a stronger digital presence. The free programme offers a practical and hands-on approach to equip entrepreneurs with tools and skills such as digital marketing, digital photography, copywriting and planning for marketing and advertising campaigns via online and social media platforms.
For more information about Maxis Business Solutions and SME Plans, visit https://business.maxis.com.my/en/SME/.