Maxis Awards third round crowns sustainable food rescue initiative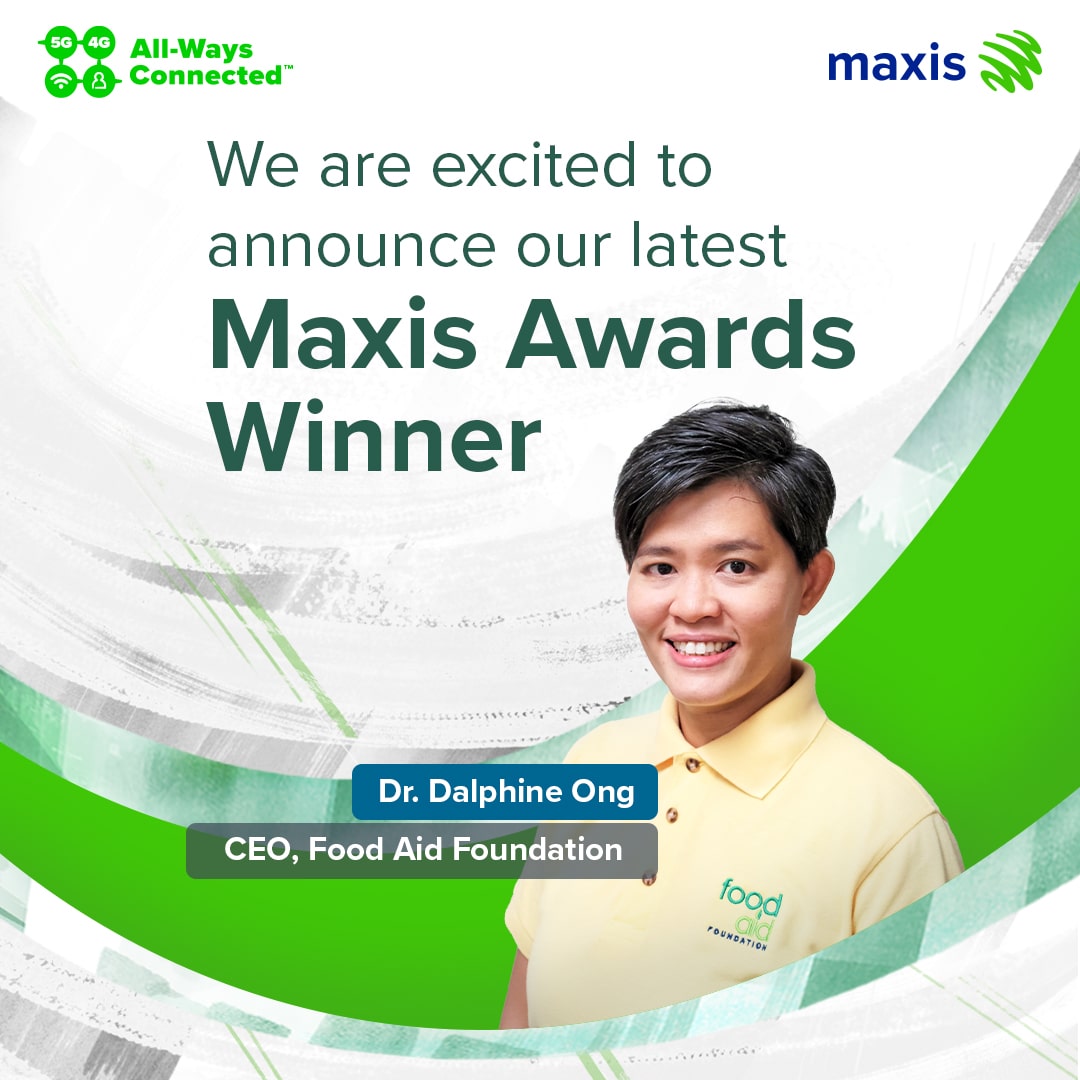 Maxis Awards recognizes outstanding business ideas that drive meaningful and sustainable change within targeted communities
Food Aid Foundation's (FAF) Digitizing Food Aid for the Needy project wins Maxis Awards and receives Maxis Business solutions, technical expertise, funding and publicity support
The thirdround of the Maxis Awards is organised in collaboration with Yayasan Usahawan Malaysia's SME and Entrepreneurs Business Awards (SEBA)

Since its launch last year, the Maxis Awards has received many revolutionary ideas from innovative Malaysian changemakers. For the third round of the Awards, Food Aid Foundation (FAF) won the hearts and minds of Maxis' panel of judges for their initiative to reduce wastage and alleviate hunger and malnourishment, called Digitizing Food Aid for the Needy.
At the SEBA 2022 Central Grand Awards Presentation Gala held in Kuala Lumpur, FAF received the award from YB Fahmi Fadzil, Minister of Communications and Digital, accompanied by Maxis' Chief Executive Officer, Goh Seow Eng.
"With every installment of the Maxis Awards, we have seen many compelling tech-driven ideas that can positively impact Malaysian communities. We were especially impressed by FAF's systematic approach to reducing wasted food and its associated impact. We are excited to be supporting FAF with their project through our own solutions and look forward to being part of this noble initiative," - Loh Keh Jiat, Chief Marketing Officer, Maxis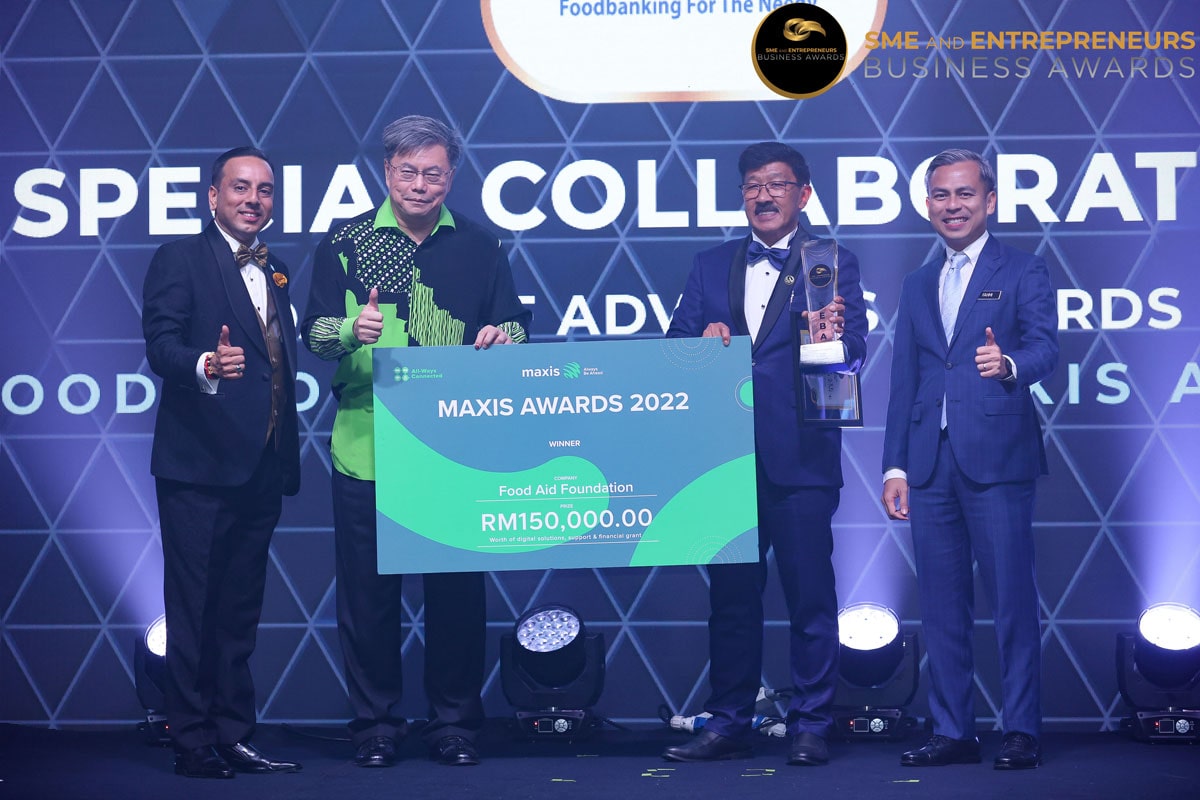 The third round of the Maxis Awards was organised in collaboration with Yayasan Usahawan Malaysia's SME and Entrepreneurs Business Awards (SEBA).
"SEBA has always sought deserving SMEs and entrepreneurs which can accelerate the growth of Malaysia's economy. This collaboration with Maxis continues to uphold our mission in looking for the best of the best business ideas. We congratulate FAF on their winning proposal and look forward to more news of their success," - Nitesh Malani, Founder of SEBA and Chairman of Yayasan Usahawan Malaysia
FAF's winning idea is a food rescue initiative that collects food donated by manufacturers, distributors, wholesalers and companies for distribution to charity homes, volunteer welfare organisations, refugee and indigenous communities, soup kitchens and B40 families. By leveraging technology and forward-thinking solutions, FAF aims to scale their efforts in serving the underprivileged so that more communities can benefit from their mission to nourish hope and eventually eradicate hunger and poverty.
"According to SWCorp, 4,005 tonnes of edible food thrown away daily can feed 2.9 million people three meals. As such, awareness on food poverty is our utmost priority at FAF. As our initiative involves many stakeholders, inventory and data management as well as logistic resources are key to our business operations. Together with Maxis, we are excited to streamline these processes effectively and further the journey of food rescue to eradicate hunger and poverty," - Dr Dalphine Ong, Chief Executive Officer, FAF
Maxis Awards: Empowering and supporting changemakers
The Maxis Awards recognises, enables and empowers Malaysian social enterprises with outstanding business ideas that drive meaningful and sustainable change within their targeted communities. Proposals submitted are evaluated by a panel of Maxis judges based on a stringent evaluation process. Submissions are then shortlisted based on three key criteria – innovation, role of technology, and added value to the community in a sustainable manner, either economically, socially, and/or environmentally.
Award winners will benefit from digital solutions, consultations and promotions funded by Maxis to bring winning ideas to life. Similar to previous winners of the Maxis Awards, FAF will receive up to RM150,000 in Maxis Business solutions, technical expertise, a financial grant to digitalise their internal business processes, as well as marketing and publicity support.
For more information on Maxis Awards and to read about previous winners, visit https://www.maxis.com.my/en/maxis-awards/.