Maxis Business' nationwide UsahaWIRA roadshow to help inspire SME digitalisation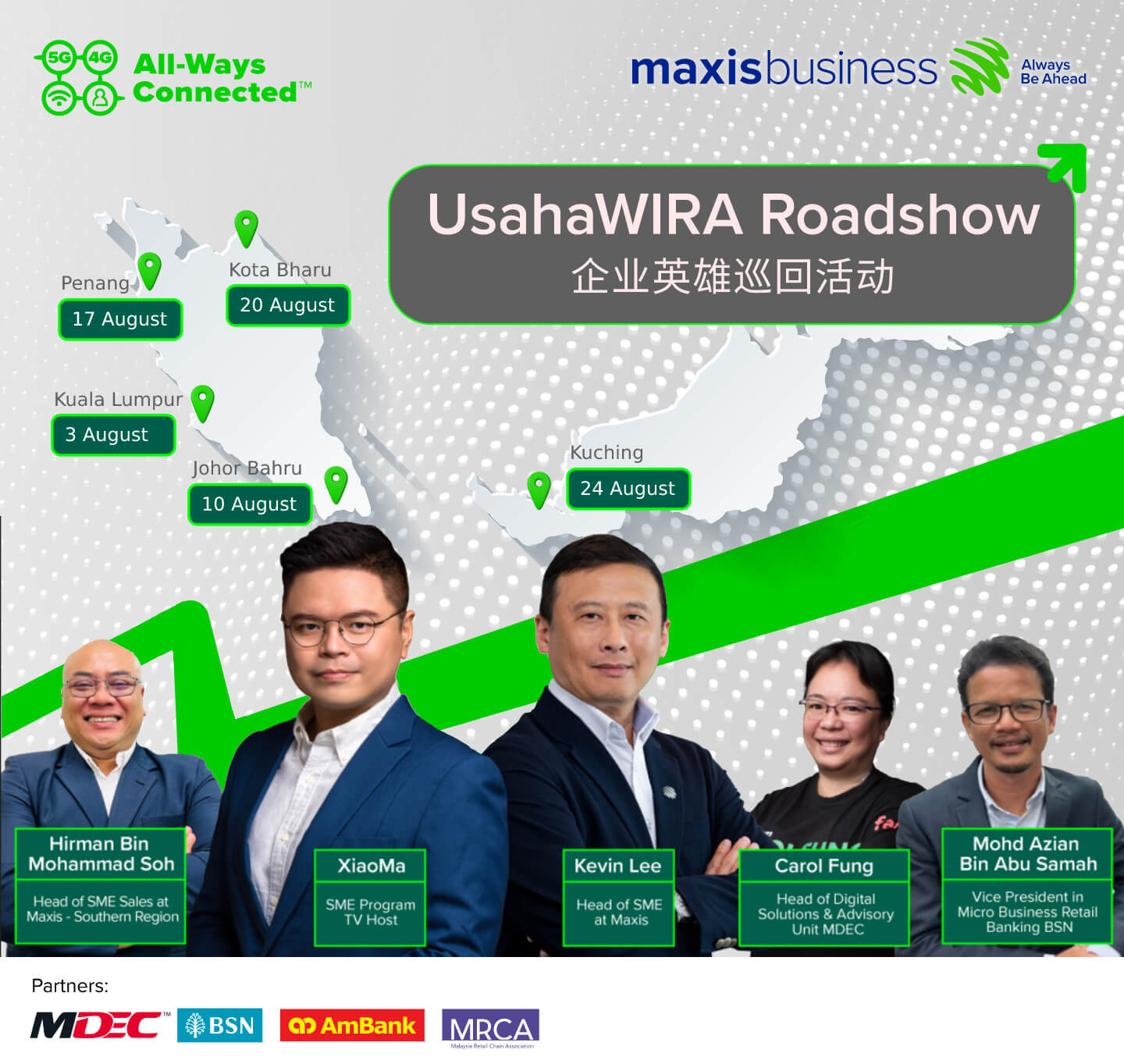 5-stop nationwide UsahaWIRA roadshow to bring insightful information and solutions from top industry leaders in one place to empower Retail and F&B SMEs to go digital
Series of stories to spotlight hero SMEs and inspire other businesses to learn how easy it is to digitalise
Initiatives are part of Maxis Business UsahaWIRA programme launched in 2021 to support SMEs through the SME Digitalisation Grant
Heroes inspire us to dream more, learn more, do more and become more. Putting the spotlight on resilient SMEs all over Malaysia, Maxis Business has rolled out its first ever nationwide UsahaWIRA roadshow with networking sessions, as well as a new series of stories to connect more businesses with hero entrepreneurs.
With the aim to enable SMEs to learn what takes to digitalise successfully and be future-ready, the initiative is part of the immensely popular UsahaWIRA programme that was launched back in 2021, with a focus on leveraging the SME Digitalisation Grant by the Malaysia Digital Economy Corporation (MDEC).
"We believe it's important for businesses to understand that digitalisation doesn't need to cost a lot, and that they can't afford to be left behind in digitally. This is not just another programme, but a great opportunity for SMEs to be inspired by the journeys of their fellow entrepreneurs, and lessons learnt. At Maxis, we have helped more than 25,000 SMEs through the SME Digitalisation Grant and we hope to encourage more to come on board so that we can guide them at every step of the way," said Kevin Lee, Head of SME Segment, Maxis.
Following the first stop in Connexion Conference & Event Centre, Kuala Lumpur on 3 Aug, the schedule of the next stops are as follows:
| Venue | Date | Time | Networking session |
| --- | --- | --- | --- |
| Renaissance Hotel, Johor Bahru | 10 Aug | 12pm-4.30pm | Lunch & tea |
| Eastin Hotel, Penang | 17 Aug | 12pm-4.30pm | Lunch & tea |
| H Elite Design Hotel, Kota Bahru | 20 Aug | 9am-1.30pm | Breakfast |
| Imperial Hotel, Kuching | 24 Aug | 12pm-4.30pm | Lunch & tea |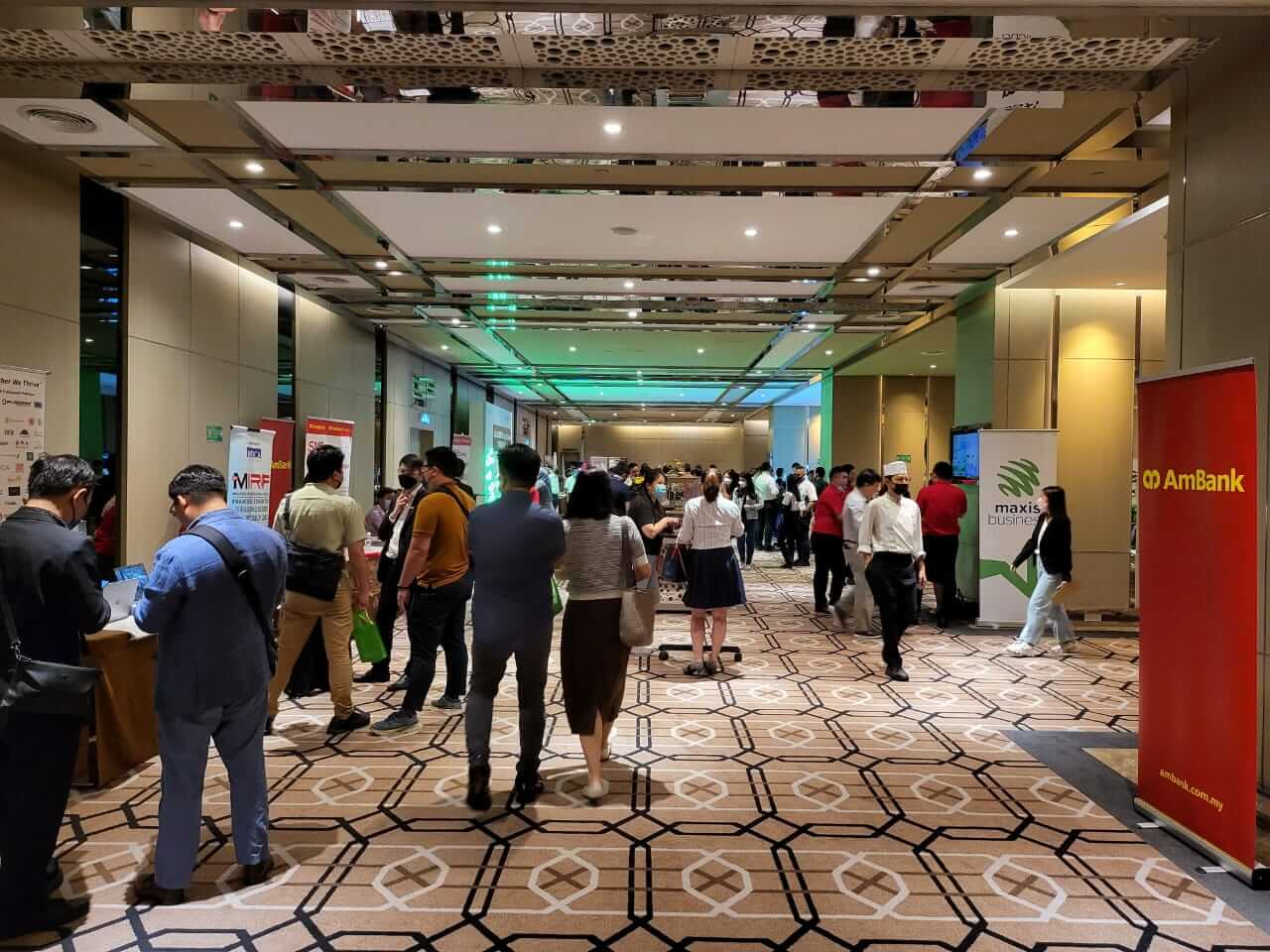 UsahaWIRA nationwide roadshows
As part of its commitment to make digitalisation easier, better, and faster for businesses, Maxis is bringing valuable resources together in one convenient location for the UsahaWIRA nationwide roadshow. Attendees can explore solutions on digital marketing, electronic point-of sale, remote working and more at the showcase by Maxis Business and its partners including AmBank, BSN, MDEC and the Malaysia Retail Chain Association.
Attendees can also get a free consultation to check if they qualify to claim up to RM5,000 from the SME Digitalisation Grant. They can get inspiration at roundtable sessions with local business owners who will be sharing their business digitalisation journey, gain access to exclusive business offers, and network with one another. Additionally, attendees have a chance to win devices and other exciting lucky draw prizes.
Transformasi UsahaWIRA stories
To inspire them to achieve their digital aspirations, Maxis is also showcasing stories of SMEs from various industries, across F&B, retail, and agriculture, that are already reaping the benefits by leveraging the SME Digitalisation Grant. Businesses that are part of the UsahaWIRA community will enjoy exclusive access to workshops, events, and guides to grow their business. They also have the opportunity to network with and learn from each other.
Maxis has been supporting the SME community for several years now. As a Technology Solutions Provider (TSP) by MDEC under the SME Digitalisation Grant, Maxis is enabling SMEs who apply for the Grant through Maxis to choose from the widest range of connectivity and digital solutions to accelerate their digital aspirations. SMEs can leverage on Maxis' digital marketing, electronic Point-of Sale, remote working and eCommerce solutions on the Next-Generation Enterprise Grade Network, and benefit from a single Maxis touchpoint for a one-stop onboarding experience, available across one of the widest retail networks nationwide.
To learn more about the Maxis Business UsahaWIRA programme: https://business.maxis.com.my/en/campaign/smegrant/