Maxis' new Internet security bundle offers convenience and affordability for families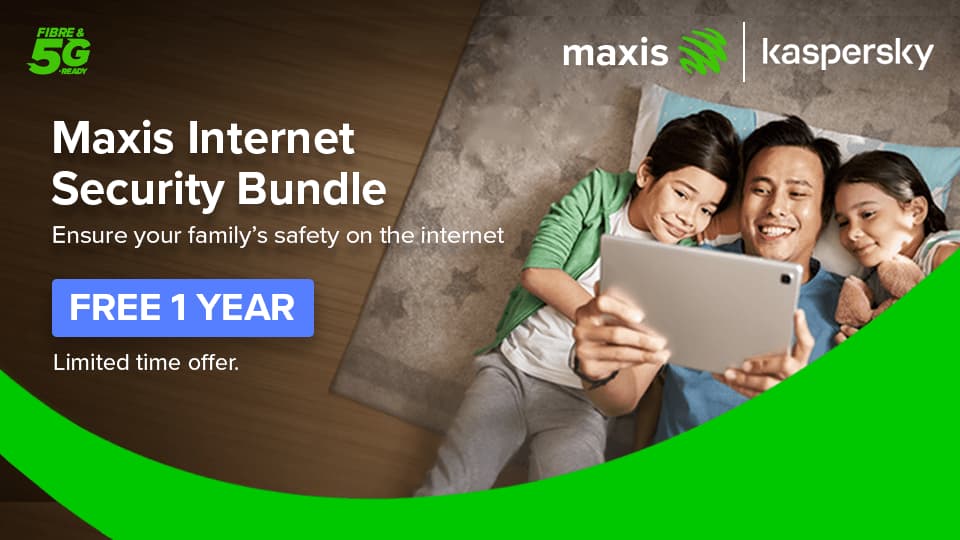 Committed to helping families and individuals navigate the cyber world safely with worry-free Internet security
Choose from 2-in-1 yearly or monthly bundle, or individual subscriptions of Kaspersky Safe Kids and Kaspersky VPN Secure Connection
Customers who sign up for the bundle until 30 November enjoy free one year subscription
With so much information and access now in our devices, there's no question that Internet security and safety have become a top priority in our digital lifestyles. Committed to enabling a safe and secure navigation of the cyber world, Maxis is offering families and individuals a convenient and more affordable way to have access to the best Internet Security solutions – from additional safeguarding of their data privacy, to enabling parents to monitor their children's activities online.
"As Malaysians consume more data and access the Internet for just about anything, our own insights show that they are more conscious of taking the extra step in safeguarding themselves and their loved ones. We want to help families and individuals stay protected online with the best security solutions for total peace-of-mind, so we've made it a lot simpler to get all these essential services with all-in-one bundles, through a single point and at affordable prices," said Arjun Varma, Head of Maxis Consumer.
Maxis Internet Security comes with Kaspersky Safe Kids and Kaspersky VPN Secure Connection subscriptions. Customers can choose to sign up for the 2-in-1 Internet Security Bundle to enjoy both at just RM15 for the first year. And for a limited time only, customers who sign up for this bundle from now until 30 November 2021 can enjoy the subscription for free for the first year. Alternatively, they can separately sign up for Kaspersky Safe Kids only at RM3 per month, or Kaspersky VPN Secure Connection only at RM9 per month.
With these worry-free security solutions, parents will be able to monitor their children's screen time and manage their access to social media and websites, as well as block harmful content and sites. They will also be able to view their children's location on their own devices with real-time alerts. Meanwhile, Kaspersky Secure Connection adds another layer of security when they are connected to public WiFi while shopping online or performing banking transactions.
To start enjoying Maxis Internet Security, customers can choose their plan on the Maxis app, or head over to https://www.maxis.com.my/en/lifestyle/internet-security/
Cyber security has always been a top priority for Maxis, with a commitment to ensuring Internet users, especially children and youth, remain vigilant. In advocating cyber security amongst students, Maxis' flagship community programme, eKelas, in collaboration with Astro Ceria, co-produced Geng Gajet – a four-episode series following the journey of five students as they manoeuvre life on the Internet. Addressing Internet safety in a fun and relatable way, each episode covers common issues, including the importance of technology, recognising stranger danger, dealing with cyberbullies and creating a safe digital footprint. Based on the episodes, eKelas ran Geng Gajet Bijak Siber competition where students completed weekly digital missions using their creativity in creating blog post, poems, comic strips, and educational videos.