Maxis offers equal enjoyment and greater value with new Family Plan
Maxis' new Family Plan provides unlimited data for four mobile phone lines and home internet from RM299 per month
Superfast home internet with upgrades of up to 800Mbps
New smart and home devices available on Maxis Zerolution and a Samsung 65" TV with TV Zerolution from as low as RM1
With the ever-increasing need for connectivity be it for work, learning or entertainment, Maxis understands the importance for families to have a mobile and home Internet plan that meets their needs while staying affordable. The all-new Maxis Family Plan is here to address everyday needs such as data, home Internet or accessibility to new devices.
From just RM299 per month, entire families can enjoy unlimited data across four mobile phone lines as well as their home broadband at a speed of 30Mbps with the option to upgrade to speeds of up to 800Mbps. There is also the option to add on up to four new devices via Maxis Zerolution from RM19 for each mobile line. Customers can choose from a selection of smartphones, tablets and smartwatches, so everyone in the family can enjoy access to the latest devices.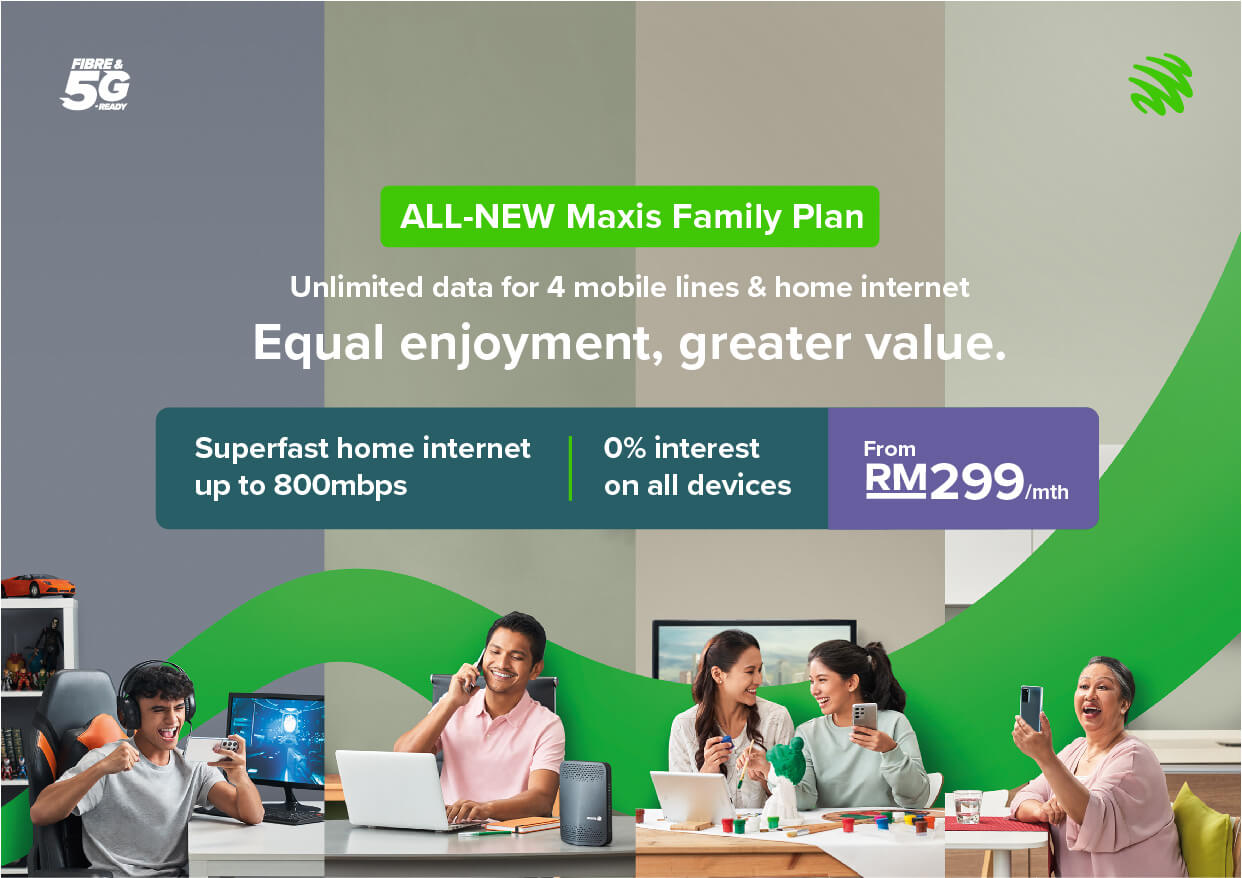 "Our insights have shown that families in Malaysia are using more data and there is a demand for a seamless digital experience for children, spouses and even the elderly living at home. With the Maxis Family Plan, we want each one of them to have unlimited high-speed data at a very affordable value per line along with high-speed broadband and also access to latest smartphones, tablets and smart TVs," said Arjun Varma, Head of Maxis Consumer.
In addition to smart devices, the Maxis Family Plan also includes the TV Zerolution for families who are looking to level up their entertainment for everyone at home. From as low as RM1 a month, customers can own a 65" Samsung TV for a more immersive entertainment experience.
Features
Maxis Family Plan at RM299
(24 months contract)
Mobile & Home Data
Unlimited
Mobile Lines with Unlimited Calls and SMS
Four lines
Home Broadband
30Mbps or Home 4G WiFi
Fibre Speed Upgrade
Up to 800Mbps
Mobile Device Zerolution
Up to four devices (smartphones, tablets, smartwatches)
TV Zerolution
Samsung 65" TV from RM1 monthly
Add-On Mobile Line
Every additional line at only RM48 a month