Maxis and Team Secret renew collaboration to #BikinSampaiJadi, empowering a new generation of world-class gamers in Malaysia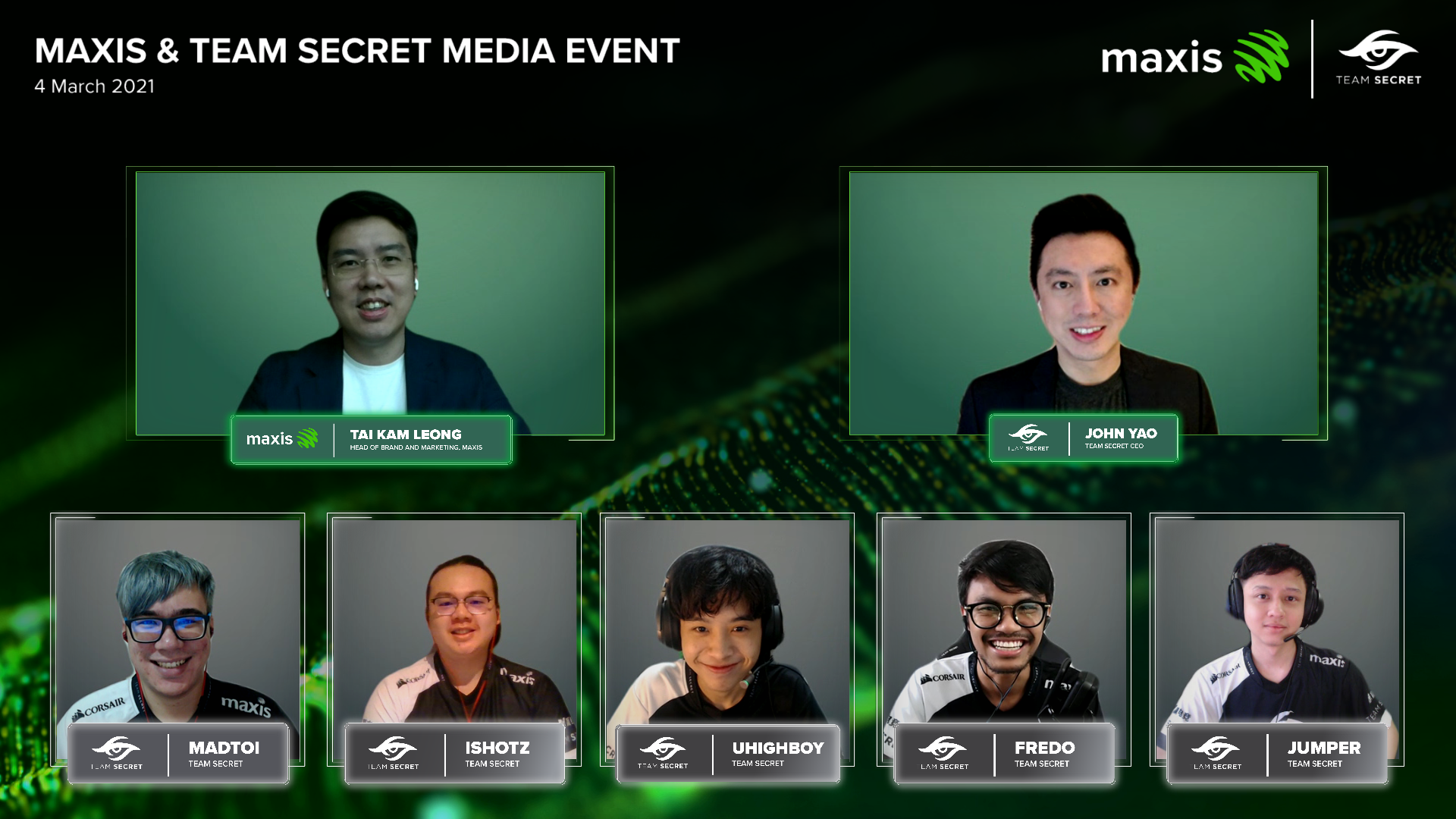 Fans will have the opportunity to meet and play with Team Secret's world-class, new PUBG lineup, and win exciting prizes via Hotlink Facebook on 11 March
'Kelas #BikinSampaiJadi Bersama Team Secret' to be launched in April to enable aspiring gamers to redefine their experience
Maxis committed to helping grow Malaysia's eSports scene by cultivating world-class Malaysian talent and enabling them to Always Be Ahead
In the past few years, eSports has grown to become a global phenomenon with more and more Malaysian gamers showing their skills on the international stage. Committed to supporting homegrown talent, Maxis and Team Secret PUBG Mobile Team have announced their continued partnership with the theme #BikinSampaiJadi, and a shared objective to inspire the next generation of gamers with Maxis as the preferred network.
Fans can celebrate at the opportunity to meet and play with the new team lineup, as well as win exciting prizes on Hotlink's Facebook page on 11 March, at 9pm. Meanwhile, to celebrate their continued collaboration, Maxis will be launching an 8 episode series 'Kelas #BikinSampaiJadi Bersama Team Secret' beginning 16 April. These classes will cover never before seen insights, analysis and strategies from the points of view of professional gamers, coaches and analysts to better equip and enable aspiring gamers to redefine the way they see and play the game. These classes will be made available for all aspiring gamers in Malaysia on Hotlink's Facebook.
"Malaysia is home to one of the biggest gaming markets in Southeast Asia and has grown significantly in the last year. We are really thrilled to be part of the growth of eSports through our collaboration with Team Secret, which aims to empower and inspire the gaming community to #BikinSampaiJadi with a formula that combines passion and the best network. Their energy and dedication to lift Malaysia in the global eSports arena continues to motivate us, and by leveraging both our strengths, we want to help to grow Malaysia into a major eSports hub by cultivating world-class Malaysian talent and to enable them to Always Be Ahead," said Tai Kam Leong, Maxis' Head of Brand and Marketing.
"This past year has been exciting for Team Secret, as we introduce new line-ups, tactics as well as our recent achievement, finishing 7th place in the Global Championship. Our commitment remains the same, which is to build the eSports community with a focus to cultivate a positive culture in team-based eSports. We would like to thank Maxis for sharing the same ambition and supporting us in equipping and enabling the team with the best devices and connectivity," said John Yao, CEO of Team Secret.
Maxis has been proud sponsors of Team Secret PUBG Mobile Malaysia since 2019. Leveraging Maxis capabilities as Malaysia's No. 1 Network and Team Secret as the world-renowned pro gaming organisation, both parties have jointly developed over 180,000 minutes' worth of content to date – covering tips to becoming pro players, pro scrims with SEA teams, live sessions, vlogs, documentary and more.
Team Secret PUBG Mobile Team recently qualified for the PUBG Mobile Global Championship Finals as Malaysia's best performing PUBG Mobile team emerging in 7th place. In addition, the team announced a new line-up introducing two new players, Fredo Sameon and Jumper, along with its three existing players Madtoi, iShotz and uHighboy. Previous PUBG player Coach Azizan Mansor (Seraveem) and team analyst Jay Lim "Y2K" Jam Jiang, both well-respected figures within the eSports and Y2K industry also join the team as both coach and team analyst.
Over the past year, both Maxis and Hotlink have launched propositions for a superior gaming experience, including better Home WiFi experience with Maxis Fibre and the launch of its new WiFi 6, the latest gaming smartphone bundles with Maxis Zerolution, and unlimited Internet, calls and hotspot for Hotlink Prepaid Unlimited customers.
Show your support and follow their journey on #BikinSampaiJadi to be Malaysia's first world champion in PUBGM. Stay tuned to Hotlink's Facebook Page and Team Secret's Facebook Page for more exciting updates.