Staying Connected Always with the New Hotlink Prepaid Internet 365
365-day high-speed internet passes – customers can enjoy the freedom to use data their way
Up to RM180 free credit, with an additional 60GB high-speed internet per month, claimable by all eligible users under Jaringan Prihatin
Exclusive deals & discount vouchers awarded to all Hotlink Prepaid users
Malaysians can now own a mobile plan with the flexibility to choose as much data as they need, not only just on a weekly or monthly basis, but for the entire year. With the new Hotlink Prepaid Internet 365, users can now enjoy high-speed internet all year round, from as low as RM6, making the plan both flexible and accessible to all mobile users.
The plan also comes with a 60-day active period for any top up denomination, plus the option to purchase a 365-day SIM active period at only RM30. With this added freedom to choose, users no longer have to worry about topping up frequently to keep their SIM active.
"Staying connected shouldn't be hard work. At Hotlink, we want to offer plans that cater to different connectivity needs of all Malaysians. The new prepaid plan makes keeping an active SIM easy while enabling our customers to better plan and maximise their internet quota based on usage. Hotlink Prepaid Internet 365 empowers our customers to #BikinSampaiJadi at their own convenience and capacity while Hotlink takes care of their connectivity," said Navin Manian, Maxis' Head of Hotlink Consumer.
Flexible Internet Passes
Hotlink Prepaid Internet 365 comes with three types of passes to suit all connectivity needs be it video calling friends and family, keeping up with the news, or just staying in touch over messaging apps. Hotlink's tiered internet quotas allow users full control of their data usage with no speed cap or throttling – just high-speed internet all year long.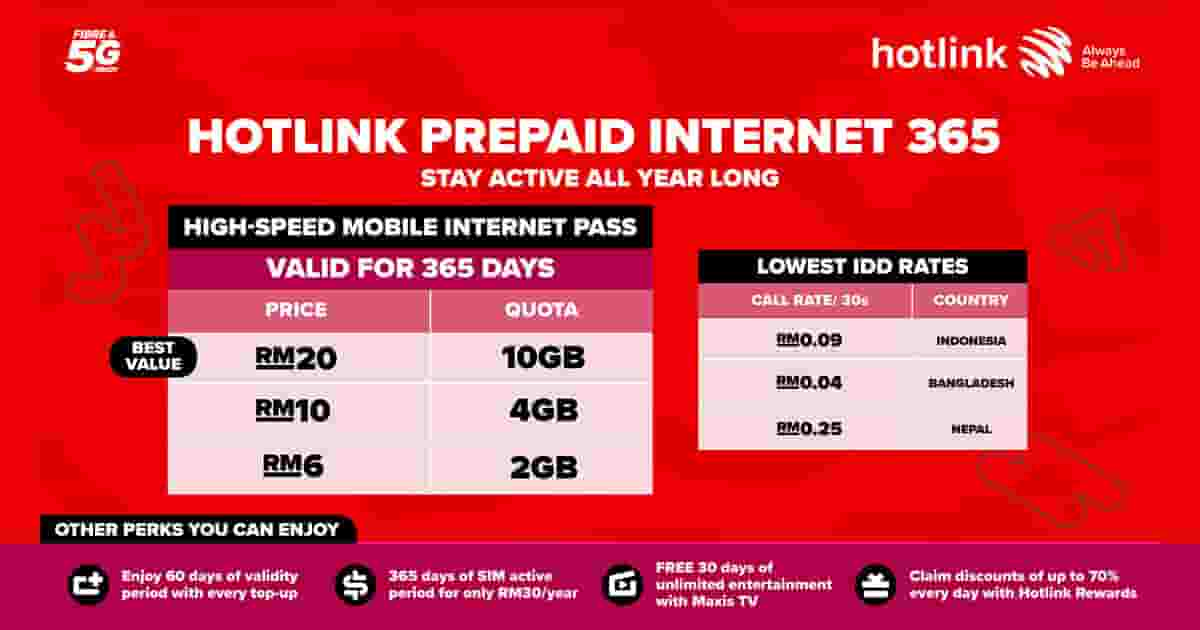 Cheapest IDD Rates
Hotlink believes that distance should never be an obstacle when it comes to staying connected with family and friends abroad, especially with today's movement restrictions For this, Hotlink is offering the lowest IDD rates to provide its customers the peace of mind to connect with their loved ones anytime, and anywhere.
The online exclusive launch of Hotlink Prepaid Internet 365 is priced at a promotional rate of only RM25 for the SIM pack and includes a 365-day 10GB high-speed internet and RM2 additional credit. In addition, eligible Jaringan Pritahin* users can claim up to RM180 free credit and an additional 60GB high-speed internet per month.
Hotlink Prepaid Internet 365 complements Hotlink's other offering, Hotlink Prepaid Unlimited which provides unlimited internet, calls and hotspot for high internet usage individuals. For more info on Hotlink Prepaid Internet 365, head on over to https://www.hotlink.com.my/en/plan/prepaid-internet-365/
*Jaringan Prihatin is a Government initiative that offers eligible Malaysians a subsidy of RM15 credit per month, though a monthly credit redemption until end August 2022, or after twelve redemptions, whichever comes first. Registration for Jaringan Prihatin is open until 31st August 2021.