Maxis introduces Hotlink Postpaid and Fibre, bringing converged connectivity to even more Malaysians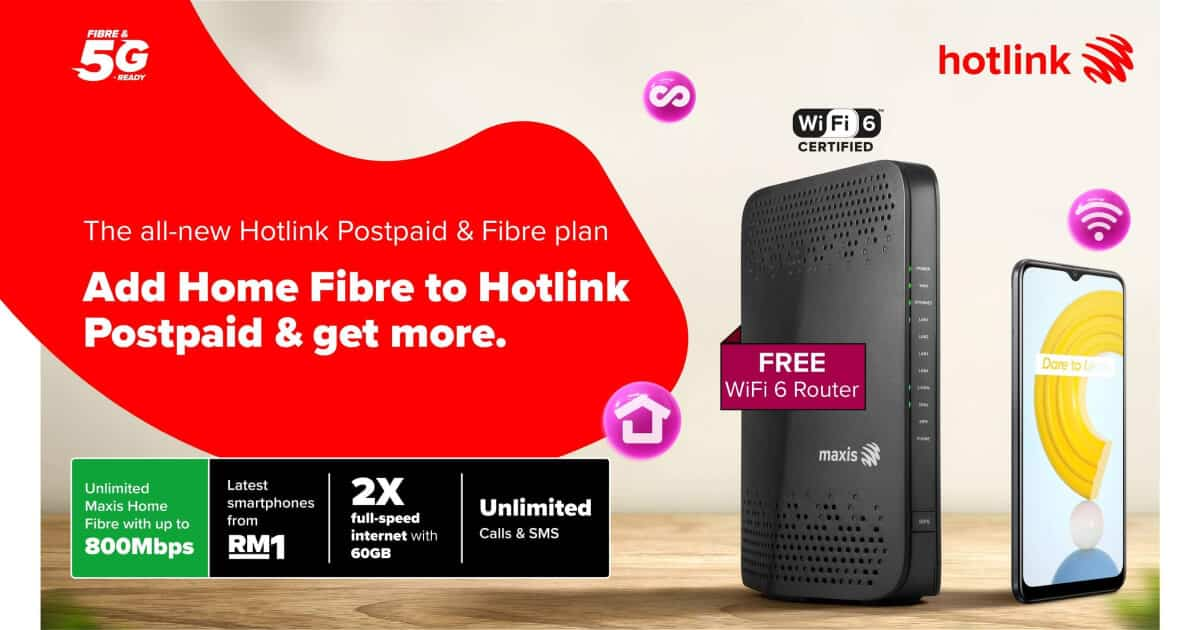 Customers can now bundle Hotlink Postpaid 60 with Maxis Home Fibre and enjoy 2x more data, plus RM1 devices

Superfast internet speeds of up to 800Mbps
As Malaysia's leading converged solutions provider, Maxis is offering customers a more complete and rewarding experience, and to Always Be Ahead
Malaysians are becoming increasingly connected as they seek complete, seamless access to converged digital services, both at home and on-the-go. Accelerating into the future of converged connectivity, Maxis has launched its new Hotlink Postpaid and Fibre plan to bring a more complete and rewarding experience to customers.
"As a Malaysia's leading converged solutions provider, Maxis continues to create innovative and differentiated offerings with greater affordability and accessibility especially in these challenging times. Our Hotlink Postpaid and Fibre is the perfect solution for young Malaysians and value seekers who crave to do even more in their increasingly digital lifestyles. We resonate with their aspirations to be future ready and want to enable them to Always Be Ahead in a changing world," said Arjun Varma, Head of Maxis Consumer, Maxis.
With this offering, new and existing customers on Hotlink Postpaid 60 now have the option to bundle their mobile plan with Maxis Home Fibre, giving them 2x more data with 30GB all-day data and 30GB YouTube data, by just adding any Maxis Fibre plans from RM89 per month. This makes high speed connectivity at home and on-the-go so much more accessible.
A truly converged offering, Hotlink Postpaid and Fibre will offer superfast internet speeds of up to 800Mbps. Customers who live in areas without fibre coverage can choose to subscribe to Maxis Home 4G WiFi with unlimited data instead.
Customers also have the opportunity to purchase the latest mobile devices for just RM1 or get the exciting home devices such as a Lenovo Tablet, Samsung Smart TV or Samsung Monitor, on Home Zerolution from RM1 per month. Also, customers can get Unlimited Calls & SMS to all networks and enjoy the No. 1 Network for all services for work, learning or play.
For more information on Hotlink Postpaid and Fibre, visit https://www.hotlink.com.my/en/plan/hotlink-postpaid-fibre/