Maxis now offers an unmatched fibre experience with next generation WiFi 6 router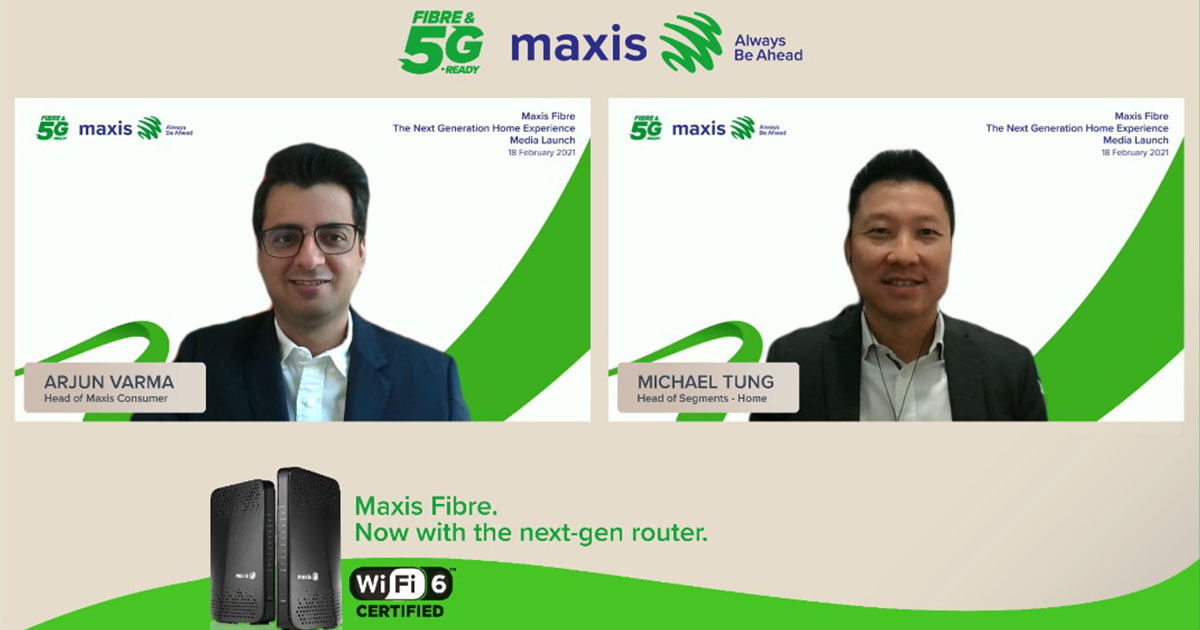 Next generation WiFi 6 certified router promises faster speeds, wider WiFi coverage with increased signal range, and bigger capacity for more devices for a better Internet experience.
New router comes with built-in EasyMesh™, enabling customers to expand their home WiFi network by adding on EasyMesh™ mesh units.
The WiFi 6 router will be free for new customers who sign up for Maxis Fibre plans 100Mbps and above while existing Maxis Fibre customers will be contacted in phases for the router upgrade
More and more Malaysians are accessing the Internet from home for everyday needs including working, learning, shopping, communication, access to important services and entertainment. To meet the increasing demands of quality home WiFi, Maxis is elevating its fibre broadband experience for its customers with the all-new next generation WiFi 6 certified router as part of its fibre product offering.
With the next generation WiFi 6 router, customers can expect faster speeds and better connectivity with wider signal reach, and an enhanced experience for activities such as large file downloads and uploads, 4K movie streaming and gaming. The router will also be EasyMesh™ certified, allowing customers to freely expand their home WiFi network by adding their own preferred EasyMesh™ mesh units. In addition, this WiFi 6 router allows a larger capacity for more connected devices to run simultaneously at optimal speeds, so that customers can enjoy everything uninterrupted.
"There is no doubt that data consumption and the number of connected devices at home is on an upward trend especially in today's environment. More than ever, home fibre connectivity is playing a critical role in our lives. With this shift in consumer behaviour and lifestyles, comes the need for quality and reliable home WiFi. At Maxis, we continuously assess our customers' needs and want to ensure that they have the best fibre experience with the latest WiFi 6 router offering. It is a clear example of our commitment to bringing together the best of technologies to enable our customers to Always Be Ahead in a changing world," said Arjun Varma, Head of Maxis Consumer.
The WiFi 6 router will be available for free from today, 18 February onwards for new customers who sign up for Maxis Fibre plans of 100Mbps and above. Existing Maxis Fibre customers will be contacted in phases for the router upgrade exercise. Maxis' specialised Internet experts, Maxperts, will also provide free installation of the router to ensure that the WiFi is optimized for the best connectivity experience for the home.
Level up with more Maxis' Fibre bundle offerings
Customers can also get more from their Maxis Fibre home experience with Zerolution and level up their home cinematic experience with bundles from Apple, Samsung, and Astro. Stream 4K entertainment with the 65" Samsung 4K TV from only RM 1/month. Experience the highest quality cinematic experience by including Apple TV with immersive sound by Dolby Atmos. Customers can use the Apple TV app to buy or rent films, subscribe to Apple TV+ and Apple TV channels, as well as enjoy Apple Music, Apple Arcade, and thousands of other apps, including games, fitness and education – all through one device built for the biggest screen at home.