Maxis closes 2020 with resilient performance on the back of its converged solutions leadership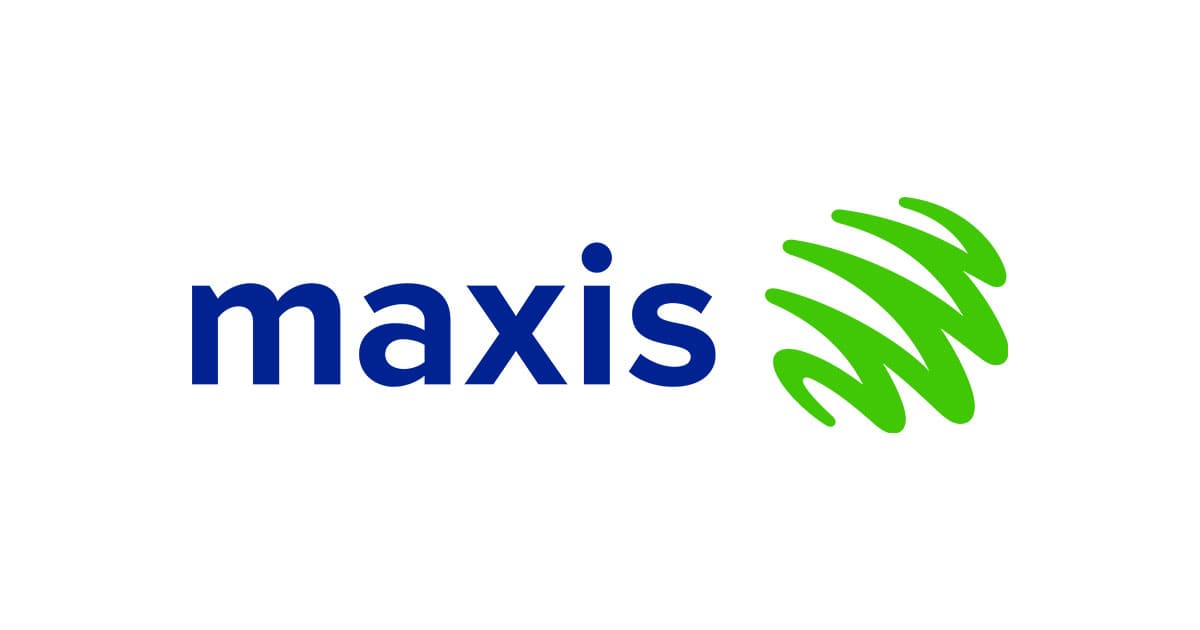 Service revenue (excluding wholesale) for the quarter is resilient at RM1.94 billion, driven by growth in core mobile, enterprise and fibre
Healthy EBITDA (normalised) at RM939 million for the quarter
Continued to lead in postpaid, with 3.5 million subscribers, an increase of 4.0% in Q4 2020 against Q4 2019
Strong momentum in fibre with 444k subscribers, up by 20.3% in Q4 2020 versus Q4 2019
Declared an interim dividend of 4 sen plus a special interim dividend of 1 sen net per share
Maxis Berhad (Maxis) announced today that it closed 2020 with a resilient Q4 performance, registering stable Service Revenue and a healthy normalised EBITDA, while maintaining a high EBITDA margin. Strengthening its leadership in converged solutions, the Company's Q4 2020 performance was driven by healthy growth in its core mobile, enterprise and fibre businesses. Maxis continues to lead the postpaid segment, with another quarter of subscription growth. On the fibre front, the Company is on a good momentum with steady growth in subscriptions from both families and businesses.
Maxis' performance for the quarter reflected its continued agility in mitigating the impact of COVID-19 and the various Movement Control Order (MCO) phases, while keeping customers and businesses connected during these challenging times by maintaining a strong network infrastructure.
In a challenging year, Maxis committed to support the nation's health and economy with several key initiatives, starting with an industry-wide effort to provide the free 1GB per day offering so that people and businesses remained connected at home. Subsequently, the free 1GB was targeted for learning and work productivity. Under its own #KitaSapotKita campaign, Maxis provided free use of collaboration tools for businesses continuity, digitalisation support for SMEs, connectivity services for frontliners and food and PPE aid for impacted communities. In Q4, Maxis pledged RM1 million to the GLC/GLIC Disaster Response Network (GDRN) for COVID-19 related initiatives.
No doubt, the pandemic saw Maxis experiencing higher pressure on prepaid and roaming revenues as well as lower traffic to its retail points, but also stronger demand for connectivity as a result of work from home arrangements and accelerated digitalization by enterprises. Data traffic continued to surge during the quarter. On a blended basis, Maxis customers used an average of 20.75GB a month, an increase of 38.42% year-on-year. During the quarter, Maxis invested RM504 million in network capacity to support data traffic growth, as well as investment in fibre and enterprise growth, bringing total capex to RM1.25 billion for the year.
In continuing to strengthen its 4G network coverage and deliver the best customer experience, Maxis has been building new sites and upgrading existing ones in both Peninsula and East Malaysia, as well as expanding its fibre footprint. With commitments in both mobile and fixed rollouts for Jalinan Digital Negara (JENDELA), Maxis continues to play an active and important role in this national agenda and has achieved 100% of its own 2020 targets for JENDELA at the end of the quarter. Following the Government's recent announcement on MyDIGITAL initiative and Malaysia Digital Economy Blueprint, which includes bringing 5G to Malaysians in stages by the end of 2021, Maxis is in the process of engaging the Malaysian Communications and Multimedia Commission (MCMC) to gather more details.
The continuous efforts to provide an unmatched personalised experience has seen Maxis consistently maintaining high customer satisfaction levels with a Touch Point-Net Promoter Score of +54 points for the year. Maxis remains committed to bringing together the best of technologies to help people, businesses and the nation to Always Be Ahead in a changing world.
Comment by Gökhan Ogut, CEO, Maxis:
"Our agility in meeting the demands of this unique environment has enabled us to continue to progress towards our convergence ambition. While we remain cautiously optimistic of the new norm for 2021, we will continue to develop more innovative solutions beyond mobile and create new opportunities for growth for businesses across industries.
"It was indeed a challenging year for everyone, particularly for those most impacted by the pandemic and floods. We are grateful for and appreciate all frontliners across the nation for their tireless sacrifices, from those who work in public safety, health and recovery, to the police, army and medical professionals, as well as our employees who continue to support the needs of our customers."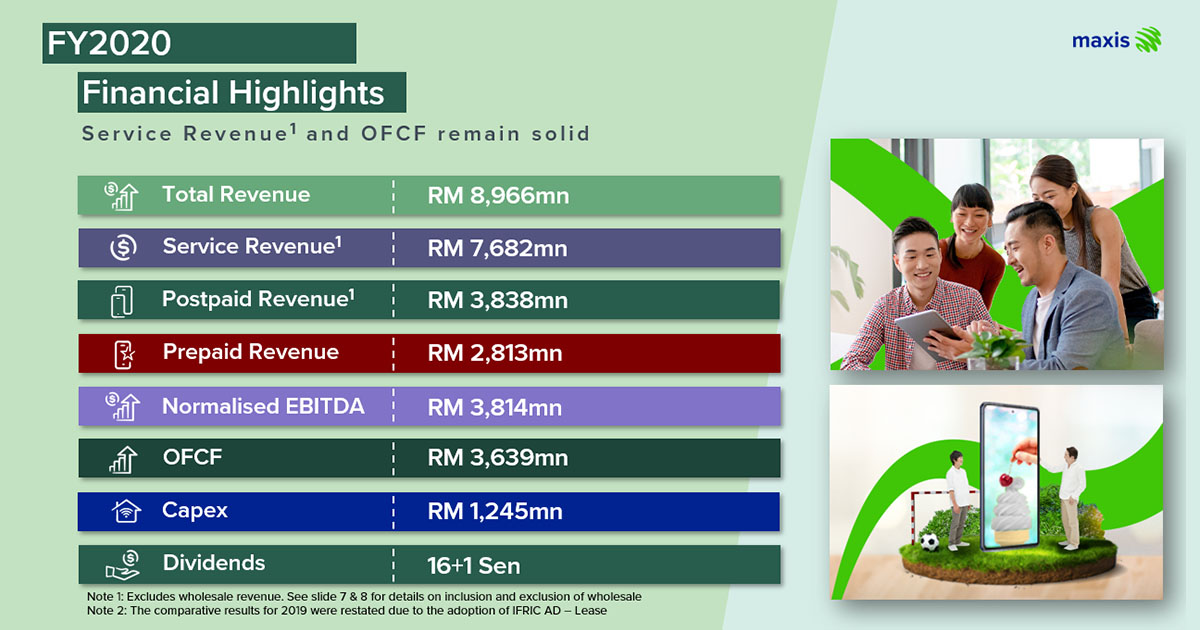 Q4 financial highlights Year-on-Year – Q4 2020 vs Q4 2019
Resilient service revenue (excluding wholesale) at RM1.94 billion driven by growth in core mobile, enterprise and fibre businesses.
Leading the market with strong postpaid growth as subscriber base expanded by 4.0% to 3.5 million customers. The MaxisONE Plan and Hotlink Postpaid offerings contributed to the increase of more subscribers. The MaxisONE Share and Hotlink Postpaid plans attracted entry level postpaid subscribers. There was also an ongoing momentum of pre-to-post migration. Postpaid revenue posted a slight dip of 2.2% to RM967 million due to a decrease in Mobile Termination Rate (MTR) and lack of international roaming income due to MCO since March 2020. Monthly ARPU remained strong at RM83 but experienced a dip from RM90 in Q4 2019.
Prepaid continued to be under pressure with contraction in subscription by 4.4% to 6.0 million customers and lower ARPU at RM39 due to the continued SIM consolidation, successful migration to the Hotlink entry point Postpaid service and lower foreign worker base. Revenue declined 11.1% to RM696 million.
Solid double-digit growth in home connectivity, with 21.8% increase in fibre and wireless subscribers year-on-year (yoy), bringing the total to 570k. Fibre connections continues its strong growth in subscriber base and revenue. Strong adoption of MaxisONE Prime converged packages and ongoing conversion to higher speed packages of 300, 500 and 800 Mbps resulted in 20.3% increase in subscribers to 444k subscribers and an 18.0% increase in revenue to RM144 million. The ARPU remained stable at RM107. Additionally, Maxis saw continued strengthening of wireless connection segment. The new Fixed Wireless Broadband Access 4G/LTE home routers service which were initially introduced as a temporary solution during the initial MCO in 2020, when installations could not take place has since evolved as a solution to customers not in fibre coverage area and registered strong growth during the quarter. Subscriptions increased by 27.3% to 126k and revenue grew by 16.7% to RM35 million.
Normalised EBITDA remained stable at RM939 million against RM945 million in Q4 2019. Meanwhile, Normalised EBITDA margin on service revenue remained high at 48.3%.
Normalised profit after tax (PAT) of RM319 million, a decrease of 6.7% from RM342 million in Q4 2019 in line with lower service revenue and continuous CAPEX investments in growth areas.
Strong operating free cash flow (OFCF) at RM1,139 million for the quarter, a 49.5% increase from RM762 million in Q4 the preceding year, largely due to our focus on working capital initiatives and higher collections from Universal Service Provision (USP) and other regulated projects.
Increased adoption of digital services. With increasingly digital lifestyles, the Maxis and Hotlink apps continued to show strong adoption, as more and more customers opt for convenience, rewards, and ease of transactions. As at Q4 2020, 73% of our prepaid mobile Internet customers are now using the Hotlink App against 63% last year, while 58% of our postpaid primary account holders are on the Maxis App, compared to 49% in the same period last year.
A 4 sen interim dividend with an additional 1 sen special interim dividend was declared for the quarter. Maxis has maintained a prudent distribution throughout the year to allow for the Company to focus on serving its consumers, businesses, and communities during these challenging times. However, its agile response to the challenging economic environment and early gains from its working capital initiatives have given OFCF a boost, enabling the Company to declare a 1.0 sen special interim dividend in Q4.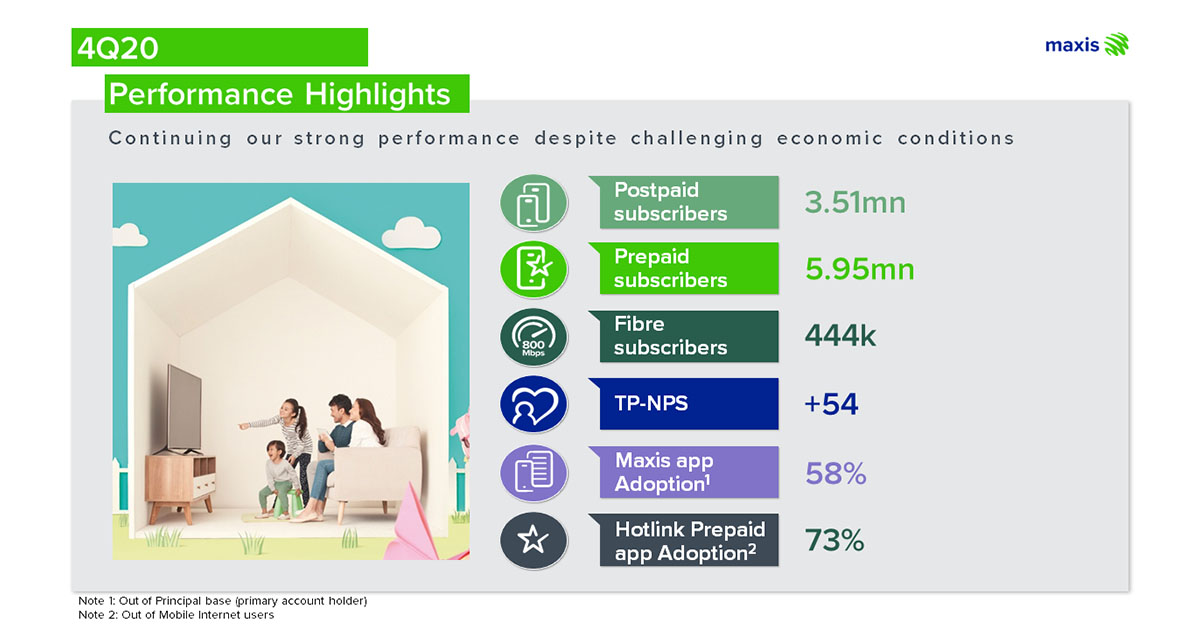 Key highlights for Q4 2020
A strong partner to SMEs and enterprises to accelerate their growth and digital aspirations:
Supported over 3.5k SMEs and Micro SMEs as a Technology Solutions Provider (TSP) with the widest range of connectivity and digital solutions under the SME Digitalisation Grant.
Developed the Maxis Business Digital Readiness Index (DRI), the first-of-its-kind online, interactive self-assessment tool that helps companies of all sizes across industries assess their level of digital readiness.
Introduced Usage-Based Internet, Malaysia's first pay-per-use Direct Internet Access for businesses to enjoy flexibility and cost-efficiency.
Expanded voice and unified communications solutions with acqui-hire of Audeonet, part of its ongoing commitment to build talent capacity and capabilities and expansion of sophisticated solutions for its Enterprise segment.
Teamed up with PETRONAS Dagangan Berhad to offer converged solutions focusing on safety, security and sustainability for businesses and leveraging big data and advanced analytics to create unique retail experiences at Petronas stations.
Meeting customers' needs and catering to increasingly digital lifestyles:
Maxis TV gives free VIP access to iQIYI, a top-tier content provider and 10GB data to binge on popular Asian dramas, shows and movies.
Partnered with Lazada Malaysia (Lazada) to build a specially curated site for 11.11 sale so Maxis and Hotlink users can grab great Lazada shopping deals directly from their Maxis, Hotlink, and Hotlink Postpaid apps.
Developing talent and fostering innovation
Awarded Undergraduate Scholarship to 15 bright and deserving students to support their academic aspiration.
Completed the second Maxis IoT Challenge 2020 to continue fostering strong home-grown innovation in IoT and 5G for businesses.
Supporting customers and the community with critical connectivity, communications services and aid in this challenging year:
Extended redemption period to 24 hours for the free 1GB Productivity Internet daily for work and learning needs.
Pledged RM1 million via GDRN for MCMC's "To Malaysia, With Love" initiative.
As part of this pledge, contributed RM500,000 to Yayasan Kebajikan Negara (YKN) for the distribution of food boxes to communities severely impacted by the pandemic as well as floods.