All-new Maxis TV unveils first-in-market OTT bundles for total control over your entertainment experience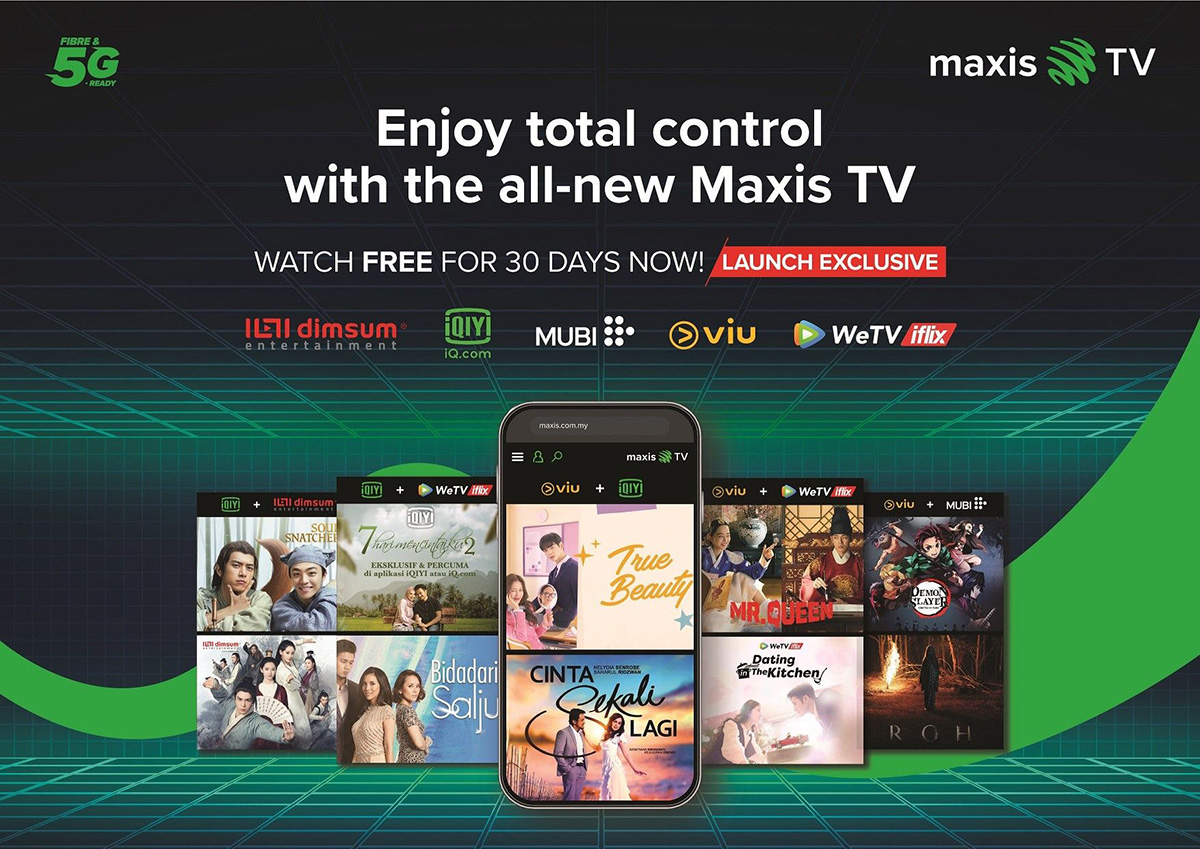 First-of-its-kind video entertainment service with brand new experience – easily discover, purchase, and watch premium video content all in one platform
Unique OTT bundles with free unlimited data for worry-free streaming that are totally new in the market
Now available for all non-Maxis customers to enjoy with free one-month trial for new subscribers
In these unprecedented times, more Malaysians are embracing digital services with a dramatic take-up of video streaming and other similar services. To cater to this growing appetite for digital content, Maxis has launched the all-new Maxis TV. It is the first-of-its-kind video entertainment service that gives total control over entertainment, delivering a seamless new experience where users can easily discover, purchase, and watch premium video content all in one platform. In addition, all Maxis TV passes are now available to even non-Maxis customers to enjoy, with free one-month trial for all new subscribers.
What makes the new Maxis TV unique is the affordable and flexible OTT bundle passes which are completely new in the market and cannot be found anywhere else. Users can personalise them with the option to stream content from two or more OTT providers. On top of that, they can add on more OTT providers by purchasing a one-time daily OTT Pass at RM2 per provider. Maxis TV also offers daily, weekly and monthly passes starting from RM3, bundled with free data.
"Video on-demand (VOD) consumption among other digital services is surging in popularity1, with Malaysians spending an average of 4.8 hours a day on the Internet in these extraordinary times2. Our all new Maxis TV is an evolution from our existing platform, where consumers can now totally immerse themselves through an end-to-end experience, from their connectivity to content needs with unlimited data for worry-free streaming. It is our commitment to an unmatched personalised experience for consumers in an era of converged connectivity," said Navin Manian, Head of Hotlink Consumer, Maxis.
The most convenient way to access the best content
As a one-stop discovery platform, users can access Maxis TV and browse their options easily through the Maxis, Hotlink and Hotlink Postpaid apps. Pass purchases are also made easy as they are charged to the Maxis bill or Hotlink credit, while for non-Maxis customers, it is charged to the user's credit card.
To deliver the best content that everyone in Malaysia loves, Maxis is partnering with top tier VOD content providers, such as Dimsum Entertainment, iQiyi, MUBI, Viu, WeTV iflix and many more to come. Users can enjoy premium video content from movies to TV shows – from Hollywood, Korean, Indian, Chinese, Indonesian and the ever-popular local Malay content.