Maxis continues support for impacted communities with distribution of RM330k worth of aid to date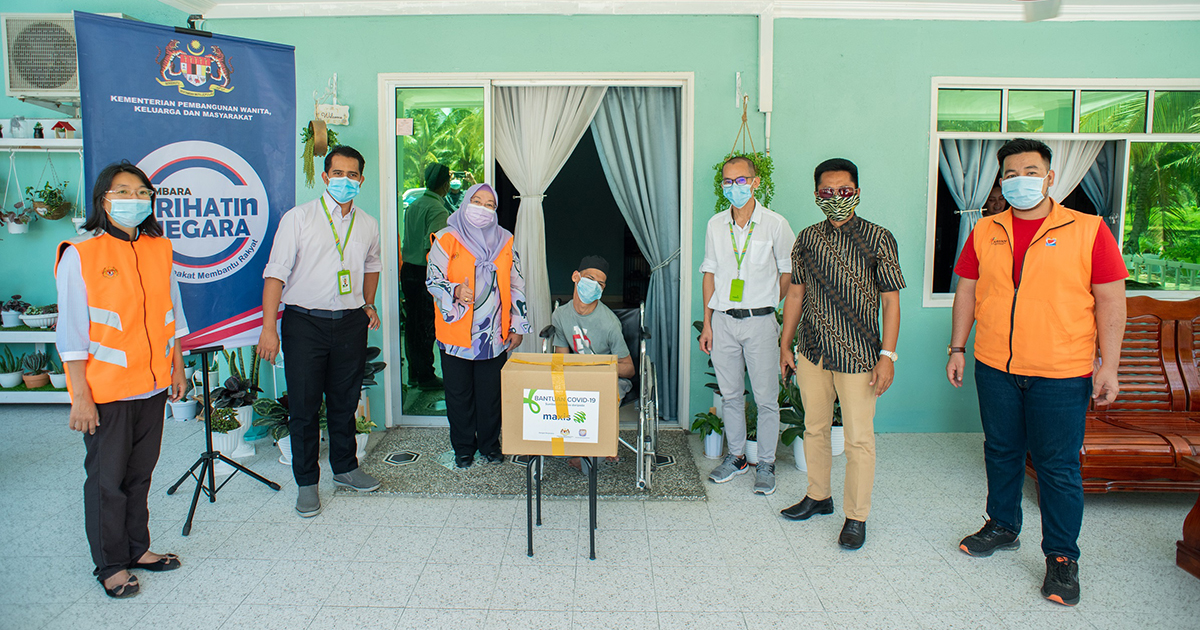 Total of 3,300 food boxes worth RM330,000 have already been distributed to communities in Kelantan, Terengganu, Pahang, Penang and Sabah impacted by the pandemic and the year-end floods
Contribution is part of RM500,000 committed to Yayasan Kebajikan Negara, and part of the RM1 million pledged in support of industry driven "To Malaysia, With Love" relief effort campaign
Maxis remains committed to supporting the nation in these challenging times
As these extraordinary times spill over into 2021, Maxis has continued with its commitment to supporting the community impacted by the pandemic and recent floods. To date, 3,300 food boxes have already been distributed to individuals, families and frontliners across several states namely Kelantan, Terengganu, Pahang, Penang, and Sabah. The food aid, valued at RM330,000, was undertaken in phases and is part of the RM500,000 donated to Yayasan Kebajikan Negara (YKN) announced earlier in December 2020.
Maxis collaborated with YKN and Jabatan Kebajikan Masyarakat (JKM) at the respective state levels for identification of communities as well as deployment, which involved Maxis' own mSquad volunteers and JKM representatives. Most recently, Maxis completed its distribution of food boxes in Sabah with the final batch in Tuaran, with the presence of Yang Amat Berhormat Datuk Seri Panglima Haji Hajiji bin Haji Noor, Chief Minister of Sabah.
Each food box comprises one-month's supply of essential items including rice, cooking oil, sugar, salt, sardines, noodles, biscuits and coffee or tea.
"We are pleased with the progress that we have made in our community support efforts. We are in a position to help those in need under these challenging circumstances and it was important that we act on it swiftly. Maxis is very appreciative of the efforts of YKN, JKM at the respective states and all those on the ground, including our own volunteers, to help get the aid distributed efficiently and safely. We look forward to deploying more aid in other locations in the upcoming phases," said Gokhan Ogut, Chief Executive Officer of Maxis.
Meanwhile, Puan Nordina Harun, Chief Executive Officer of YKN, expressed her appreciation for the ongoing relief efforts.
"We are grateful for the support extended by Maxis in our mission to improve the welfare of families in need in the country. YKN's mission is a continuous journey and being able to turn our collaborative efforts with the corporate sector into meaningful action is indeed rewarding," said Puan Nordina.
The contribution to YKN is part of the RM1 million pledged by Maxis via the GLC/GLIC Disaster Response Network (GDRN) for "To Malaysia, With Love" initiative driven by Malaysian Communications and Multimedia Commission (MCMC) and supported by other telco industry players. The remainder of the contribution to YKN will be utilized in the coming months in other locations to be determined. Meanwhile, more efforts as part of the GDRN pledge are being planned this year.
Supporting the nation through difficult times
Throughout 2020, Maxis committed to support the nation's health and economy with several key initiatives, starting with an industry-wide effort to provide the free 1GB per day offering so that people and businesses remained connected at home. Subsequently, the free 1GB was targeted for learning and work productivity. Under its own #KitaSapotKita campaign, Maxis provided free use of collaboration tools for businesses continuity, digitalisation support for SMEs, connectivity services for frontliners and food and PPE aid for impacted communities especially during festive seasons.
Earlier this year, Maxis supported the community with essential Internet connectivity especially for the critical segments of students and the B40 group. These included Internet packages for SPM, STPM and Higher Learning Institution students with 15GB high-speed Internet at just RM20/month. Meanwhile, as part of its telco industry collaboration with the MCMC, Maxis is also providing free Internet access via WiFi at 15 PPR sites across Pahang, Perak, Pulau Pinang, Melaka, Negeri Sembilan, Terengganu and Federal Territory Kuala Lumpur. All packages are available until 30 April 2021.