Maxis launches Malaysia's first Usage-Based Internet to maximize productivity and cost efficiencies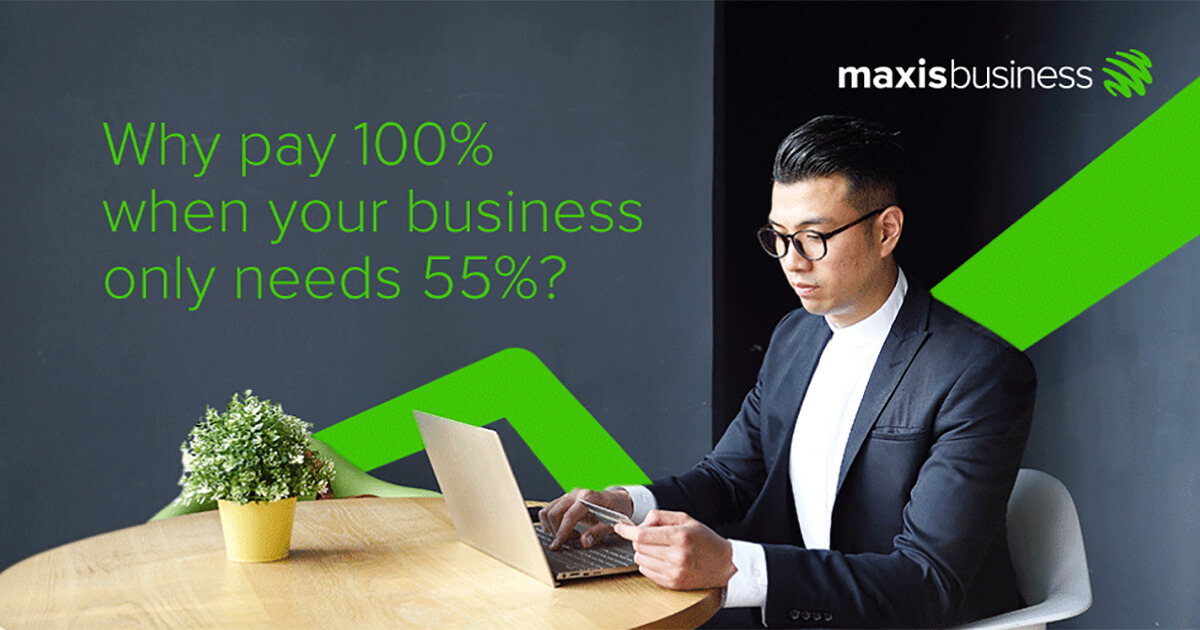 Maxis launches Usage-Based Internet, Malaysia's first pay-per-use Direct Internet Access (DIA)
Maxis Usage-Based Internet ideal for businesses with changing or seasonal Internet consumption to remove unnecessary costs
First Programmable Network in Malaysia that is MEF 3.0-certified, to empower businesses with real-time network automation and intelligent insights
Businesses in Malaysia saw their demands shifting throughout the various MCO phases, which necessitated a balance between managing cost without compromising on quality. To cater to their changing needs, Maxis is offering Usage-Based Internet, Malaysia's first pay-per-use Direct Internet Access (DIA), which allows businesses to have the flexibility they need to maximise productivity and cost-efficiency. Importantly, the proposition supports businesses' continued digitisation efforts as they transition to recovery mode, so that they can thrive in the new normal.

Maxis' Usage-Based Internet is delivered with a differentiated experience through the first Software-Defined Programmable Network in Malaysia, which is MEF (Metro Ethernet Forum) 3.0-certified. This Programmable Network enables businesses to reliably scale the capacity demand to meet the requirements of the fast-changing IT environments while operating at consistently high performance. For businesses with changing Internet consumption during peak and off-peak periods, or organisations with large data centre and hosting requirements, it is an ideal proposition that empowers businesses with real-time network automation and intelligent insights.

"In these extraordinary times, we feel it is absolutely vital for businesses to find the right balance between accelerating their digital aspirations to ensure that they are future-ready, while managing cost. Usage-Based Internet offers a smart, innovative, flexible and scalable solution on the best network that allows businesses to optimise their capacity and investment needs based on shifting and seasonal business demands. This proposition underlines our commitment to bring the best technologies to enable businesses in Malaysia to Always Be Ahead in a changing world," said Paul McManus, Chief Enterprise Business Officer, Maxis.
Why Maxis Usage-Based Internet is the smarter choice
With Maxis and Malaysia's first Usage-Based Internet service, businesses only need to pay for actual consumption, and will be able to save up to 50% or more in operation costs, ensuring better value with no unproductive costs (ie. when staff are working out of the office). Furthermore, they can enjoy three times more bandwidth for increased performance and experience. As Usage-Based Internet runs on a network that is cloud-ready, customers are essentially future-proofing their business for digital growth.

With a flexible and scalable model, there are also options for seamless upgrade so that businesses can better meet changing demands, even as they continue to enjoy savings. Importantly, Usage-Based Internet is backed by Maxis' Programmable Network for business-grade connectivity, as well as Maxis Enterprise-Grade Managed Services and 24/7 support by Maxis' tech team.

Maxis' DIA is a dedicated fixed solution that offers uninterrupted high-speed Internet for businesses to run mission-critical communications with consistent and reliable connectivity, as well as the flexibility to increase bandwidth as and when needed.
To learn more about Maxis Usage-Based Internet or to sign up for the plans, please visit https://business.maxis.com.my/fixed/usage-based-internet/.