Maxis is Penang's Trusted Technology Partner for Smart State ambitions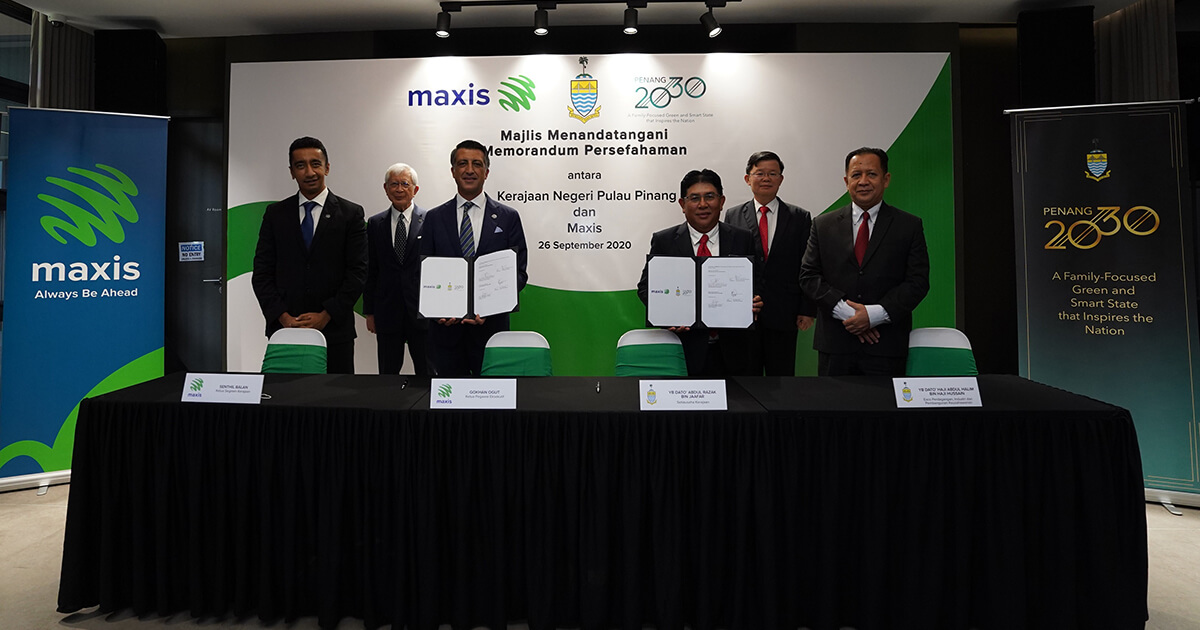 Maxis and Penang to showcase 5G-enabled Smart City IoT pilot project encompassing Smart Security, Smart Education, Smart Agriculture and Smart Pole
Maxis will support the Penang State Government in setting up IoT Innovation Lab to create a conducive ecosystem for the development of IoT solutions
Maxis is ready to support Penang's digital ambitions with the best in class IoT solutions as well as the sharing of resources and knowledge
Maxis, the leading converged solutions company in Malaysia, has signed a Memorandum of Understanding (MoU) with the Penang State Government to be the State's trusted technology partner. The MoU, which was signed today by both parties, was witnessed by Yang Amat Berhormat Tuan Chow Kon Yeow, the Chief Minister of Penang.

Signing on behalf of Maxis was its Chief Executive Officer, Gokhan Ogut, while the Penang State Government was represented by its State Secretary, Yang Berhormat Dato' Abdul Razak bin Jaafar. Accompanying the Chief Minister as witness was Maxis' Chairman, Yang Mulia Raja Tan Sri Dato' Seri Arshad bin Raja Tun Uda.

The collaboration focuses on two areas in line with the Penang2030 blueprint to strengthen the connectivity and digital infrastructure of the State in the coming years.
Smart City IoT Pilot Projects
The first focus area will see Maxis driving 5G-enabled Smart City IoT pilot projects, which will include Smart Security with Bangunan KOMTAR, Smart Education with Penang Digital Library, Smart Agriculture with Bao Sheng Durian Farm in Balik Pulau and Smart Pole with the City Council of Seberang Prai. Maxis and the state of Penang will be working together to develop and deploy these best-in-class IoT solutions. These pilot projects aim to exemplify the potential of technological advancement towards the State's digital ambitions.
IoT Innovation Lab
For the second focus area, the Penang State Government will establish an IoT Innovation Lab in Penang, supported exclusively by Maxis' IoT connectivity. The Lab will be the testing ground and collaboration site for start-ups, developer communities and solution providers for their IoT solutions. Together with local ecosystem partners such as innovation agencies and academia, Maxis and Penang will spearhead initiatives which facilitates knowledge sharing or co-creation workshops. Through these initiatives, local startups can be equipped with the latest know-how in leveraging IoT solutions as the State prepares to be 5G-ready.
"This partnership with Maxis is a significant step forward in our Penang2030 ambition. Our mission will always be the utilization of technology to improve the quality of life and provide even better opportunities for our citizens. By integrating smart technologies into key sectors such as education, public safety and agriculture, we can accelerate our progress towards the direction of our digital ambitions. We look forward to the insights and benefits that the Smart City pilot projects and IoT Innovation Lab will provide for the State," said YAB Tuan Chow.

"We applaud the Penang State Government's efforts in helping to drive its smart state agenda, and in recognising the need to leverage technological advancements across key sectors. At Maxis, we are keen to being a strong partner to the government through our network leadership, digital services and connectivity solutions. This is in line with our commitment to bring the best of technologies to help people, businesses and the nation to always be ahead in a changing world. We look forward to playing an important role in delivering the best in class IoT solutions and sharing our resources and knowledge to support Penang's digital ambitions," said Gokhan Ogut.

At the event, Maxis also showcased three 5G use cases, which is part of the ongoing 5G Demonstration Projects. These included the virtual reality (VR) experience for Science learning in eKelas, Maxis' flagship community programme, as well as two of Penang's IoT pilot projects - Smart Security for Bangunan KOMTAR and Smart Agriculture for the Durian Farm in Balik Pulau.

While it continues to educate the public on the potential of 5G and its capabilities through its use cases, Maxis remains fully committed to the Government's JENDELA action plan announced recently. JENDELA is a shared aspiration for the whole country, where the industry will be working together with MCMC and other agencies at the federal, state, and local council levels. All initiatives of JENDELA will aim towards providing seamless digital connectivity for all Malaysians in line with the country's digital economy.

IoT Technology Leadership
Maxis has been reinforcing and accelerating its IoT agenda. In April 2019, it launched the first commercial Narrowband IoT (NB-IoT) service in Malaysia, which essentially opened up the opportunity for businesses to deploy industrial IoT applications to form new data streams, enabling actionable insights by connecting simple devices such as sensors. IoT technology will power up Big Data and enable advanced data analytics to help make decisions in areas such as potential cost savings, improved efficiency and new business opportunities.

To accelerate adoption, Maxis set up its first IoT Innovation Lab in 2018 to act as a bridge between Maxis' Enterprise customers and device manufacturers as well as solutions providers. Solutions in Maxis IoT Innovation Lab include smart lighting, parking monitoring, smoke alarms and more, which have the potential to open up new possibilities for key stakeholders such as government, state councils and Malaysian businesses in the areas of agriculture, utilities and Smart Cities, to name a few.
Maxis' 5G Journey
Maxis has long started its 5G journey. Over the last few years, it has been assessing the technology and conducting demo trials in its test lab. Maxis has been upgrading its transport network to support the gigabit speeds and at the same time virtualising its core network elements for flexibility and scalability for the capacity demands of this technology.

In March 2019, Maxis commenced the first 5G live trials in the country after signing an MoU with Huawei to cooperate on full-fledged 5G trials. Maxis also participated in MCMC's #5GMalaysia showcase in Putrajaya and IDECS Sarawak in 2019, showcasing IoT applications via smart water and electric meters, smart lighting, smart campus, smart vehicle management, and track and trace of wanted suspects in public locations amongst other solutions. These use cases demonstrated how 5G can enable Government and corporations to make informed decisions using the technology.

At the same time, Maxis had also partnered with Sarawak Multimedia Authority for collaboration on IoT and NB-IoT initiatives. In October 2019, Maxis and Huawei signed a landmark agreement for the provisioning of 5G network, an important milestone in Maxis' 5G journey. In November 2019, Maxis unveiled its first use case demo at aquariaKLCC, showcasing Malaysia's first 5G Augmented Reality (AR) experience with marine life. In January 2020, as part of the 5G Demonstration Projects, Maxis featured its 5G use case in both education and agriculture. Most recently, Maxis signed an MoU with CENTEXS Sarawak, as well as partners Huawei Technologies and Sarawak Digital Economy Corporation to launch the first 5G testbed in the state of Sarawak.