Hotlink Prepaid now with truly unlimited Internet and Calls
Staying in tune with customers' needs for more Internet, Hotlink Prepaid Unlimited offers unlimited Internet and unlimited calls to all networks
Offers great value with digital lifestyle perks, such as Maxis TV, cashback on Google Play store and Apple app store purchases and more rewards
Hotlink SUPERRR also revamped to Hotlink Prepaid Video for high-speed, high quality video streaming
Staying in tune with customers' needs for more Internet and connectivity, and importantly, greater value, Hotlink has taken an unprecedented move by launching its brand new prepaid pack, Hotlink Prepaid Unlimited, with truly unlimited Internet and unlimited calls to all networks for the first time.

"The launch of the Hotlink Prepaid Unlimited plan could not have come at a better time as customers are consuming the Internet at unprecedented rates during these extraordinary circumstances. The pack is perfect for the youth who want a bit of everything and to explore possibilities with their friends, and value seekers who want to maximise their plans for bigger gains. This all-in-one unlimited prepaid plan packs a punch for all their payments, rewards and entertainment demands in a new era of convergence that enables them to always be ahead. With Hotlink, there are no limits to what you can do," said Navin Manian, Maxis' Head of Hotlink Consumer.

What Hotlink Prepaid Unlimited offers
Hotlink Prepaid Unlimited offers great value with perks such as Maxis TV, cashback on Google Play store and Apple app store purchases and even more rewards. The plan will suit the increasingly digital lifestyles of Generation Z, who are primed to take advantage of the digital ecosystem through skills learnt online and e-Commerce. For that, they need an 'Always On' network to be ahead and make their mark.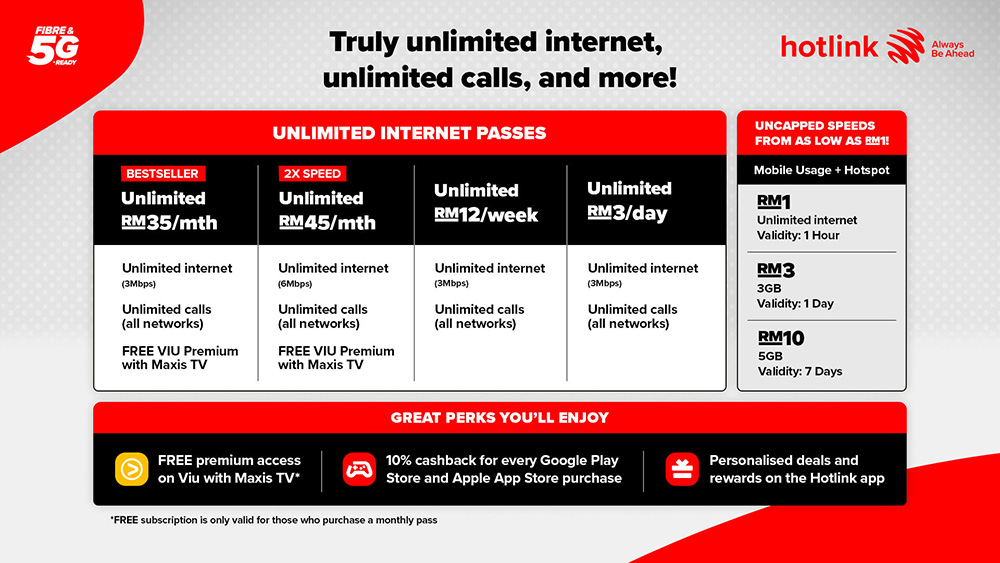 New Hotlink Prepaid Video
Aside from the new Hotlink Prepaid Unlimited launch, the current Hotlink SUPERRR pack will also be revamped to become Hotlink Prepaid Video, the best prepaid plan for the more individualistic user, who loves streaming high-speed, high quality videos for an immersive, unlimited content discovery. They can also enjoy world class entertainment on Maxis TV through sachet passes, with free 10GB per month on selected video apps, and 2x free Internet for videos with purchase of an MI pass.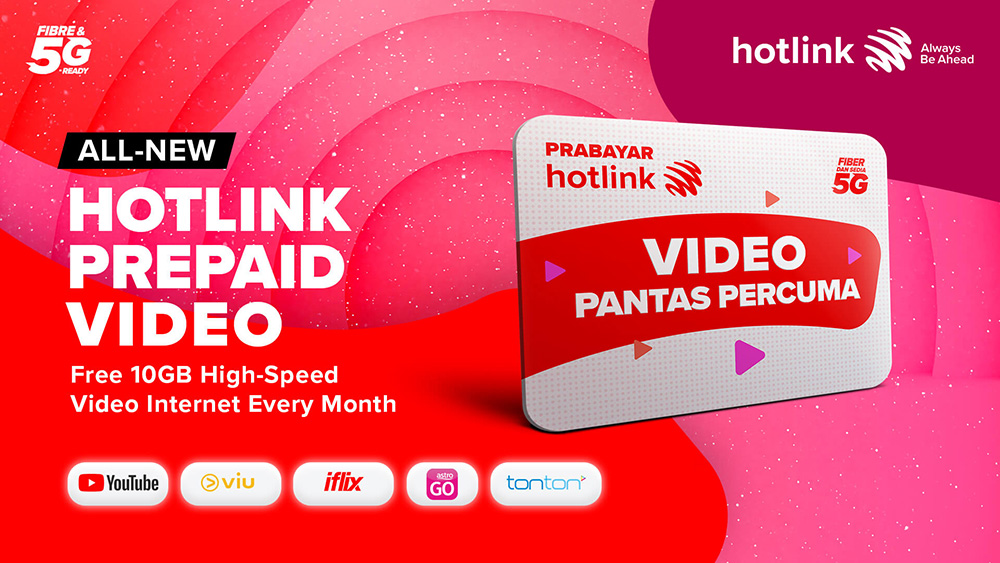 To purchase the Hotlink Prepaid Unlimited and Hotlink Prepaid Video packs, just head to the nearest Maxis Store, Hotlink dealer or convenience store.
For more information on Hotlink Prepaid Unlimited, please visit Hotlink.com.my/hp-unlimited-en

For more information on Hotlink Prepaid Video, please visit Hotlink.com.my/hp-video-en