Maxis helps to ease burden of Covid-19 impacted communities with RM500k to Yayasan Kebajikan Negara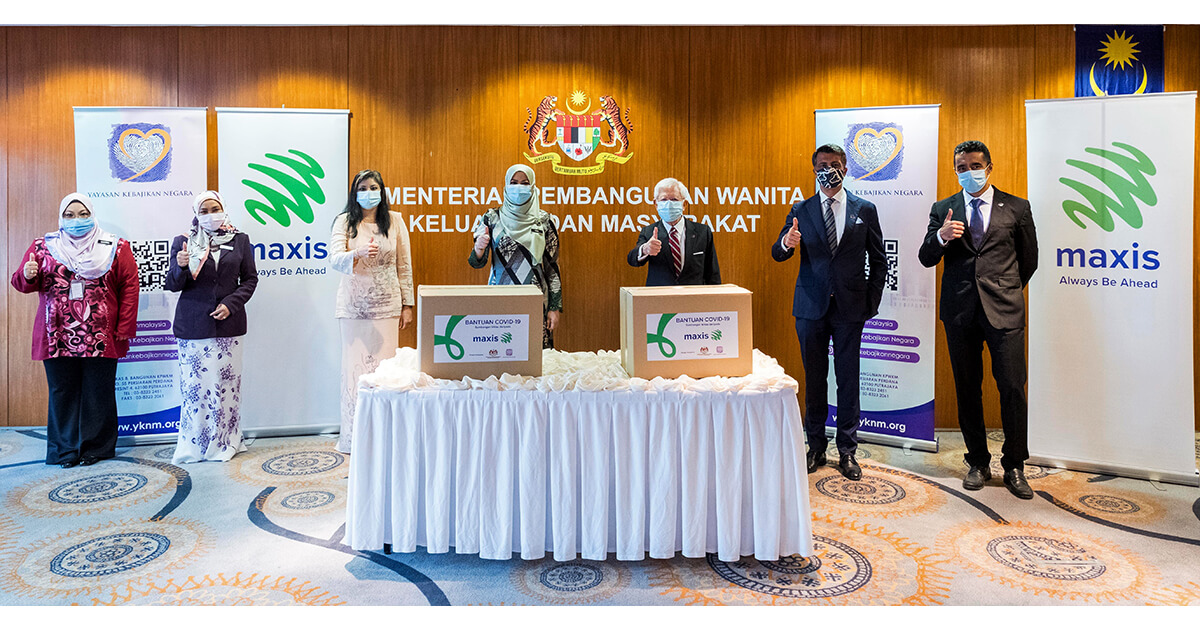 Contribution will be used to provide an estimate 5,000 food boxes in phases to communities severely impacted by COVID-19 as well as allocation for evacuation centres in anticipation of floods

2,000 food boxes in first phase to be distributed to B40 and poor communities in Sabah, with subsequent phases from January to May for other impacted communities including in Peninsular Malaysia

The RM500k contribution to YKN is part of the RM1 million pledged in support of industry driven "To Malaysia, With Love" relief effort campaign
Maxis has contributed RM500,000 to Yayasan Kebajikan Negara (YKN) in support of COVID-19 related aid. The contribution will go towards distribution of an estimated 5,000 food boxes to communities severely impacted by the pandemic as well as allocation for evacuation centres in anticipation of floods.
The contribution to YKN is part of the RM1 million pledged by Maxis via the GLC/GLIC Disaster Response Network (GDRN) in the recently launched "To Malaysia, With Love" initiative driven by Malaysian Communications and Multimedia Commission (MCMC) and supported by other telco industry players. With this pledge, Maxis will work with relevant NGOs to identify communities based on needs and deployment of on-ground support.
The contribution was symbolised at a simple ceremony on Monday, 21 December with YB Datuk Seri Rina Mohd Harun, Minister of Women, Family and Community Development, who is also Chairman of YKN. Representing Maxis were Raja Tan Sri Dato' Seri Arshad bin Raja Tun Uda, Maxis' Chairman and Gokhan Ogut, Maxis' Chief Executive Officer.
"COVID-19 has impacted many of us, but we know that many, especially the B40 and poor segments have been severely affected in terms of their income and livelihood. We appreciate Maxis' efforts in collaborating with YKN and their contribution to our foundation. This is in line with our mission to help the Government's aspirations to improve the people's quality of life. The food aid is much needed to support communities during these difficult times," said YB Datuk Seri Rina.
"Supporting communities in times of dire need is an important part of our responsibility as an organisation. YKN's mission and tireless efforts on the ground is indeed commendable and inspiring, and we look forward to working together to mobilise aid to those impacted," said Gokhan.
The distribution of food boxes will be carried out in phases, with the first phase comprising 2,000 boxes worth RM200,000 to be distributed by early January 2021 to heavily impacted communities in Sabah, given the consistently high number of cases in the State. These communities include those in Kota Belud, Putatan, Penampang and some remote villages in Pensiangan. Each food box comprises one-month's supply of essential items including rice, cooking oil, sugar, salt, sardines, noodles, biscuits and coffee or tea. YKN, an agency under the Ministry of Women, Family and Community Development, will be preparing and managing the distribution of the food boxes in collaboration with Jabatan Kebajikan Masyarakat (JKM) Sabah.
More aid will be distributed in subsequent phases from January to May next year for communities based on needs, as well as flood evacuation and relief centres in Peninsular Malaysia.
Earlier this year, Maxis launched its #KitaSapotKita campaign to inspire positivity by reaching out to the community through various initiatives. The launch of the campaign saw Maxis collaborating with local artists to produce a music video called 'Make It Through', an inspiring song on positive collaboration that provided an avenue for the public to actively support fellow Malaysians by turning social shares into donations for those in need. The proceeds from this campaign is part of the total contribution to YKN as previously pledged.