Maxis and APU collaborate to develop technology and digital capabilities for young talent
Maxis and APU partner to support industrial and academic development of Malaysian young talents.
Students to benefit from Maxis Graduate Programme and internship opportunities, as well as employment priority.
APU to leverage on Maxis' pool of experts for industry talks and student project mentorship.
Both parties to facilitate research collaboration to meet the growing need for technology and innovation in ICT and business sectors.
The future belongs to the young – with that, Maxis and Asia Pacific University of Technology & Innovation (APU) have partnered to support the industrial and academic development of young talent in Malaysia, and raise technology and digital experts of tomorrow.
As part of the mutually beneficial collaboration, Maxis would be able to tap on a stream of talent from APU for its Maxis Graduate Programme and internship opportunities. Through the programmes, APU students would gain from learning and development opportunities at Maxis that will equip them with the right skills to excel in the areas of expertise they are passionate about, and will help build their careers holistically. Additionally, employment priority would also be offered to top students in the technology field.
"We are excited to partner with APU to open the minds of young students to the immense possibilities of technology and unlock their potential. Being always at the forefront of technologies in Malaysia, we want students and jobseekers to get to know Maxis as more than just a mobile service provider – rather we are a digital and technology focused company that fosters an innovative mindset amongst employees. We look forward to helping young students develop themselves so that they can contribute their talents to our company and Malaysia as a whole," said Natalia Navin, Chief Human Resource Officer at Maxis.
"In raising a generation of future leaders, it is imperative that they receive the best support in both the academic and industrial areas. We are confident that our collaboration with Maxis will give the students great exposure to the field of technology and its applications in the real world. Our agreement will also open a pathway to fantastic career prospects that will springboard the students' professional journeys to the next level," said Professor Ron Edwards, Vice Chancellor of APU.
Meanwhile, APU will be able to leverage Maxis' pool of experts to deliver industry talks and mentorship for students' industrial projects. On top of that, both parties will facilitate opportunities for research collaboration, as well as ICT education and technology development, to benefit the growing need for technology and innovation in the current ICT and business sectors.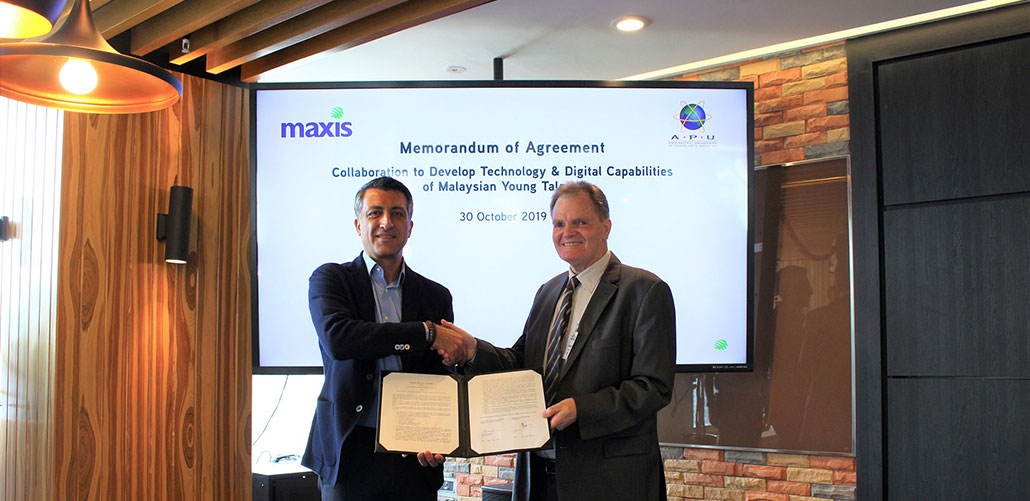 To formalise the partnership, Maxis and APU recently signed a Memorandum of Agreement at Menara Maxis. Representing Maxis was its Chief Executive Officer, Gokhan Ogut, while Professor Ron Edwards signed on behalf of APU.
Concurrently, an industrial talk and Q&A session facilitated by Maxis' technology experts were held to inspire APU final year students who visited Maxis' headquarters. During the visit, the students also submitted their CVs and met with recruiters and hiring managers to explore job opportunities at Maxis.
Maxis is constantly elevating its internal culture, MaxisWay, towards becoming an even more effective and efficient organisation by cultivating internal innovation. It encourages employees to never stop discovering and developing, and continuously evolve with the industry, building new capabilities to support a new digital Maxis.
In July this year, Maxis had organised its first Career Fair that is unlike any other. Designed with participation and immersive experience in mind, it comprised "speed-dating" type interviews as well as various showcases, such as IoT, NB-IoT and A.I., to demonstrate what the company is all about. The Career Fair also gave young job seekers the opportunity to meet the telco as a potential employer.
Discover exciting career prospects at Maxis here https://www.maxis.com.my/about-maxis/career/