Hotlink RED, The New Prepaid Pack That Amplifies Your Experience With Non-Stop Internet On Your Favourite Apps
Hotlink is amplifying customers' Internet experience with the launch of its latest prepaid pack, Hotlink RED. It is a common norm within the prepaid market to offer lots of data quota, but this often comes with many restrictions, especially on speed and usage limits. With Hotlink RED, customers can now enjoy a truly free non-stop high-speed Internet experience without any of these restrictions.
"With the launch of our latest Hotlink RED pack, we want our customers to have the power and freedom to experience the Internet the way they like it, without having to worry about time or usage restrictions. What's more, they can enjoy this pack on the fastest No. 1 4G network as well as 10GB of high-speed Facebook every month," said Navin Manian, Maxis' Head of Prepaid.
What Hotlink RED offers
Priced at RM10, Hotlink RED comes with RM5 preloaded airtime, 300MB preloaded high-speed Internet and offers customers:
• Free 10GB of high-speed Facebook with no restrictions
• Mobile Internet passes from as low as RM3 for 2GB
• Free non-stop Social & Chat boosters for their favourite apps with any purchase of MI passes on the Hotlink RED app
• Personalised HotlinkMU deals every day on the Hotlink RED App
• Best IDD rates and IDD Hot Tickets bundles
In conjunction with the launch, Hotlink has also revamped its Internet passes with more data quota: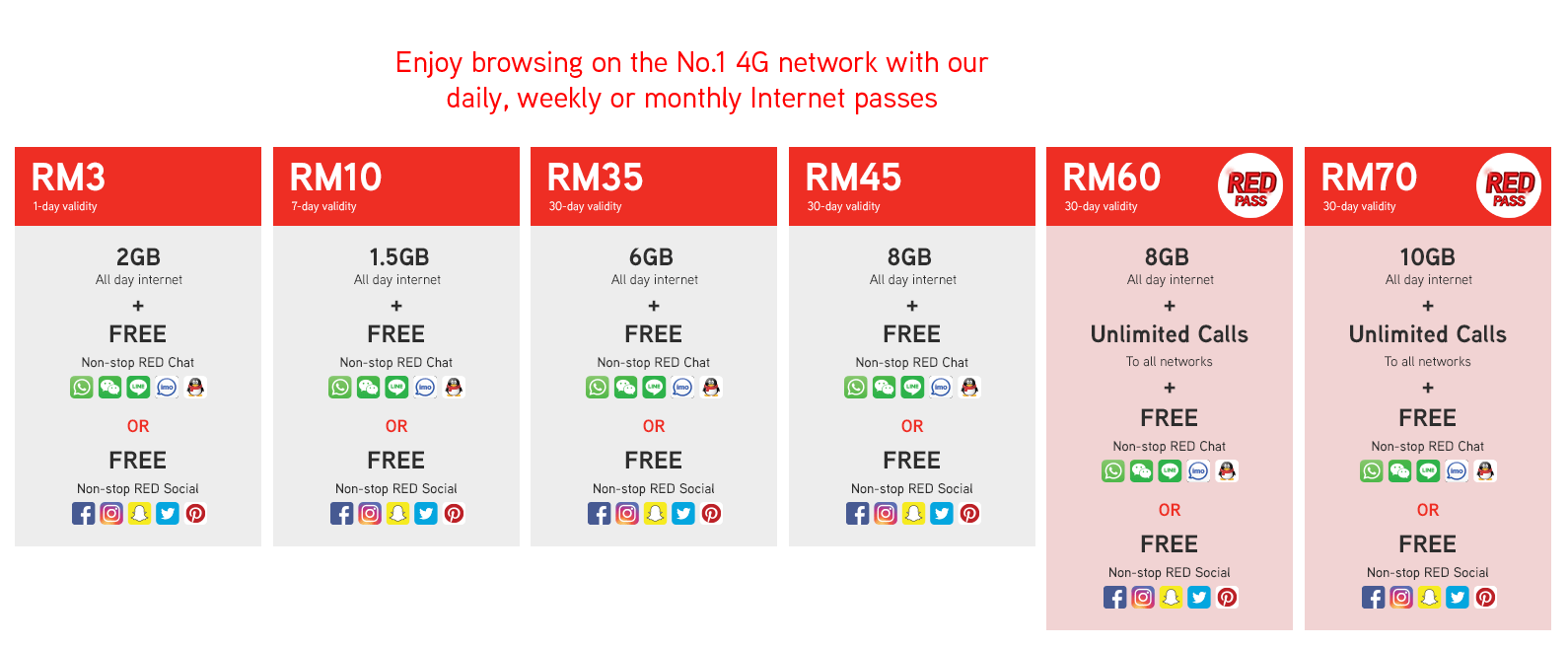 Hotlink RED will be available at all Hotlink dealers, Maxis Centres and Maxis Exclusive Partners (MEPS) nationwide beginning today. Existing Hotlink customers who want to upgrade to the new Hotlink RED plan can do so via the Hotlink RED App, by going to 'My Account' and selecting 'Change' next to 'Rateplan'. Alternatively, they can dial *100*6*1# from their mobile phones.
To learn more about Hotlink RED, visit www.hotlink.com.my.