Ookyo, Malaysia's ONLY Digital Prepaid Plan That Offers Unlimited High-Speed Internet On Any App Of Your Choice

It's about to get lit ya'll! Beginning today, ALL ookyo customers will enjoy unlimited Internet for ANY 4 apps of their choice – with no restrictions or conditions – all day, every day. That's right. Choose any 4 apps from a list of over 100 apps, and also enjoy an extra 5GB of high-speed data as well as unlimited calls and SMS, from only RM30 a month.
On top of that, users can expect superfast speeds, since ookyo is powered by Maxis. ookyo is a 100% digital Internet plan, which means, the entire service and experience is made to be conveniently self-managed from the ookyo app, including signing up, managing your unlimited apps, customer service and payment. Customers have the option to make payment through direct debit and choose to have their plan auto-renewed if they wish.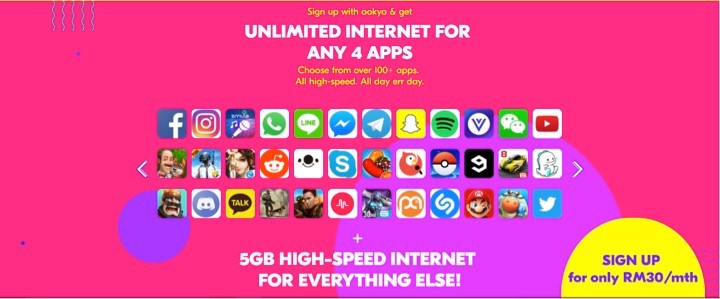 "What makes ookyo awesome is that users have total control on how they experience the Internet. This new ookyo plan is in line with keeping up with the market demands. There are constantly new and popular apps that keep popping up, and we want to give users the freedom to choose their favourite 4 apps. They also have the flexibility to change their choice the next month, making us the ONLY digital prepaid plan to have such an offer. If any of your favourite apps are not in the list, let us know. Suggest via the ookyo app and let us do something about it," said Maybel Chan, Head of ookyo.
So, here's all the good stuff you'll get with ookyo:
• Unlimited Internet for ANY 4 apps – You're no longer limited to 'popular' apps only. Now, choose from a catalogue of over 100 apps, including YouTube. This list is constantly being refreshed and updated, based on what the customer demands are.
• Extra 5GB high-speed Internet comes included in the plan, for all your other Internet uses
• Unlimited calls and SMS for only RM8 a month
• Add on unlimited Internet for over 100 apps – If 4 apps are not enough, for as low as RM3 a month, customers can enjoy unlimited Internet on any other apps of their choice, from video streaming, games, to movies, to music, and so much more
• Free Google Play credit – Enjoy 10% Google Play credit with every Ringgit spent in the ookyo store. The credit can be used anywhere in the Google Play store including in-app purchases as well as movies, books and magazine purchases in the Play Store.
• Reliable connectivity – ookyo is powered by Maxis 4G, which means you can enjoy a fast and seamless Internet experience. ookyo works on both 3G and 4G.
Signing up for ookyo is all digital. Users just need to register on the ookyo website (www.ookyo.com.my), or download the ookyo app from the Google Play Store. A free SIM will be delivered to them with no charges.
For more info on ookyo, check out this video: https://youtu.be/K8P86ACBo_8