MaxisONE Prime - The All-In-One Family Plan For Endless Data, In Your Home And On The Go
These days, families are becoming more connected than ever, but face the challenge of managing multiple family members' mobile accounts for different devices. Today, Maxis is making it simpler for Malaysians to manage their various mobile and fibre plans, with the launch of MaxisONE Prime, an all-in-one plan for the entire family, in the home or on the go. With MaxisONE Prime, families can enjoy as much data as they want – whether it's on fibre with speeds of up to 100Mbps at home, or on our superfast 4G network while on the go.
"Malaysians love the Internet and want Internet access wherever they are. With that comes the need for a simpler way to manage all their data needs, whether on fibre or mobile. MaxisONE Prime makes it easier for families to enjoy their digital lifestyle with zero worries, across mobile, home and every device in between. Maxis is already the fastest 4G network and now our aim is to provide the best fibre service in this all-in-one plan," said Arjun Varma, Maxis' Head of Postpaid.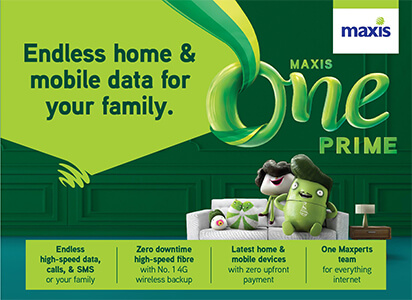 Here's what MaxisONE Prime offers:
Endless high-speed data for home and mobile – Up to 5 family members can enjoy unlimited data on their mobile and home broadband.
Zero downtime high-speed fibre – Customers can confidently rely on home Internet that is always connected. If their high speed fibre connection ever gets disrupted, their home router will automatically connect to a 4G wireless backup, ensuring continuous home Internet connectivity.
Latest home and mobile devices – Customers can choose from an expanded range of devices for the home or mobile on Zerolution, which offers zero upfront payment and zero interest.
One Maxperts team – Dedicated Maxperts team to help with home WiFi setup and optimisation as well as device setup. A priority customer helpline will also be made available.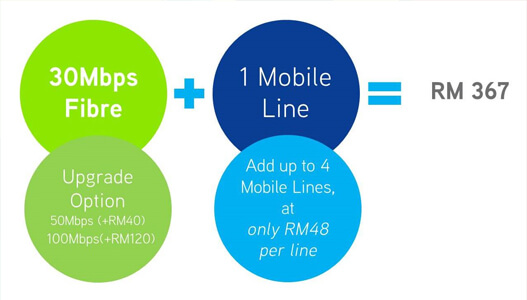 Customers can visit any Maxis Centre to sign up or visit www.maxis.com.my/prime to customise their MaxisONE Prime plan based on the number of mobile lines and home fibre speed needed, and submit their registration of interest online.
For full details on MaxisONE Prime, visit www.maxis.com.my/prime