Maxis Offers Best In Class Secure Managed Payment Solution In Collaboration With TNS
Maxis and Transaction Network Services (TNS) have entered into a collaboration to offer best in class secure managed network for payments and financial institutions. With the combination of its superior high-speed network and TNS' expertise in global secure payment solutions, Maxis will be able to provide a worry-free, fully managed offering to businesses..
The key features of this solution are:
Security - As security is a key concern for all businesses today, this solution is designed with multiple security features and TNS' network is Payment Card Industry Data Security Standard (PCI DSS) certified. With PCI DSS, customers can be assured the safety and security of the transmission of any sensitive information, as all cardholders' data and payment transactions are encrypted over insecure communications channels to make data worthless to criminals in the event of a breach. Maxis is the only telco that is able to offer organisations access to a PCI DSS compliant network solution providing a worry-free solution to businesses.
Maximised uptime – Maxis guarantees continued service availability through multiple back-up options to keep services functioning. This simply means your business is constantly connected.
Operational simplicity – Through end to end managed services, leave the complication of installation, configuration and monitoring to Maxis and gain visibility through regular reports.
24/7 support – Maxis will provide the highest level of expertise and support 24/7 x 365 to make sure that businesses have peace of mind when they use this solution.
Global reach – This solution will enable companies to connect with the world's largest acquirers, processors, banks and card schemes.
Secure Managed Network Solution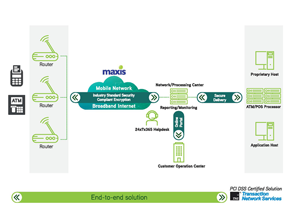 "With this solution, Maxis is enabling businesses to focus on what matters most, instead of them having to worry about the details. With TNS' global secure PCI DSS certified network, businesses can be assured that customers' card information is protected. What's more, we are able to help them remove the complexities of deploying and managing their network for payment services. This partnership with TNS is in line with our goal of becoming the preferred managed payment network solutions provider for companies that emphasise on security," said Loong Tuck Weng, Maxis' Head of Enterprise.
John Tait, Managing Director of TNS' Payments Division for the Asia Pacific region, said: "We are very pleased to have this opportunity to work with Maxis and to provide them with a more advanced payments network solution for their customers. Our extensive expertise in payment solutions will benefit banks, in particular, as well as retailers in the oil and gas industry and multi-site enterprises, among others."
For more information on secure managed network, visit www.maxis.com.my