Maxis Joins World's Top 10 Most Effective Brands, According To Global Effie Effectiveness Top 100 Rankings

Maxis was just named the 7th most effective brand globally according to Effie Worldwide's recently released 2017 Global Effie Effectiveness Index. Amongst the Top 10 brands in the world, Maxis is the only single-country brand, ranked alongside multinational giants such as Coca-Cola, McDonald's, Burger King, IKEA and Mastercard.
The Effie Index recognises agencies and brands that create the most effective marketing campaigns from around the world, and is compiled from 3,601 finalists and Effie-winning marketing cases between January 1, 2016 and December 31, 2016.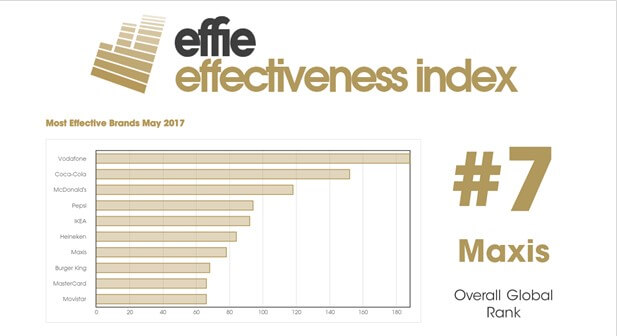 Maxis has been named Effie Brand of the Year twice in a row - in 2015 and 2016. In 2016, Maxis won 2 silvers at the APAC Effies, as well as two gold, five silver and four bronze awards at the Malaysian Effies. These wins each contributed points to the brand's Global Effie Effectiveness Index.
For a second year running, Maxis is the only Malaysian brand in the Global Top 100. Maxis' brand agency Ensemble Malaysia also joins the Effie Effectiveness Index Top 100 for the first time this year at 68th ranked Individual Agency Office., the only Malaysian-based agency in the list. Both Maxis and Ensemble also made the WARC 100 Global Rankings announced a few months back.
"In a category as competitive as ours, every marketer needs to focus on nurturing the things that matter. For us, building a brand that people trust and partnering with agency people that understand creativity in the age of data and digital is more important than ever. Both are ongoing journeys but getting into Effie's top 10 globally is a good sign we may be on the right track," said Sulin Lau, Maxis Head of Marketing Services.
Malaysian Advertisers Association (MAA) president Margaret Au-Yong said, "The introduction of the index is one of the initiatives which MAA, as one of the organisers, hopes to contribute positively in its quest to take the Effie Awards to a higher level, globally."

To find more about Maxis' ranking in the 2017 Effie Effectiveness Index, click here