Free Automatic 2x Data Upgrade For Every MaxisONE Plan Customer

More data upgrades for nearly 1.5 million MaxisONE plan (MOP) customers. Between 15 and 19 November, all MOP customers will be automatically upgraded with a minimum of 2x more data quota at no extra cost. That's up to 50GB a month with this free upgrade.
"We have seen that customers love data and are enjoying more things on our No. 1 4G network. It's also clear that more customers are using phones on weekends, especially for entertainment and video, which is why we have added a weekend data allocation. Our continuous MaxisONE plan upgrades are based on this increasing usage. This is our commitment in giving our customers the best solutions and data experience," said Dushyan Vaithiyanathan, Maxis' Head of Consumer Business.

The following upgrades are automatic and free for all new and existing customers: -
EVERY MOP customer will get upgraded to 2x more data. For example, MOP98 customers will get upgraded to 10GB from 5GB, for FREE for life
EVERY MOP customer will also get FREE 4G weekend data. So, MOP98 customers will get an additional 10GB of 4G weekend data quota for FREE
Finally, all MaxisONE Share supplementary lines will also get upgraded to 2x more data to 10GB, again at no extra cost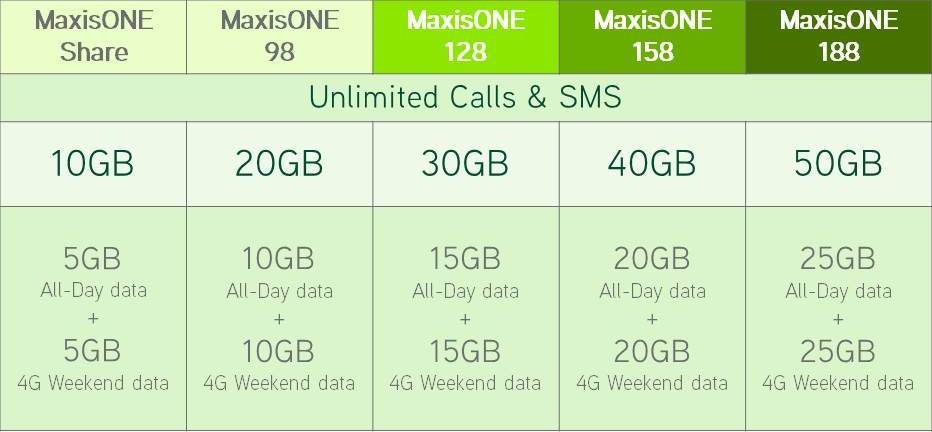 What's more, MOP customers can also enjoy RM1 4G smartphone deals with the Power of One RM1 sale. Current and new MOP customers get to choose from a wide range of 4G smartphone best-sellers for just RM1 including Huawei P9, Samsung J7 and J5, Oppo F1, as well as RM1 Pocket WiFi, RM1 Google Chromecast and RM1 Home WiFi extenders.
Maxis will also be enriching its MaxisONE Business and FlexiShare plans with similar upgrades for its business customers very soon.
For more info on the new MOP data upgrade, visit www.maxis.com.my/maxisone.