Students in Kelantan unleashed their confidence of speaking in English through HIP StoryFest roadshow and storytelling workshops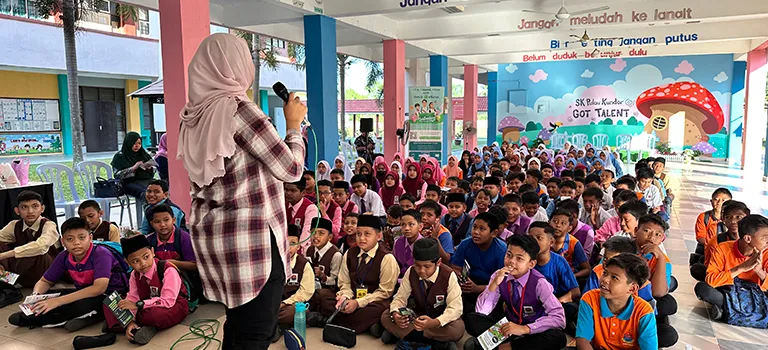 Maxis eKelas just completed an exhilarating trip to Kelantan from 18-22 June, where we had the opportunity to deliver drama workshops to 10 schools as part of the HIP StoryFest English competition school roadshows this year.
During our visit, we taught the students the art of storytelling and basic acting skills, igniting their interest in expressing emotions in the English language. We also introduced them to the fun world of learning in eKelas and provided guidance in recording their competition submission videos, as well as registering them on the eKelas portal.
We were thrilled to engage with more than 1,800 students from both primary and secondary schools, witnessing their enthusiasm as they brought the drama scripts to life and showcased their English-speaking skills. Their dedication and energy were truly inspiring! Even when they were not fluent or familiar with how to pronounce certain words, they were all up for the challenge and spoke up.
HIP StoryFest English competition 2023 has officially closed on 3rd of July. We are excited to announce that over 12,000 new registrations and over 8,000 submissions have been received from students all across Malaysia throughout the 2-months duration.
The anticipation builds as we eagerly await the results, with the winners set to be announced in August 2023. Stay tuned to find out who will emerge victorious and shine in this celebration of creativity and language skills!