300 students joined in Misi Jelajah Digital's first online workshop series to learn about Scratch and how they can code to win!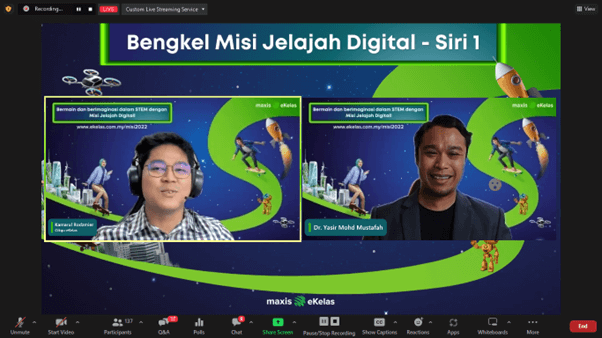 "I love today's session because I gained new experience of learning how to use Scratch and build my own game" – Afiq Danish bin Azam, Melaka
"Expands my mind" – Syafiq Ashraff bin Rusli, Johor
"Very clear explanation from the teacher and the STEM expert!" – Muhammad Danish bin Azree, N. Sembilan
These are just some of the positive feedbacks we have gotten from the students who attended Misi Jelajah Digital's first workshop held in mid-October where our eKelas teacher, Cikgu Rodzmier provided a walkthrough of 2 missions in the challenge: Roblox Exploration and Code Your Own Game in Scratch. Joining Cikgu Rodzmier was Dr. Yasir Mohd Mustafah, Assistant Professor at the Department of Mechatronics Engineering from International Islamic University of Malaysia (IIUM) to explain about the types of games students have to build according to their levels. For someone who is passionate about engineering, science and robotic stuff, Dr Yasir exudes the right kind of energy we need to get students hyped up and excited about our mission!
This year's Misi Jelajah Digital runs from 20 September until 9 December 2022 and is open to all students aged 10-17 who have registered in the eKelas portal. Besides explainer videos, notes and modules, tutorial workshops will be conducted to guide participants on completing the missions and exploring game walkthroughs.

More information about the STEM challenge here: www.ekelas.com.my/misi2022