Meet Abang Portal – The eKelas Community Manager keeping students engaged in learning!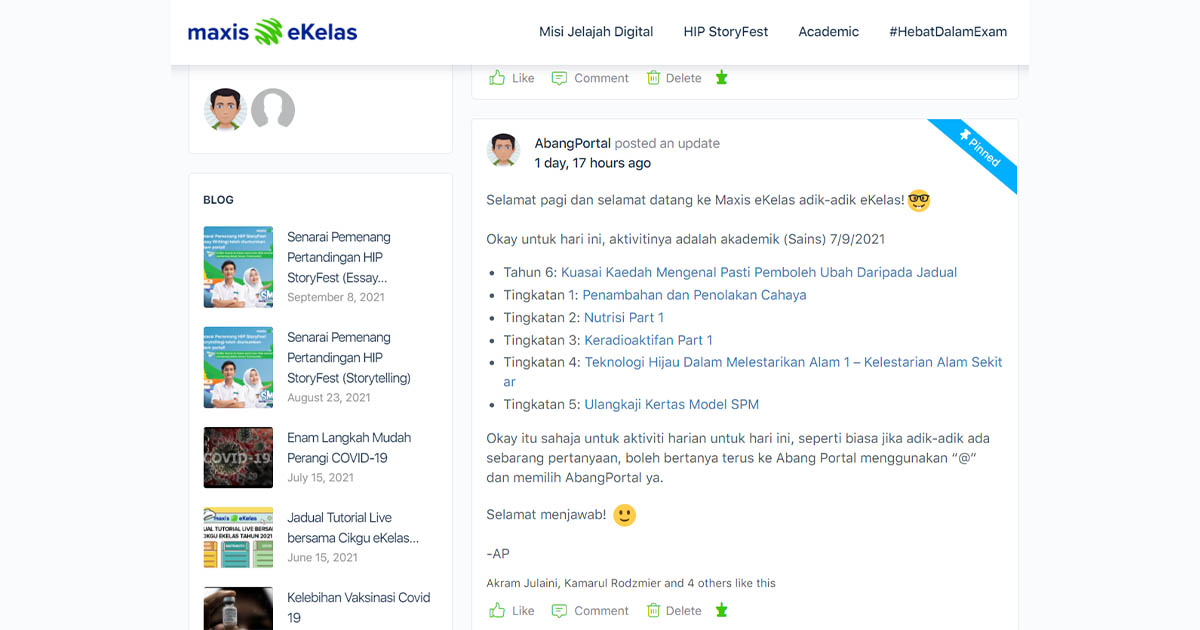 "Good morning students! Welcome to the eKelas portal. You're in the Happy Hour zone now. Your first task is, to answer this question, 'How many planets are there in the solar system?' For this, you need to find the topic "The Wonders of Nature, Science, Form 3 under the Academic menu tab above."
Monday to Friday, from 9 am to 5 pm, Abang Portal will be engaging students with series of questions and activities like the above. Who is Abang Portal? It is a unique feature of the eKelas programme - a Community Manager on the eKelas portal, he helps students to explore the variety of content available in the eKelas portal and conducts interactive activities for fun learning! We interviewed Abang Portal to learn how he keeps eKelas students constantly engaged in learning and here are his top three tips:
#1 Add in variety of activities
Students get excited with interactive educational activities like mini trivia, riddles or DIY projects. "I feel it is important to make students realise that learning can come in many ways, not necessarily just from reading the textbooks. In fact, learning can be fun especially when there is an element of competitiveness and opportunity to explore unchartered territories," said Abang Portal. He also noted that as a community manager on the portal, having genuine interactions with students helps build trust and foster meaningful engagement with students.
#2 Making sure students know how to use content in the portal to support their studies
The portal provides bite-sized content in various forms such as explainer videos, succinct academic notes and quizzes after each lesson which are all aligned with the national syllabus. The role of Abang Portal is to assist them to explore the content by creating activities around selected topics to enhance understanding. Therefore on a monthly basis, Abang Portal would prepare his lesson plan covering different topics for the different levels of students in the eKelas portal.
#3 Learning as a social activity
Abang Portal noted that eKelas gives a 'social media vibe' to students where they can learn and have fun together. This means that students have Abang Portal and all the other eKelas students as a community to collaborate and engage with. This helps with peer learning - sometimes peers are able to explain concepts or ideas to their fellow students better than a teacher. Working in groups also helps students to improve their communication skills especially when they need to communicate their opinions or ideas.
If you'd like to join Abang Portal and the rest of the eKelas community on a fun learning experience, you can register at ekelas.com.my!